Griffin Emblem has a straight forward brand concept; it wants to create watches by crowdfunding campaign in small quantities, but with a very careful design and materials of superior quality.
The brand has a logo that represents a griffin, a mythical creature, half eagle and half lion, symbolizing both power and agility. The name of the brand Griffin Emblem is more focused on the treasure than on the griffin in question. Creators have been captivated for long time by the stories exposing the griffons as heroes and protectors of wealth such as gold.
When we observe the logo, we see the creature touch a diamond with his paw. This diamond is a reference to the treasure Griffins were fighting for. The word « Emblem » therefore refers here to the protected treasure and not the emblem as a symbol or a logo.
All Griffin Emblem timepieces are equipped with an automatic winding mechanical movement Miyota 82S0. This movement, which enjoys a very good reputation, is one of the most beautiful creations of Miyota (Citizen). Indeed, it is reliable, efficient and well adapted to semi-skeletons presentations.
Each watch is equipped with quality leather strap with quick release, enabling the change of the strap without the use of different tools. Through it (or with this) you will have an extreme sense of comfort.
Namely, and this is very interesting, each watch is customizable. Indeed, the watch comes with small plate that can be screwed on the left side of the case, and on which you can add your name or a date or all that you want. This allows you to have a truly unique piece because it will be nominative … Who knows, maybe a timepiece that you could bequeath to your children in the years to come.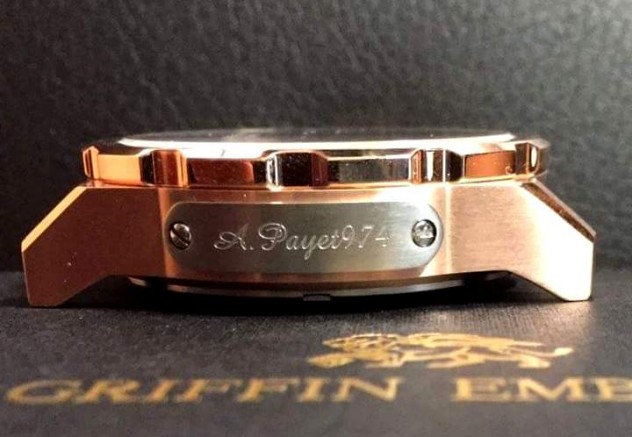 You will therefore understand that the watch is not produced in large production, as this piece is a limited edition of 450 watches, which all feature a very high build quality, assembled under strict quality control.
Moreover, we can note that this watch is truly fashionable, thanks to its sporty and elegant design, which can be worn on all occasions and with any type of clothing.
A very acceptable price of € 559 for this RG1052-2 made in stainless steel with rose gold treatment, makes it one of the more expensive watches in their collection, with others pieces of the collection priced at € 349 or € 459. And that makes this young brand perhaps even more desirable.