Straps are such an essential part of the way you experience a watch. Over the last decade or two, switching out straps on a watch to change its look, or to match an outfit, mood or season, has become a staple. There are now many straps out there that make straps to especially do that, and one of them is Vario.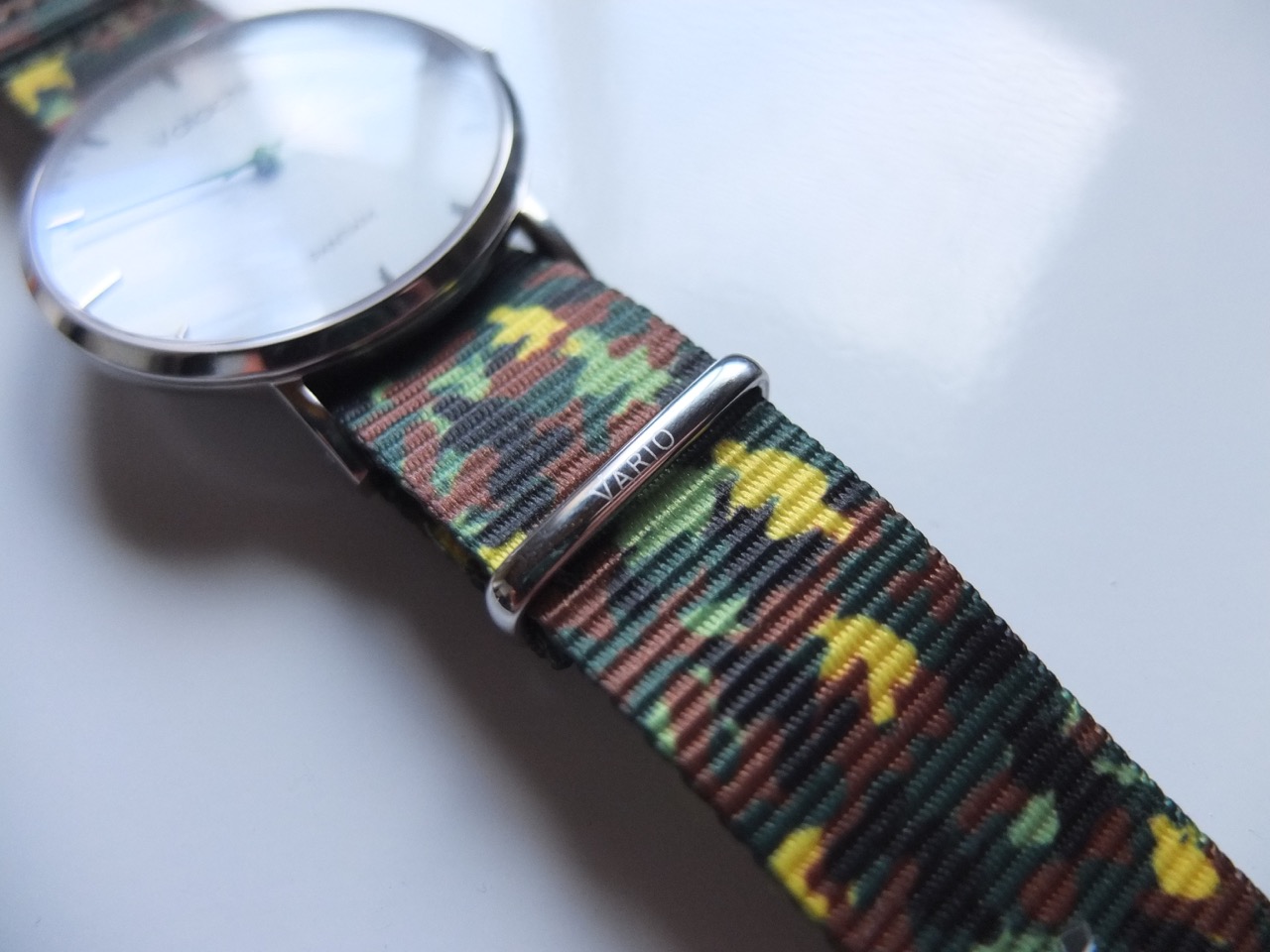 Vario is the brainchild of Ivan Chua, a graphic designer from Singapore. He was bored with the plain looks of the ever popular NATO-straps and wanted to do something different. So expect straps featuring chevron's, plaids and even macaron's as decorations. We tested the Camo Green Nato strap on a Valachio. One of the first things you notice is that the weaving of the strap feels much finer then with most NATO-straps. The result is a thinner, more flexible and softer fabric. This makes it not only easier to attach to the watch but it also feels much nicer to the skin.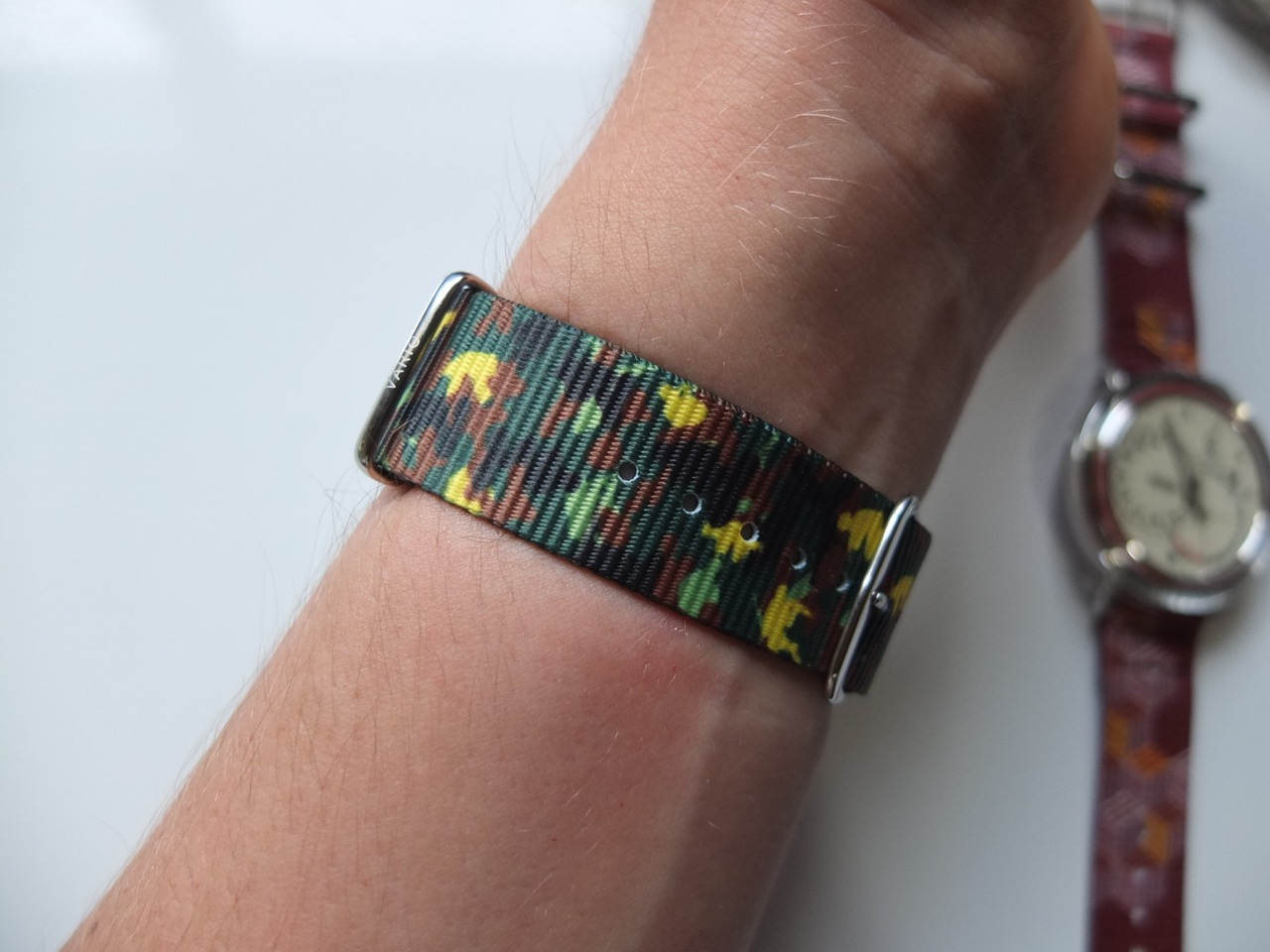 The hardwear on the Vario NATO-strap follows the same design, it is far more refined then what I have seen on most other NATO-straps. Some might like the hardwear to be more prominent, perhaps even more bulky, but this is much better in line with the rest of the strap design. Talking about design, there where times when I really thought that I saw small soldiers hiding between the camo motive of the strap…..
A NATO-strap is not suitable for every watch, especially not one that features a display back like the CJR Airspeed. For this Vario also offers two piece straps, yet made from the same materials, and designs, as their NATO-straps. For the Airspeed I selected a dark red strap with Escher inspired crates on them. Made from the same material, also these straps wear very comfortable. Nice feature is too that the straps are quite absorbent, but that the moisture that enters the strap also evaporates quite quickly.
I was pleasantly surprised to see a quick release spring bars being build into the strap. This is not only very handy, but it also allows for very quick and easy changing of the strap. Especially when you have a watch with a bit of a neutral design, you could stock up on different straps and swap them out on a daily basis.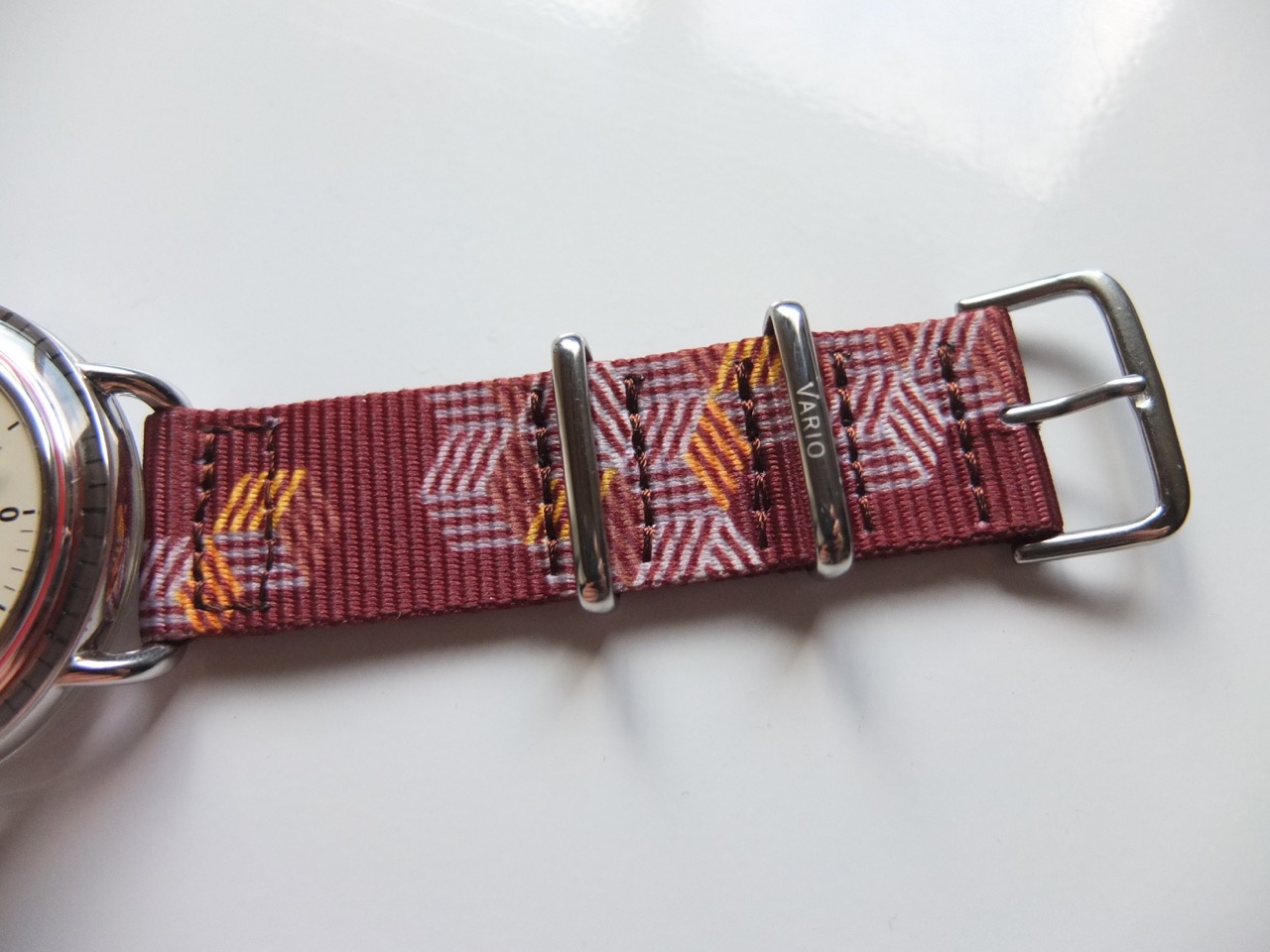 The regular strap does seem to have more stitching, or at least it is more prominently visible. There where a one or two places where this stitching was less uniform than you would expect. Some might not be too happy about it, but quite honestly it gave a bit of character to the strap, as if it was hand sewn. Unique is that the two-piece straps also have full hardware. So where a normal (leather) strap would have one fixed loop and one moveable loop, does the Vario have two fixed, metal loops sewn into the strap. On one of these metal loops, the Vario logo is nicely engraved, another subtle detail.
A Vario NATO-strap starts at US$16,- for the plain ones, with more intricate designs like the one in this article priced at US$26,-. They even have special straps for the ever popular Casio G-Shocks, complete with adapters to fit it to the watch (normally a G-Shock cannot be fitted with a NATTO-strap.) Given the quality of the straps, as well as the unique designs, a competitive price, that actually makes you want to look for more watches you can fit these straps on!
More information on Vario can be found here