On of the great things about microbrands is that they have much more artistic freedom than more established brands. Their design language is often more fluid, and there is also room for this. They are far more customer involved, and many of them have daily contact with people who wear their watches or are just watch enthusiasts. This is also what the people at X-Frame did when they developed the Seer Chronograph.
https://vimeo.com/183590770/c8abfd8e21
X-Frame already had a nice run on Kickstarter with the X-Frame Vulcan, so they have some experience in making successful watches. This shows in the Seer Chronograph. It is a large watch, and weighing 179 grams, you do have something substantial around your wrist. Some might argue that the Seer Chronograph has some design cues from the Audemars Piguet Royal Oak Concept. They might be right, but it is not a blatant copy and has enough unique details to stand on its own, which X-Frame already proved with the Vulcan of which the Seer Chronograph shares a generous amount of DNA, for some much-appreciated family resemblance.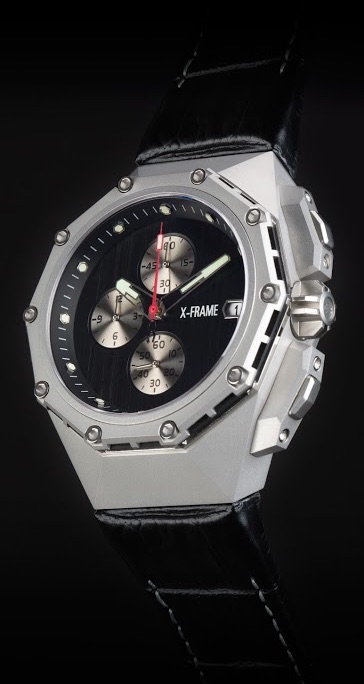 X-Frame does this by fitting the uniquely shaped bezel with ten bolts. These are actually functional, and go all the way through the watch. The dial lays quite deep inside the case, with a chapter ring that is almost vertical. The Luminova filled hour markers are shaped like hexagons and because the chapter ring is almost vertical, you get the impression that they are lights mounted on a wall in a large room. The chronograph pushers are just sticking out from above massive sleeves, which act as protectors to a uniquely designed crown.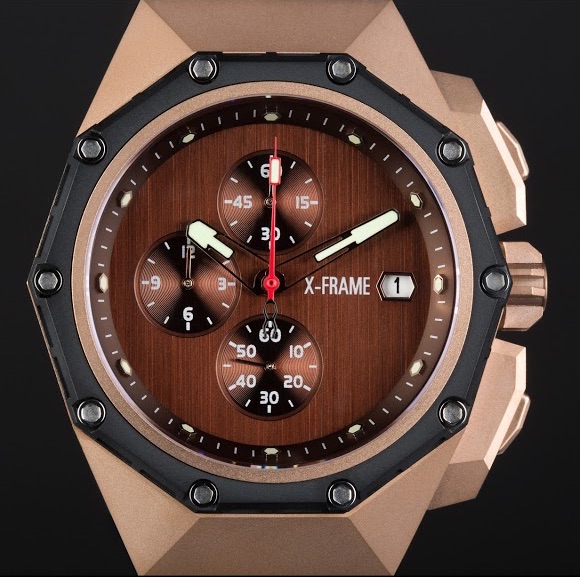 A large watch also means a large dial and in this case featuring a beautiful vertical brushed finish. It might be too much credit, but in my opinion, this finish really makes the watch. It gives it a sense of sophistication, and it will for sure be a daily source of pleasure when wearing the watch. Clever move by X-Frame is to power the watch with the VK 67. This hybrid meca-quartz movement combines the precision of a quartz movement with the smooth running chronograph hands of a mechanical watch.
It also comes with a modest price, and that is something the X-Frame paid forward. Starting at US$299,- for the Early Bird, and the other tiers following in quick succession after that, the Seer Chronograph offers a lot of watch for a modest amount of money. Regarding color, X-Frame went for the most popular ones featuring stainless steel, black or rose gold plated cases with their stunning dial available in black, brown, gold-toned and gunmetal. All are a nice combination with the special hands and the red details that feature on every Seer Chronograph, making the one you like the best a choice of pure personal preference.
More information on the X-Frame Seer Chronograph can be found here
Save
Save