Pocket watches, they come and go, and there hasn't been a brand yet that made one and proved to be here to stay. Wood Watch is now trying it with a watch made of, you guessed it, wood. This also has become quite a popular material, but with a strong benchmark like Vejrhoj, it is tough to come with something better. Wood Watch doesn't come with something better but does get points for originality.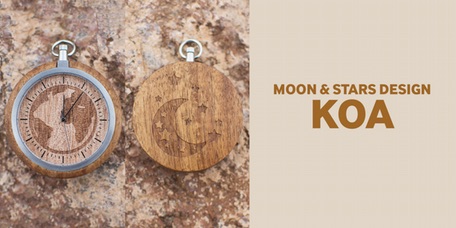 The pocket watch consists our of a wooden shell in which a metal housing for the pocket watch is placed in. This shell features a cut-out of either the moon-and-stars or a tribal sun design. The first is offered in Koa and Walnut wood, the latter in Zebrano wood and Bamboo. The dials have a world motive on them and are also made from wood. The watch is powered by a Miyota caliber 2035 quartz movement, a solid, dependable choice.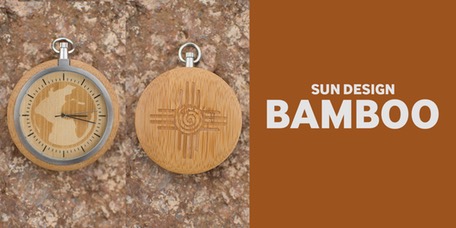 With such a good offering you wonder why they got so sloppy with the rest. I will forgive them the not too original brand name and logo, but when you claim that the watch is artisan designed there must be a story behind why you choose a sun-and-moon or the tribal sun design? Also, why pick the part of the world map that shows mainly the Atlantic Ocean? They are all questions that are not answered. Also, the pocket watch comes with a leather string, but only when you share the campaign on social media, otherwise you have to add $2,-. This may sound like a good idea in theory, but in practice, it might be very difficult to keep track since they didn't provide any rules on what you need to post on which social media channel, and how they can track this back to you, so you get your free leather string. Together with some typo's in the pricing (a $32,- Early Bird is called $39,- in the text) and the lack of any larger, close up images of the actual watches, it stands in such a contrast with the video the brand made for the launch, which looks very professional.
That being said, the product didn't seem to suffer and for US$32,- it is a fair deal.
More information about the Wood Watch Pocket Watch can be found on Kickstarter