You probably heard about their first collection that they launched in October 2016. For this one they used carbon fiber for the dial and a quartz movement. You can read more about it on Watchisthis?! by clicking just right here.
Today and after a successful first Kickstarter campaign, they are back with the launch of a new watch. As for their first piece they decided to use carbon as the center piece of this product.
This time it's not the dial that uses this material but the case. Indeed the watch has a 45mm forged carbon case and when you think that the price is starting from $530 (AUD) $395 (USD) you can only be impressed.
It's « rare » to find a watch using forged carbon, because of the complexity of making the mold and working with the raw materials. Indeed, each case is made individually, so it's a labour-intensive process. Forged carbon is used by many high-end performance car manufactures, primarily for its lightness and strength, finding it in an affordable watch is quite cool I must admit.
When I received the parcel I was quite excited to see it, so I took directly the watch out of the box, and right away, they feel very high quality. Sure it's looks massive but it's really light thanks to the carbon case, and this adds a real value to it.
So when you read 45mm you directly think that the watch is big but actually it's not. I have a small wrist (measuring 17mm in diameter) and as you can see on the picture below, the watch fits perfectly.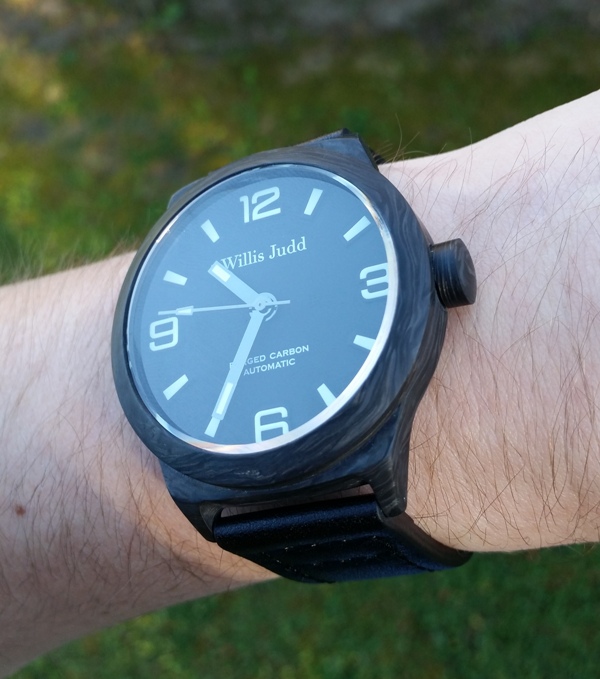 The Australian brand is still raising the bar compared to their first watch by using the Miyota 90S5 Automatic Movement. While Japanese movements don't have the name prestige that Swiss movements do, they are often very good and the ratio value/quality is unbeatable. The Calibre 90S5 is more or less the same than the 9015 (unless it has an open heart that you can't see here but that you can choose in option 2 when on Kickstarter) which is the closest competitor to the famous ETA 2824.
This mechanical movement features automatic winding, hand winding, date (that you don't have with this watch), and three-central hands for hours, minutes and seconds. It also has a power reserve of 42 hours, and it beats at 28,800 bph. The indications are really easy to set thanks to big crown placed at 3 o'clock.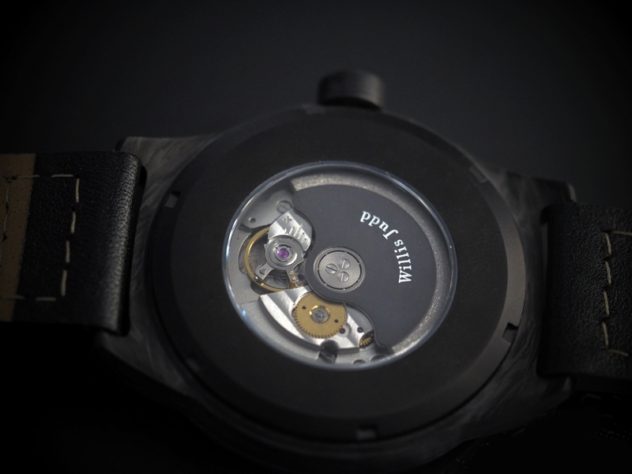 The black engraved rotor has a grey frosted finishing on the lower edge which gives a good combination with the Geneva waves finishing of the main plate. To enjoy it you have, like in the front, a sapphire crystal glass.
The dial is really simple with an all black color on which we have 3, 6, 9 and 12 in number while the other indexes are a mix between triangle and rectangle. We find this same shape on the tip of the second's hand. Nice thing, as they are big, is that Willis & Judd put the lume on these numbers and hands – the visibility in the dark is really outstanding.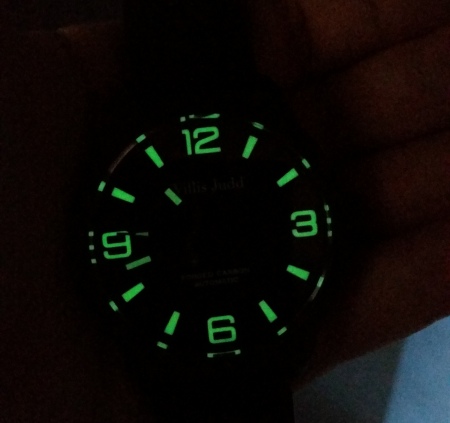 The watch comes with a black Italian leather strap with quick release to allow you to change when you want and without tools, and it's finished with a big black PVD buckle which is engraved with the name of the brand.
As watch enthusiasts we always look around to find watches with something different and here with this new timepiece Willis & Judd has succeeded. We love the look of the forged carbon case and it's quite fun as every watch is unique when using this material as the pattern it creates when made is always slightly different. The watch is really comfortable on the wrist and it can be worn with anything from suit and tie to t-shirt.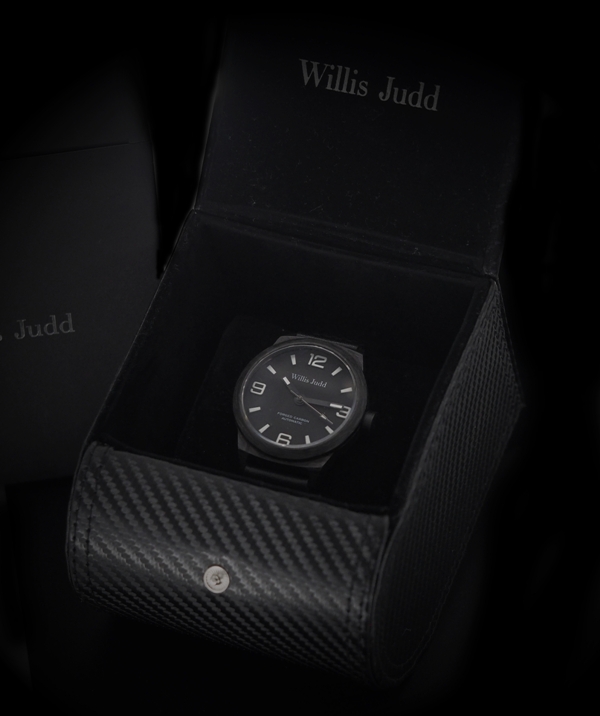 What's striking about this piece is the incredibly low price… Because yes, price will start from $530 AUD / $395 USD which is really good. Keeping it affordable does not mean cutting corners on quality. The Australian team just thought intelligently when designing this piece, in order to present a quality watch at an affordable price. A future success we can be sure of that.
Do I recommend buying this? Oh YES! So if you're interested you can have a look and pre-order it on Kickstarter.