Pure Belgian design from high-quality Swiss components. Belgium is not only known for its chocolate, cycling and famous players in their national football team. There are also some very skilled and passionate independent watchmakers hidden in that small country. One of them is Thomas Venneman the founder of Venneman Watches.
Thomas Venneman wants to create unique timepieces in limited editions. 300 copies, more will not be made. Unique and numbered! Thomas received a solid training as a watchmaker and learned the craft from the masters themselves in Switzerland. He completed a number of traineeships with the big brands and at smaller workshops The pursuit of perfection is the guiding principle of his brand.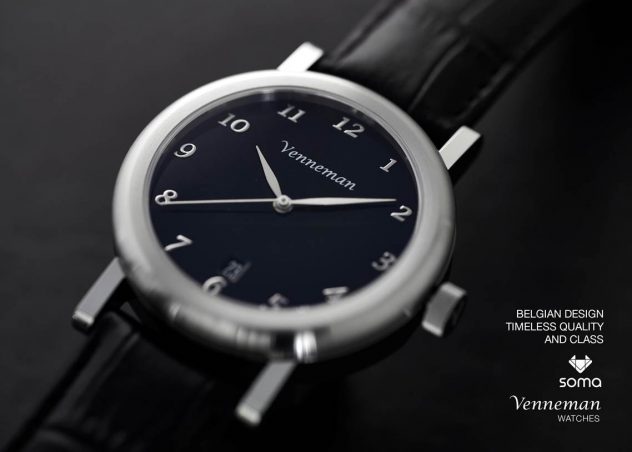 We met in the lobby of the Marriott Hotel in Ghent where he showed me his timepiece with a great collection of different straps. Thomas, a big fan of the label 'Made in Belgium', showed me the collection of LIC Leather straps. These straps are made in Ostend and used on several big brands like Rebellion, Lebeau-Courally, Franck Muller, Raidillon, Bell & Ross and Ressence. Thomas is the first person in Belgium who was able to test straps from wolffish leather. Wolffish is the only fish leather with a smooth surface, it has a spotted pattern that lends the watch a unique character. The blue color combined with the sleek design of the watch = perfect combination!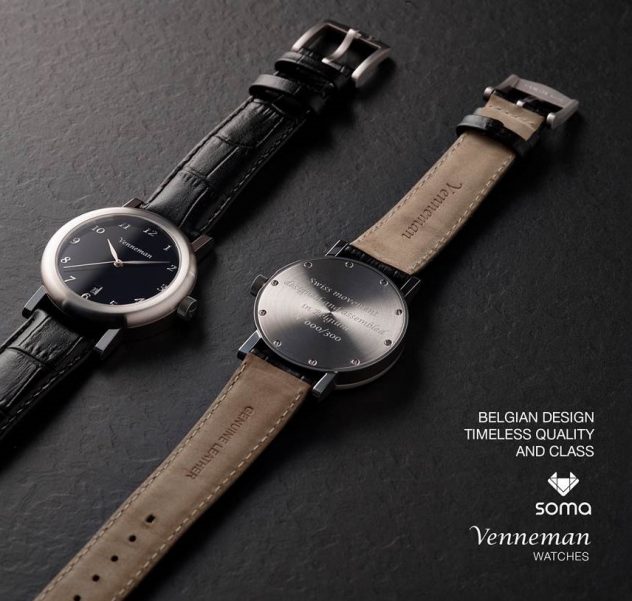 Some specifications:
Dial colour: black gloss lacquer
Crystal material: sapphire glass with anti-reflective coating
Special features: automatic, date, box is numbered (same number just as the case), case has undergone a number of finishing processes and is both polished and brushed so when it becomes darker the polished and brushed parts of the case begin to work together and gives the watch a special look.
Movement: ETA 2824-2
Straps: Blue wolffish leather from LIC, also available in other colors
Price: € 1250,-
Venneman & SOMA
Thomas was one of the first 7 brands who signed with SOMA (SOMA has now over 120 brands signed). He truly believes SOMA will change the watch industry and is also a blockchain enthusiast. He will give a 10% discount for the first 10 watches sold during the Cohort 1 and 2 phase.
SOMA empowers the microbrand watch scene by allowing brands, buyers, and enthusiasts to connect, transact, and verify watches in a « transactional community. »
Apply for access: https://www.is.gd/D6WsS9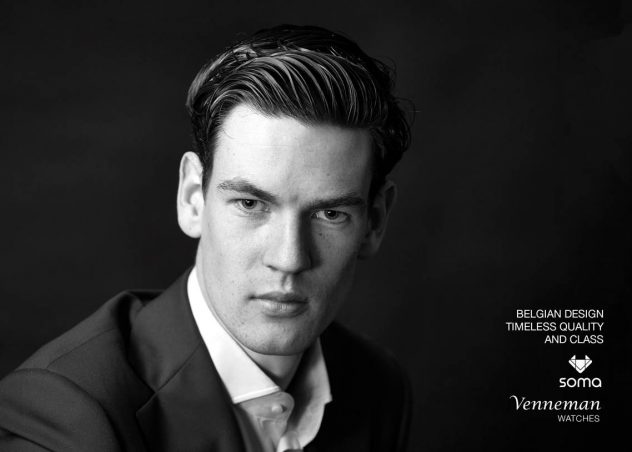 Social networking
Venneman Facebook
Venneman Instagram
By Maarten Henskens