Making watches using only recycled materials: this is the mission of The Sacred Crafts. Let's discover their new model. The Grand Mer is born from the recovery of boat propellers.
The mission of The Sacred Crafts is to make watches using recycled materials and with the aim of having a strong impact on coral reefs and coastal protection.

An ambitious project born from a great passion for nature and the sea.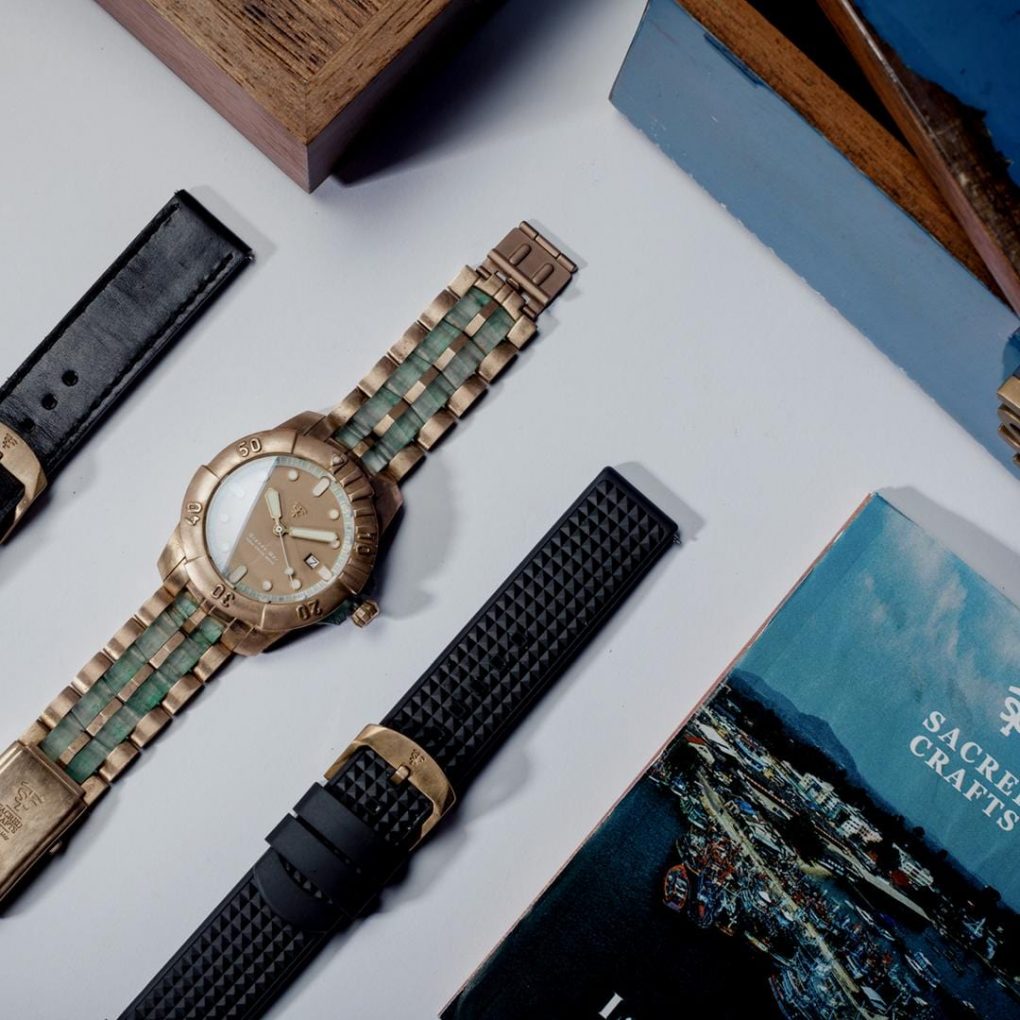 A watch made from bronze recovered from the propellers of abandoned boats and countless meters of fishing nets no longer used.

All the components of this timepiece make one perceive a real research that goes beyond the concept of recycling.

In fact, the most striking thing was the realization of SeaGlass, a material made using a special biological resin to transform the wire of abandoned fishing nets into a hard material, which will then be shaped and used to make the links of the strap, the crown cover and part of the dial.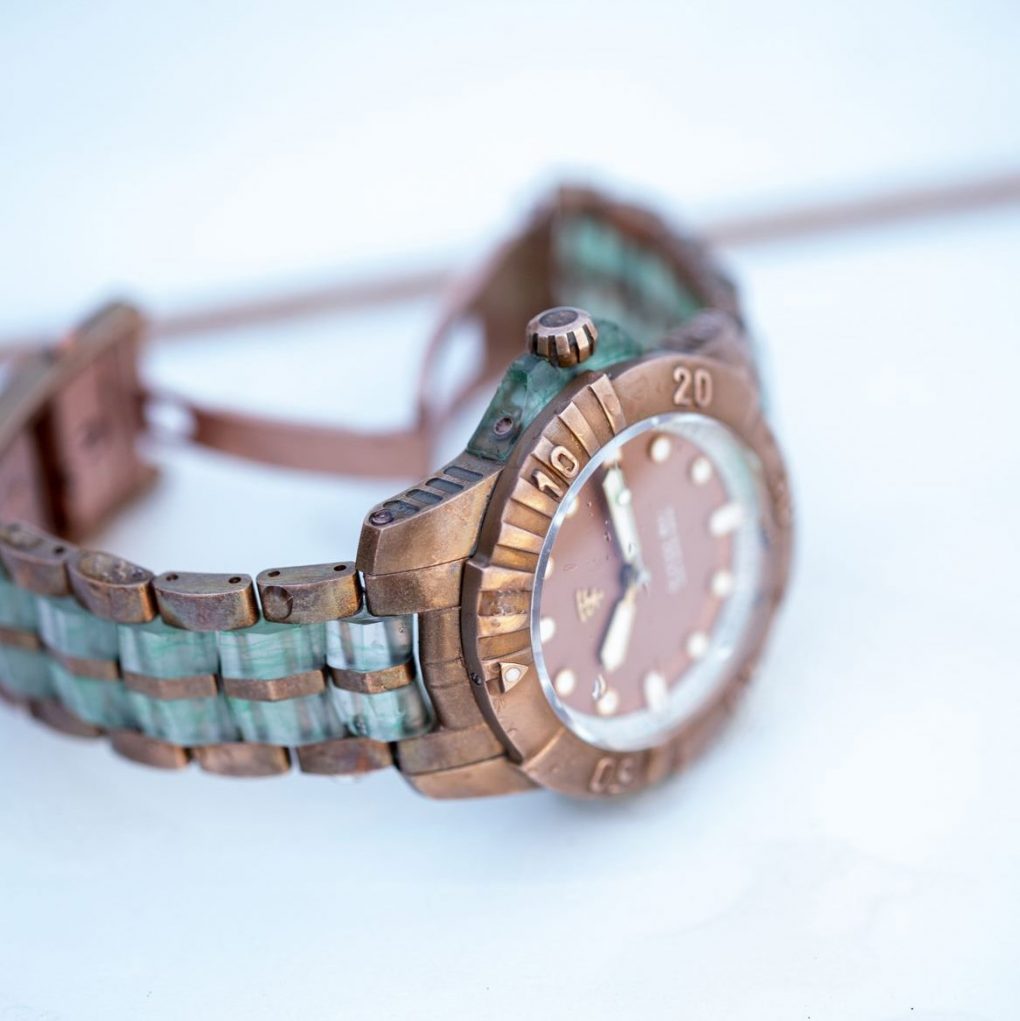 The Sacred Crafts – a unique packaging
One have to dwell on the extraordinary packaging of this product and the care for the customer.

A packaging that really manages to excite just like the most famous brands can do.

A wooden box (also obtained from abandoned fishing boats) divided into 2 compartments.

In the first we find the watch, with 2 straps and 3 cufflinks, along with the bronze plate indicating the model name and numbering of the timepiece (we are talking about a limited edition).

In the second compartment, we have instead a small case with basic tools, two small booklets in which it is explained the history behind each component and the certificate of authenticity.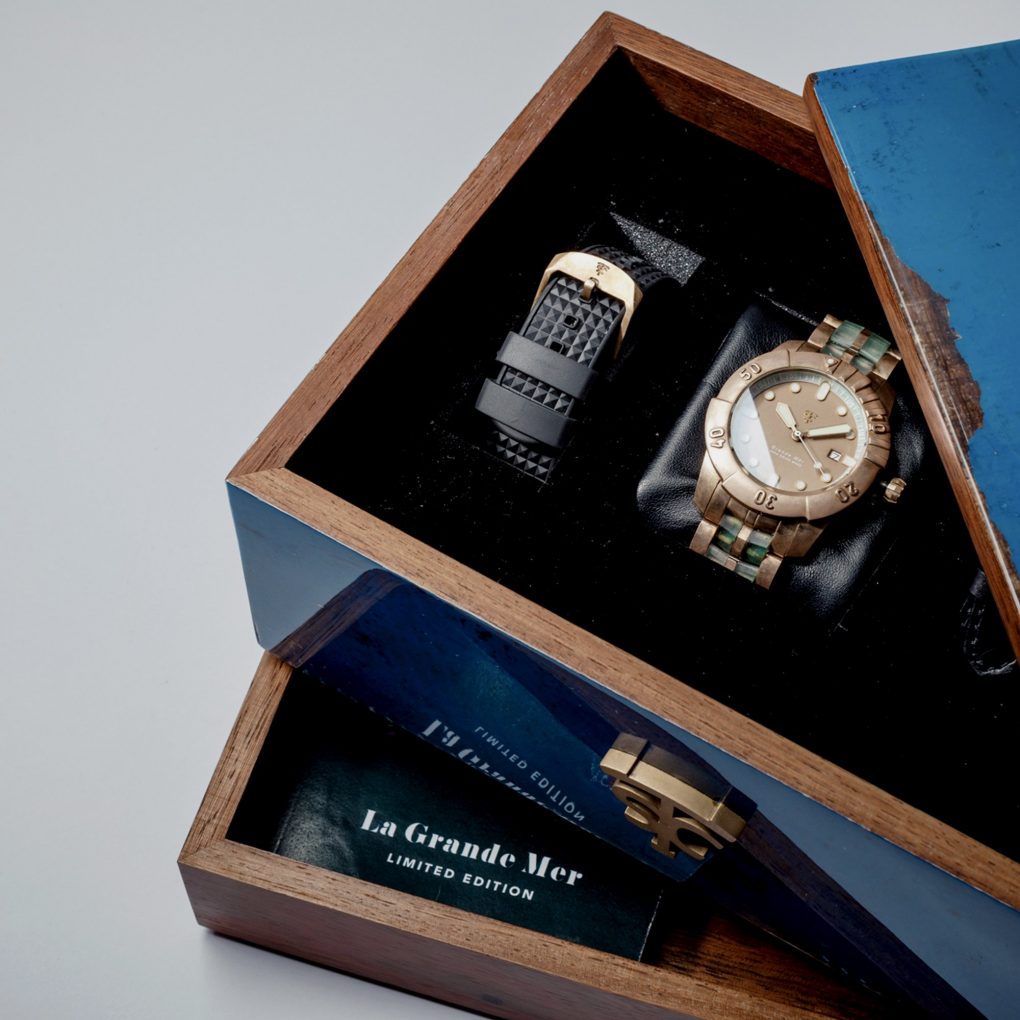 All held together by the famous small fishing net mentioned above. The packaging immediately conveys a feeling of extreme attention to quality. This  » Japanese Bento » style gift box is made entirely from reclaimed wood from their adventures. Crafted to house their sacred timepieces, these boxes are sturdy and seasoned. No two look the same.

The stacking boxes hold all the accessories and user information but can be used for any sacred storage your wardrobe requires.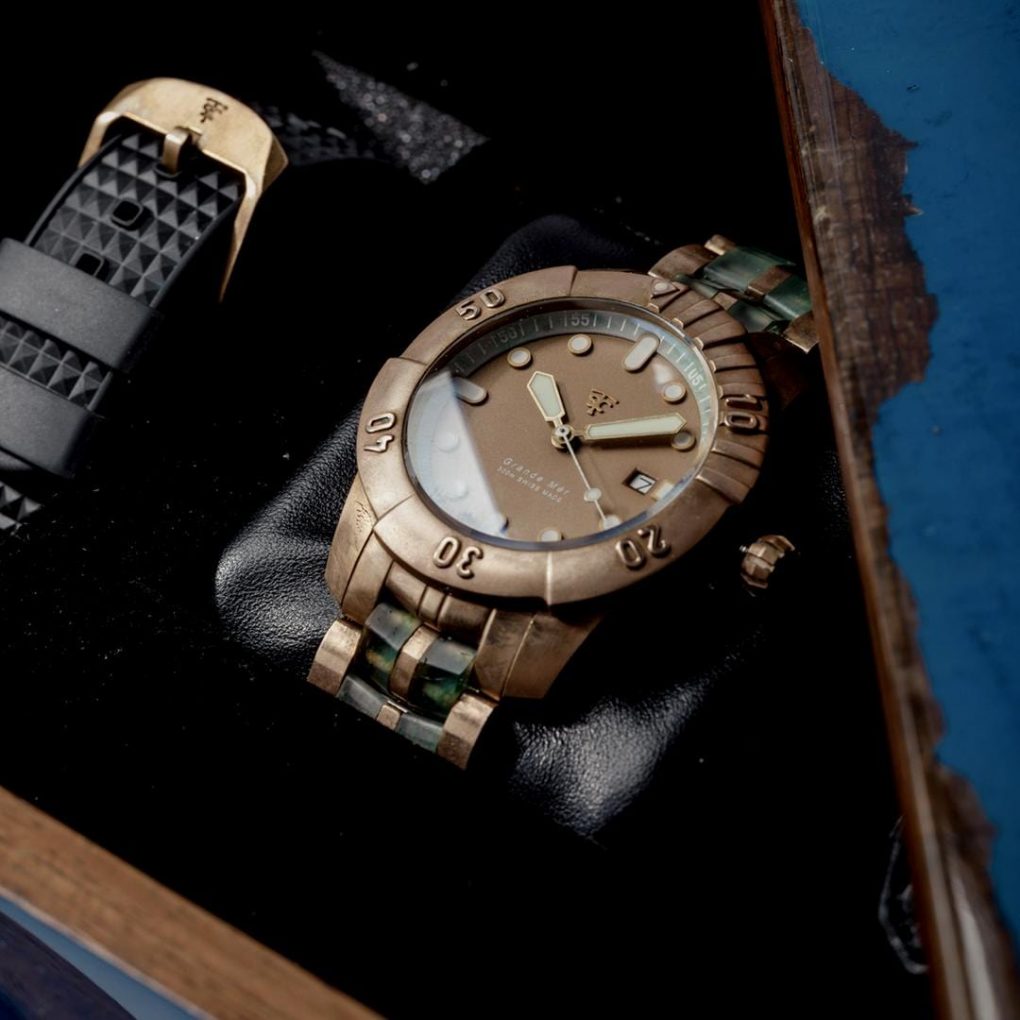 Now it's the turn of the watch.
This piece is an offering to Mother Ocean.
La Grande Mer watch concept was developed between friends who live [and work] to surf, dive, travel and explore anywhere they can.
As most ideas start, this one happened on a well-worn notepad that has been the source of at least a few good designs. Pages and pages later its form took shape well enough to bring it into a full and proper design process.
In collaboration with the amazing team at DQBD in Stuttgart, Germany, they refined their design and engineered it into a system of precision parts that can accept not only traditional watchmaking materials, but also their new, sacred materials & compounds that were emerging as a result of their adventures.
After a trip to Thailand where they collected Vintage Boats, they had gathered up enough great materials to offer their first, limited edition Swiss-made timepieces made from Vintage Fishing Boats.
This is a 44mm diving watch which use the Swiss Made automatic ETA 2824 movement with 42h of power reserve.
You have a sapphire crystal on both side and a water resistance of 300 meters.
The case, bezel, links and crown are made from "Our Bronze" – a custom CuSN8 formulation they developed from reclaimed bronze marine propellors.

Let's admit that from the photos it really looks much larger than in reality: In fact, despite the 44 mm, this diver is wearable and not at all challenging even for smaller wrists.

The rotating bezel is very precise and emits a hard and pleasant sound.

All straps are equipped with buttons on the back that allow a quick and fast change, a feature that greatly increases its versatility.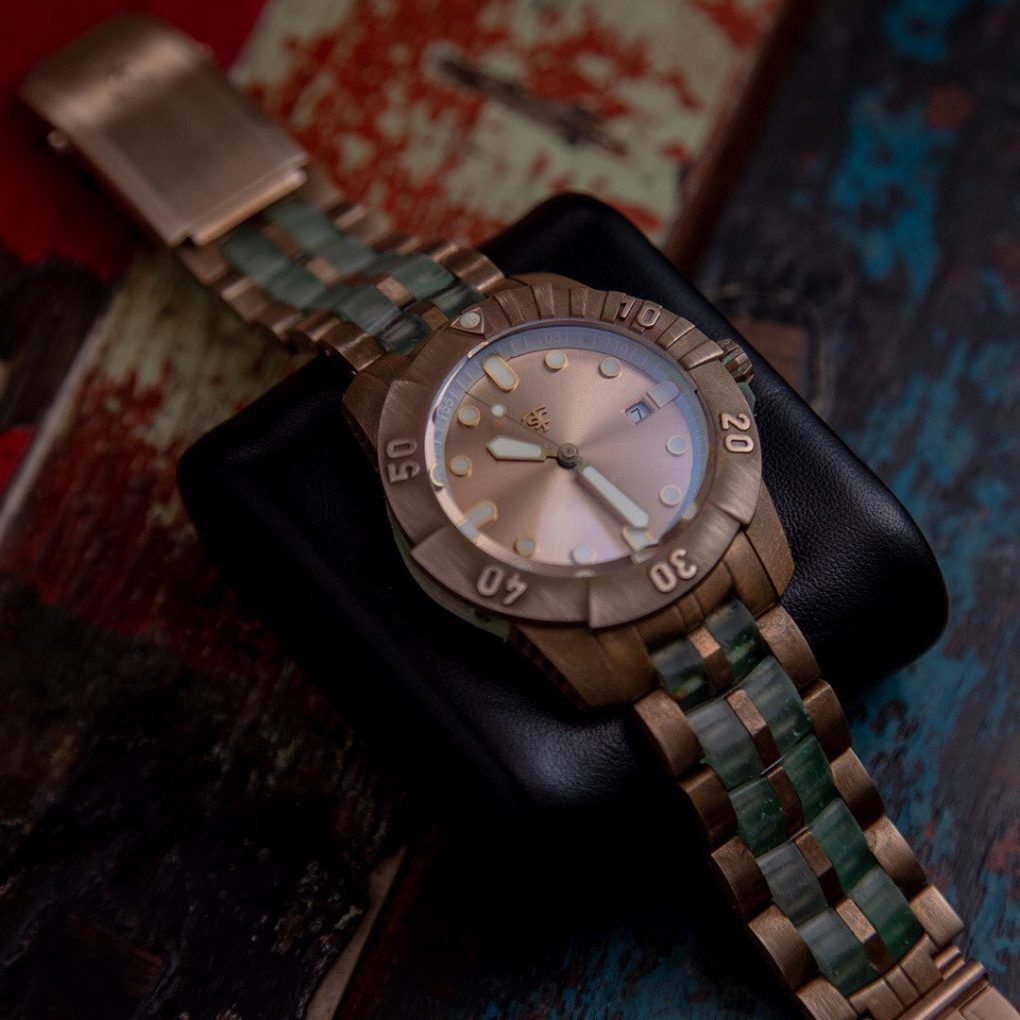 But let's talk about the SeaGlass just a minute.
Sea junk is everywhere. Lots of it starts out in a professional or industrial usage and ends up left behind for the local community and the ecosystem to suffer. Fishing nets are one of these materials.
Its a pervasive mess that needs to be removed from the sea at all costs. SeaGlass has a luxurious luster similar to fine crafted jade stone.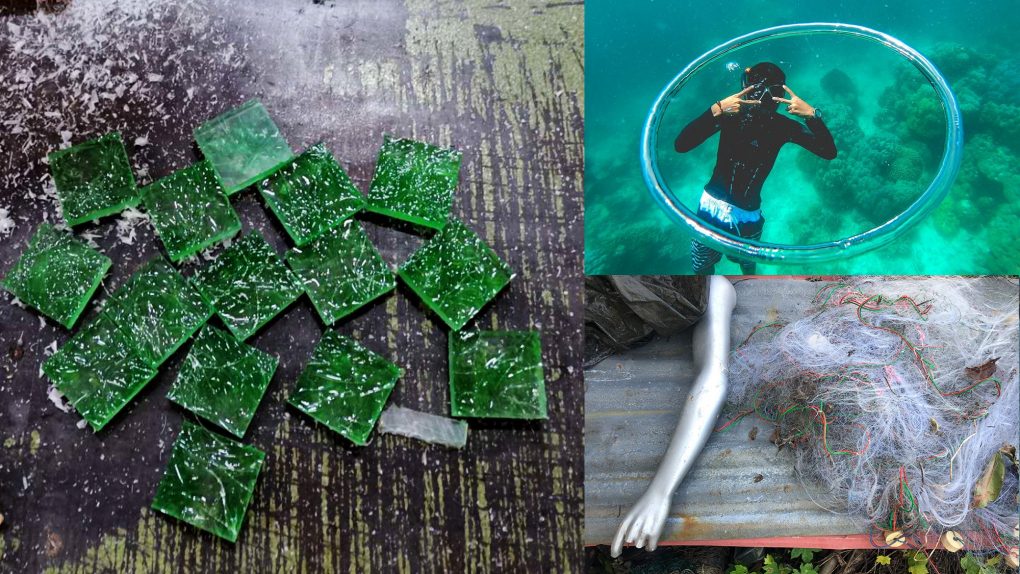 In conclusion, La Grand Mer is a timepiece that has it all and offers a luxurious, sustainable and most importantly, affordable experience.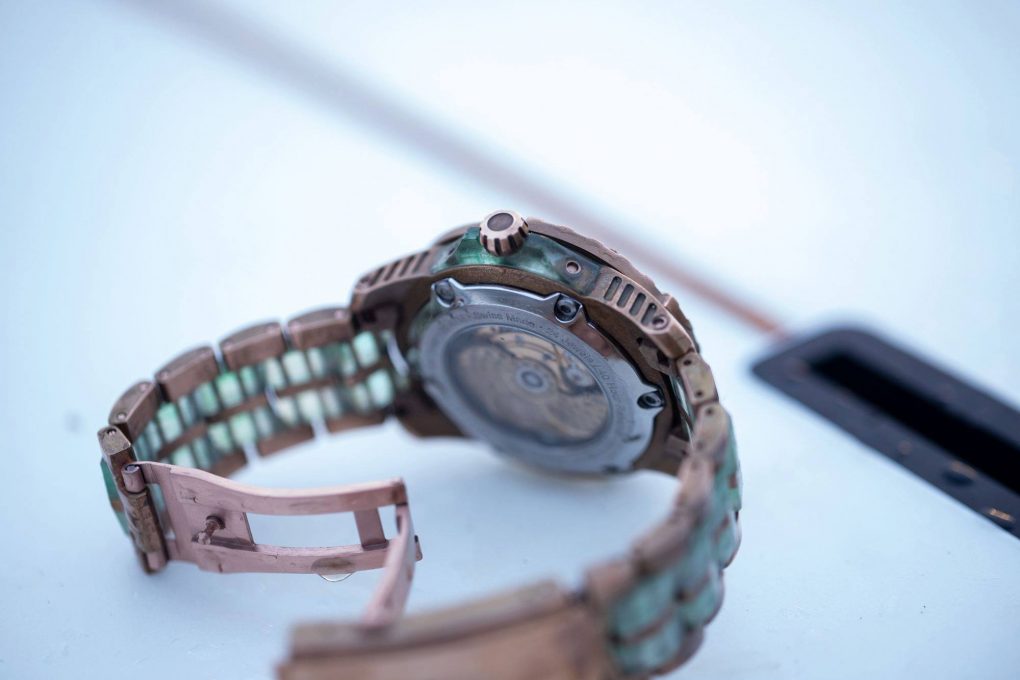 TECHNICAL SPECIFICATIONS :
Country Of Origin: Switzerland
Case Material: Reclaimed Bronze
Movement: ETA 2824 Automatic 42 hour Reserve / 25 Jewels
Date Box: 3 O'clock
Case Diameter: 44mm
Thickness: 13mm
Lugs Width: 22mm
Glass: Saphire Crystal (Top + Bottom)
Crown: Screwed Down
Depth Rating: 300m
Limited to just 220 pieces.
You can follow The Sacred Crafts on the social networks :
Facebook / Instagram / Website
Written by Giuseppe Marasco / MrWatch93
*Remember that you can have a 15% discount on this watch with the promocode mrwatch15 at the check out*