Tangramatic takes the next step in the development of the brand with the Hyperion. Where the previous models were quite minimalist, the Hyperion takes on a more extrovert approach. Very loosely based on the B-type pilots watch, the Hyperion goes crazy on SuperLuminova, and we love it!
The dial makes for a very expressive watch, and despite being different from the previous Tangramatic's there is some familiar DNA visible in the way this watch is designed. The Hyperion is available with a black dial, powered by a Ronda quartz movement and hexa hour makers. Next up is also a black dial, yet now with axis hour markers and a Miyota automatic movement. The final version also features the Miyota movement, only sports a blue dial and is also the only limited edition model of the three, of which Tangramatic only makes 100 pieces. This is also the only version that features a date function.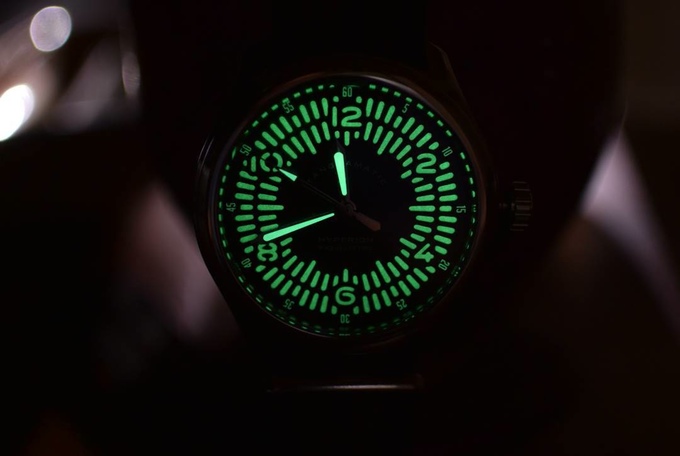 The different dials give each of the watches a flavor of their own, yet a distinct family resemblance. With a diameter of 40.5 mm is the watch relatively small, making it very comfortable to wear. This is even increased by the lugs, which are tucked towards the case. While the watch is already very expressive by day, it becomes even more so by night, when the whole dial lights up thanks to the SuperLuminova. It might be a small feature, but it is bound to make you smile every time you wear this watch.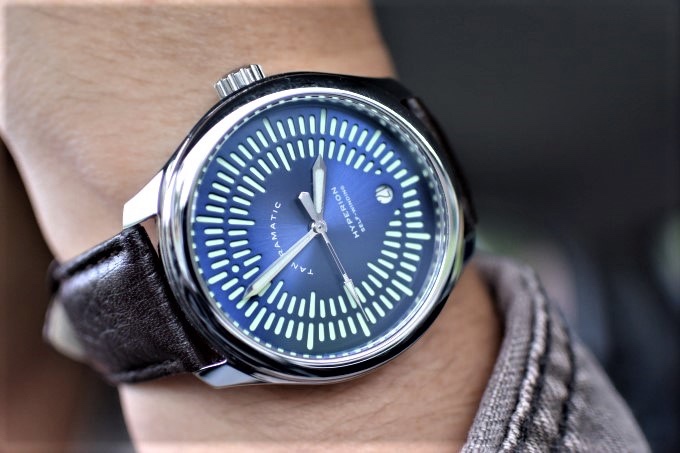 With the whole watch designed and build with an eye for detail, a Tangramatic hallmark, I would have actually expected to see a higher price. But with AU$280,- for the quartz version and AU$380,- for the automatic version (The Early Bird versions have been mostly gone) the Hyperion is priced competitive and less expensive as you would expect based on its build quality.
More information on the Tangramatic Hyperion can be found on Kickstarter