Steampunk: although I am not really a fan of the word, its the first thing that comes to mind when seeing a Spillo watch. It is also definitely the wrong word to describe the brand. Founders Marcello & Marco have a deep running passion for cars and bikes, but probably prefer high-octane fuel over steam power. Yet there watches seem to have been conceived in a garage rather than a pristine watchmakers workshop, and that is just the impression they want you to have.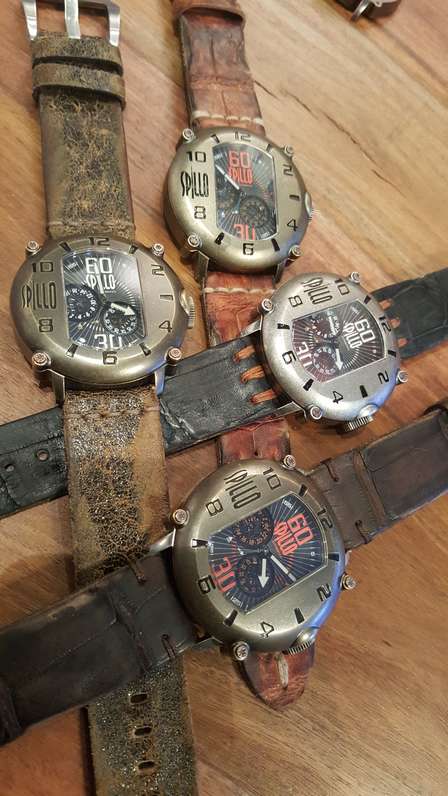 Their Speed Demon collection is nothing less but a statement. 45mm of steel that seemed to have come from Ferruccio Lamborghini's tractor factory. An optical illusion, because many of the Spillo watches come with a case and strap treated, so they have that vintage look to them.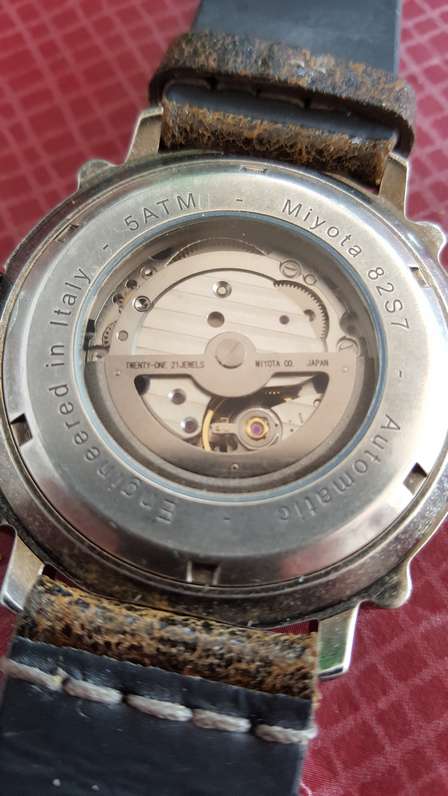 The Spillo Speed Demon is powered by Miyota caliber 82S7, a movement that we can also find in certain models from SevenFriday and Dietrich. Next to a regular hour and a minute hand, it alos offers a small seconds, as well as a 24 hour display. With the Speed Demon these complications are barely visible through the narrow window at the front of the case. This design feature most certainly sets the Speed Demon apart from any competition, and ironically enough, it actually contributes to increased readability of the dial.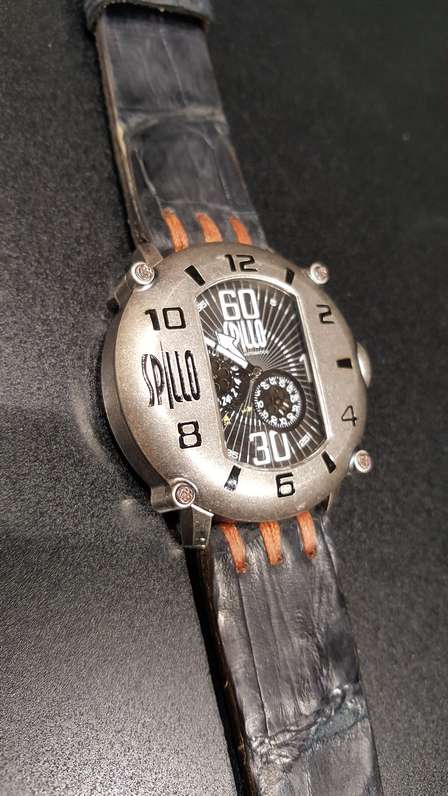 Spillo loves to play with different textures. The dial features a thick guilloche, which offers a nice contrast with the smooth front of the case, which looks like its actually bolted. This is no optical illusion, but in fact the front of the watch is bolted to the back. This allows owners to change the front of their watch at a later date if they want to. They their Speed Demon can become for example an Outlaw. This is the same watch only with a round sapphire crystal, instead of the rectangular shape of the Speed Demon. To ensure legibility the sapphire crystal also features an anti-reflective coating.
Spillo is most certainly unique in the watch world, in terms of design, but also in execution. High on octane, they are for people who know what they want, and all other people better stay away! More info on the brand can be found here
Save
Save