Michael Kors enters the smartwatches market with a line of luxury products called Access smartwatches. Right now, The Bradshaw and Dylan are the first two models presented by the fashion brand, but do expect more to come!
Don't forget, Michael Kors watches are part of the Fossil Group and the watch group announced that it will launch wearables devices for eight brands in 2016, including Chaps, Diesel, Emporio Armani, Fossil, Kate Spade New York, Michael Kors, Misfit and Skagen. So it looks that finally a big watch group understood the power of this new market.
The pieces are run by Android Wear and come in two styles. First, the « Dylan » which is a sporty style watch and that target the men's market, and the second the « Bradshaw » which is all-metal and designed for a women's audience. Both watches are quite big much like Kors' analog watches and start at the price of $350.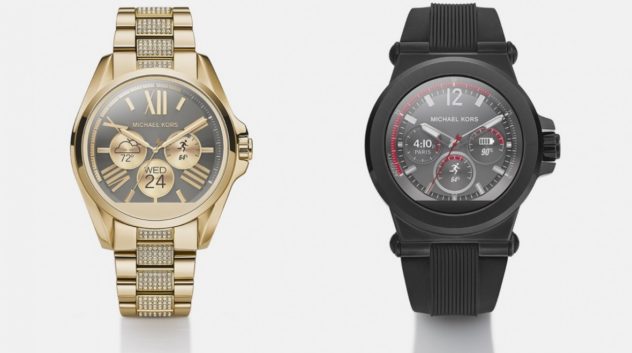 The Dylan and Bradshaw smartwatches are designed to look like Michael Kors' other watches, and are thus larger and heavier than many other Android Wear watches. Note that they share the technology with Fossil's Android Wear watches. So a Qualcomm Snapdragon 2100 processor, color touchscreen, speaker, a 1.4-inch TFT display with 320 x 290 pixel in resolution, and activity tracking, but unfortunately and as too often, no heart rate monitor. A full charge will deliver about two days of battery life which is not bad. Note that, the Access smartwatch technology is compatible with both iPhone and Android phones. This is possible thanks to a partnership with Google, using their Android Wear smartwatch platform.
Continuing with the design points, the Bradshaw – the more « female » model – has eight different bezel designs to choose from and the straps differ across the line also. Note that the 22mm straps on the Bradshaw are interchangeable, with ten additional options on offer. It's around 45$ for a silicone band and 50$ for a leather strap.
Sure it looks expensive but as we all know, accessories are important to develop the turnover.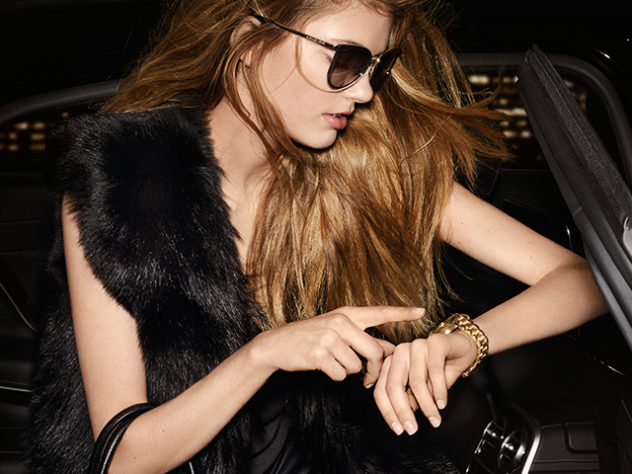 On the other hand, the new Dylan Access, which is at first sell with a rubber, has a more strong bezel and larger lugs that measure 28mm. This piece comes in three versions – all black, blue/silver and gold/black. As for the Bradshaw there is also additional straps on offer to customize your smartwatches.
Now, even if they share the same functionality as many other Android Wear watches, the big things of these Michael Kors Access smartwatches, are their customizable watchfaces. Indeed, the various faces are designed to imitate the analog designs on other Michael Kors watches, and can be customized with a variety of colors right on the watch itself. Funny thing, is that it's even possible to set the watch to automatically change the watch face based on the time of day, so you can easily match your day and night outfits… I told you that this piece is really made for fashionistas. Well, the company said that there are hundreds of possible combinations between the display face, color, and sub dials. For sure you'll find one combination to fit your style.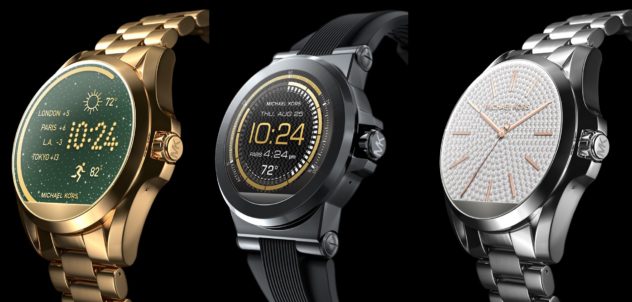 I think, that someone who wants a smartwatch that doesn't look like a smartwatch would find the design of this new Michael Kors'offer very appealing, but unfortunately they are too heavy and too big … Indeed, the Bradshaw measures 44,5 mm in diameter while the Dylan has a 46 mm case.
But then again, fashionistas will appreciate having social connectivity and health and fitness tracking on a fashion and "great-looking" accessory.
Oh yes, to prove and continue on this smart move, Michael Kors also presented their new activity trackers bracelet which start at $95. This one tracks your steps, sleep and goals and will be your new best companion. So, no matter if you walk or run to go where you want, your tracker will total your steps, calories, and distance traveled, with LED notifications that let you know you're on track.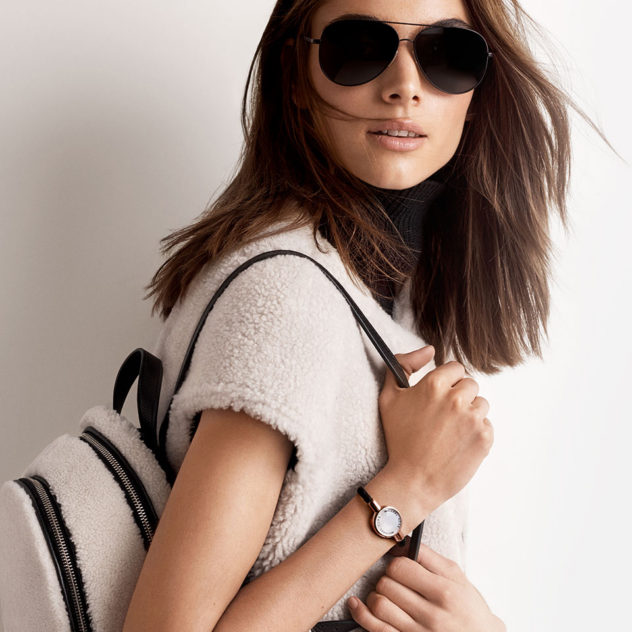 For more info on these new Michael Kors models click here
Save