Some days ago SevenFriday unveiled its newest creation under the name of « V-Series ».
Since its debut, the watch brand has made quite an impact in the world of watchmaking and now comes back in the market with again a very astonishing piece.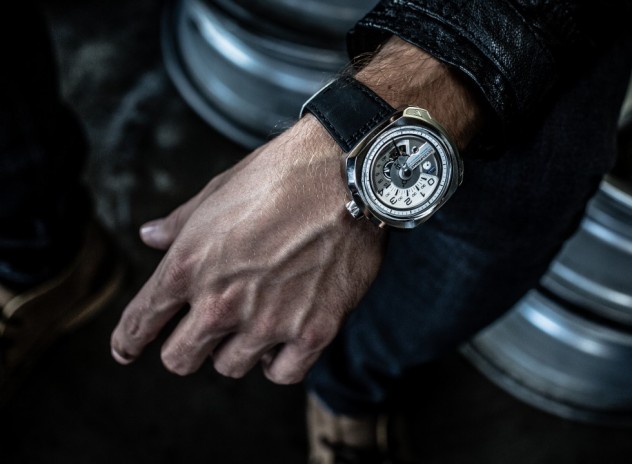 This new watch is a kind of Chinese puzzle because of its way to read the time.
The SevenFriday V-series works on the concept of the "Additioner Principle". This new way to display the time works with an hours and seconds additions disc with +X arabic numerals. In other words, you have a 120° angle hour reading with «additioner» principle and a turning central disc «0, 4, 8» to be added to fix «0, 1, 2, 3, 4» scale….The hours are presented from 0 to 4, and (for the example) when the 4+ rotates between 3 and 4 index, it gives you a reading of 7 o'clock.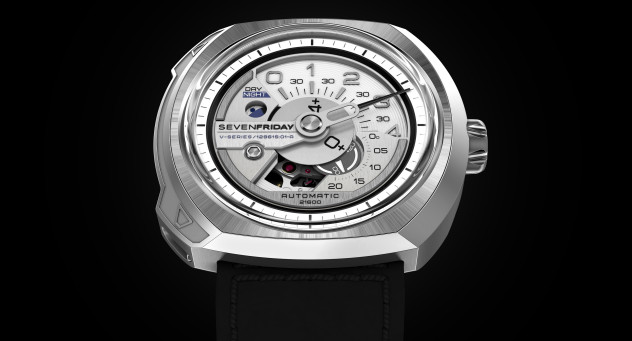 On the dial we will also find a classic minutes hand, a day/night indicator (at 9 o'clock) and a small second indicator. Other patent and really useful one is the Fast Strap Changer (FSC) of the V-Series timepiece. A little button is placed at 9 and 7 for the FSC. The button of the FSC is a spring loaded button that secures the tip of the spring bar, so pressing the button causes the spring bar to pop out. Putting it back in is equally simple, with a channel milled into the underside of the lug that guides the spring bar back into place.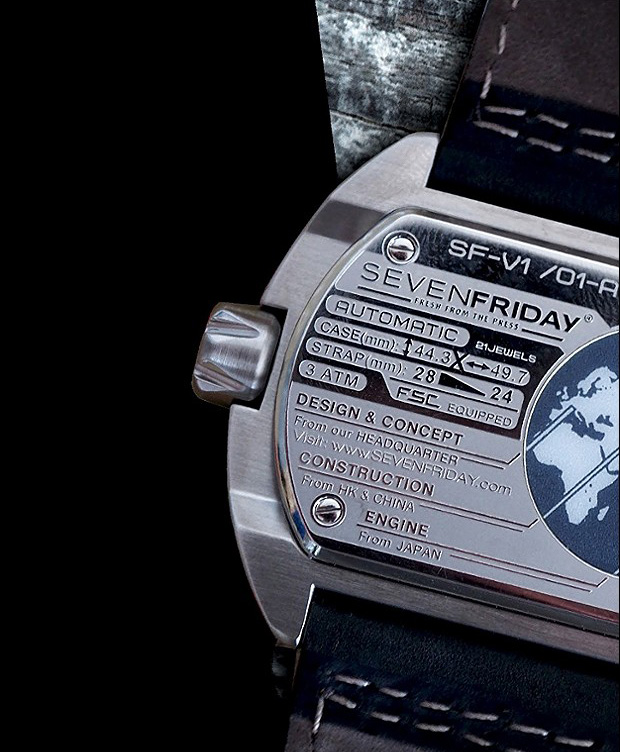 On the case back, SevenFriday chose to be honest by showing the origins of the timepiece. These info are linked to a world map that's actually a near field communication (NFC) chip. Thanks to the SevenFriday application on your smartphone (available by end of September.), the NFC chip can be read and the watch authenticated. The owner of the watch can also register the timepiece, as well as sign up for other after-sales services… Now that's clever !
Well, to conclude… A brand new case shape, a new visual complication or way to read the time, a fast strap changer (FSC-chip) and an embedded NFC chip that allows authentication of official SevenFriday watches by consumers and retailers. This makes the SevenFriday a real fashion watch that is quite complicated at first glance and that remains affordable. Indeed, this piece with an unconventional design and an elaborate dial is priced around US$1000.