Watchmaking is the high-precision world. The production of a gear train of a watch or the finesse of a polishing requires a steady hand and a strong mind. Watchmakers have an exceptional creativity that they can put in the service of their dream. To create the dream some watchmakers love to use métiers d'art in their creations. Métiers d'Art are the heritage of know-how carefully developed over the centuries. Professionals are first and foremost men and women of passion. They can work for the conservation and restoration of patrimony, but they can also work in the field of creation.
Métiers d'Art are essentially a manual techniques, implemented by highly qualified professionals, that's why the production is limited to unique pieces or sometimes small series. Métiers d'art, like any art profession, combines creative imagination and a set of high-tech techniques.
Art is not always expensive, and by mixing art and watchmaking, that's what the Romanian watchmaker Augustin Matei try to prove.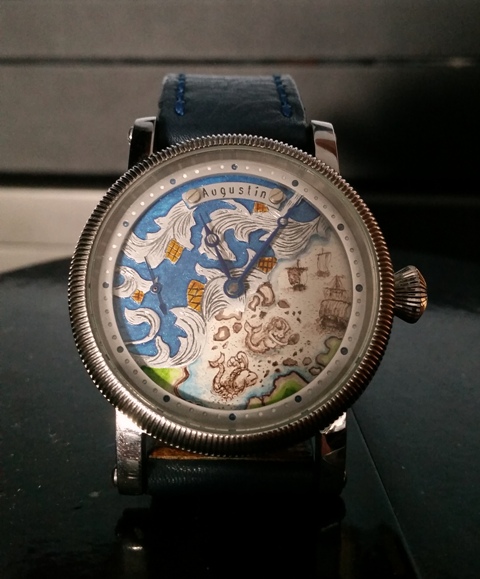 Augustin Matei studied religious painting at the College of Theology in Bucharest. After he graduated he painted churches and worked as an interior designer for Ikea (that's far from the watch industry we must admit). Ultimately his passion for design led him to establish his own unique brand. Although his production is limited the result is really outstanding.
For Augustine Mattei, it was logical to combine his passion for watchmaking with his artistic talent. An artist whose meticulous work and specific treatments give to its timepieces that little extra soul that we all like.Like all his watches, the « Sea Monster » is a limited edition of only 5 pieces which Augustin creates to order.
Of course, this is just an example in the already large collection of the young Romanian artist who can also create unique pieces according to the desires of the buyer.
The dial base of this « Sea Monster » is made from aluminium, then all the details are engraved by hand. Finally, the whole dial is 100% hand painted.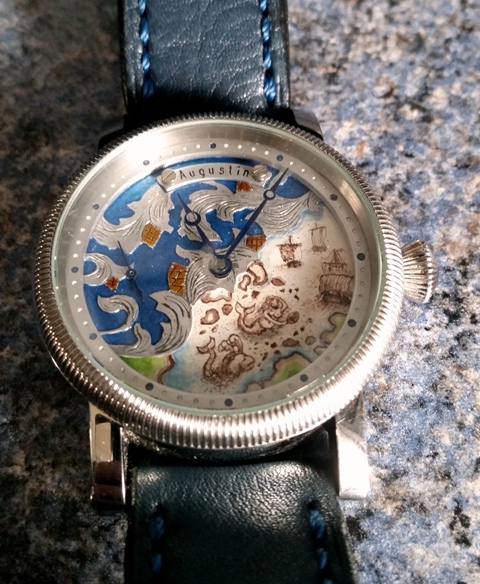 This meticulous illustration, whose is an inspiration from old navigation maps, is beautifully executed. On this one we will find a Sea Monster and a Mermaid who looks in the mirror… Both are waiting for ships and sailors that are painted at 3 o'clock. We could easily imagine a little story just with this illustration.
Sure the dial is the main attraction of this piece, but what is also interesting is in the whole style. The indexes are put on a little and discreet aluminum ring in order not to put too much information; which would have broken the beauty of the dial. The delicate and long blued hands with a ring near the edge use the Breguet style to give a more luxury feeling to the whole watch. Other feature is in the small second placed at 9 o'clock… Sure it adds nothing to the watch, but let's admit that it's always cool to have one.
The stainless case, topped with a kind of coin edge bezel, presents very classical proportions and measures 43mm in diameter and 12.8mm in thickness. All these features make this timepiece a comfortable and lightweight object when worn; which is very nice.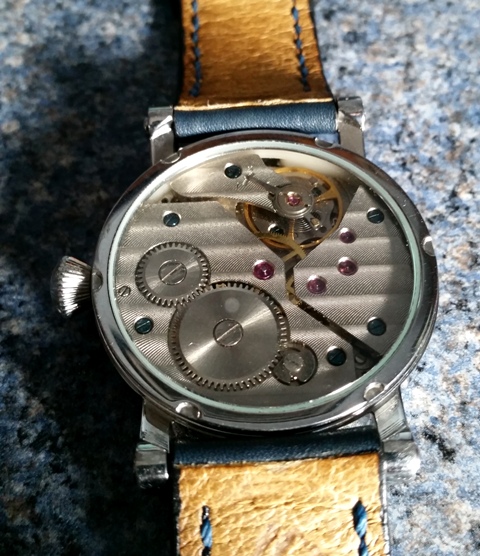 Now talking about the heart of the watch … Sure on a piece of Art like this one we would hope for a real Swiss made movement. This is expected and we will find the Unitas 6497 movements in future models. But to start, the young Romanian watchmaker chose an Asian made 6497 hand-winding movement from Seagull manufacture. This movement has the same features than the Unitas and proposes 17-jewels, oscillates at a frequency of 18,000 vibrations per hour, and has a power reserve of approximately 40-hours.
The watch is finished with a large leather handmade strap created by Vasile Uglay who is also from Romania.
The overall timepiece is quite amazing and the attention to details is the thing that first caught my eyes, not to mention that all the timepieces are really unique as hand engraved, hand painted and assembled by Augustin Matei himself… Most incredible thing is that the whole is for less than 1000€.