Stone dials; often only the creme de la creme of the watchmaking world produces them, and even those in very limited quantities. Yet that is about to change, thanks to the Americana collection by Brillier. Available through Kickstarter the Americana goes even the extra mile by utilizing stone marquetry for their watches. This means that several different types of stone form a mosaic of color and texture.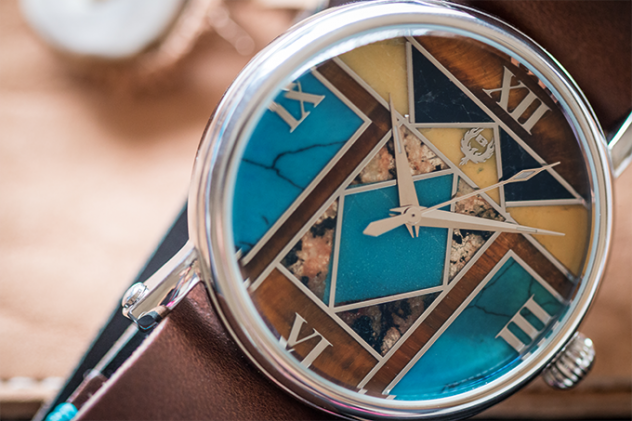 To accomplish this the Americana features a dial that is made from Turquoise, Tiger's eye, Unakite, Blue vain stone and Beige marble. The contrast of colors is absolutely stunning and even highlighted by the silver framing on the dial. In all honest, we also would love to see the watch without, simply because it is quite difficult to cut stone this thin and this precise that you should show off especially the parts where the different kinds of stone meet.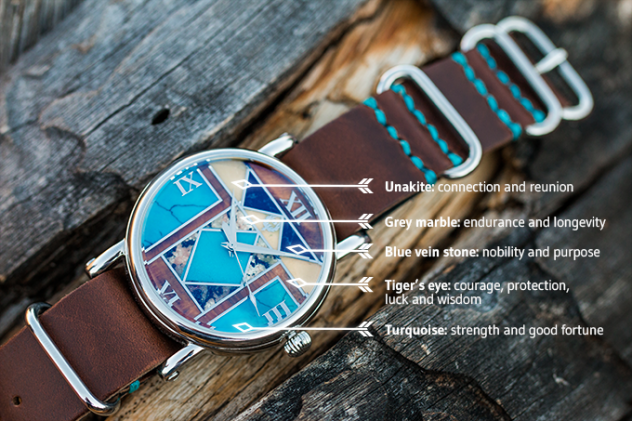 The design of the dial is inspired by the culture of Native American's and their rich cultural, heritage. This is all packed in a 43mm stainless steel case. Its design is pretty straight forward and in this case that is a good thing. It is all about the dial with this watch, that is what really sets it apart from all the other watches out there.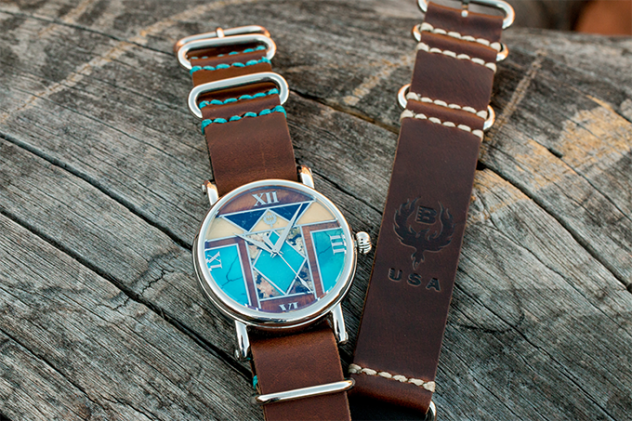 The strap is made of chromexcel leather. This sounds horrible, like it is not real leather, while in fact it is the official name for the original pull-up leather as it was developed almost 100 years ago. A company that still uses this technique is the world renowned tannery Horween from Chicago. They still utilize a secret recipe using bark retannage combined with a secret blend of natural oils and greases. This leather is also used for the strap of the Americana. An excellent choice because it really complements the dial.
Sweet is also the pouch in which the Americana is delivered. Completely in theme, it is hand-made from American bison leather and a deer antler button. For more details, or to take advantage of an early bird special, check out the Americana on Kickstarter