The Oris Divers Sixty-Five is one of those watches that offers a lot to love. It's the type of retro that we really like, A. because Oris made the original, and B. because the original is so cool, yet so hard to find these days. Oris introduced the Sixty-Five in 2015 with a rubber strap, and earlier this year this version got company of a collection of fabric straps. Now Oris introduces a third option: a riveted bracelet!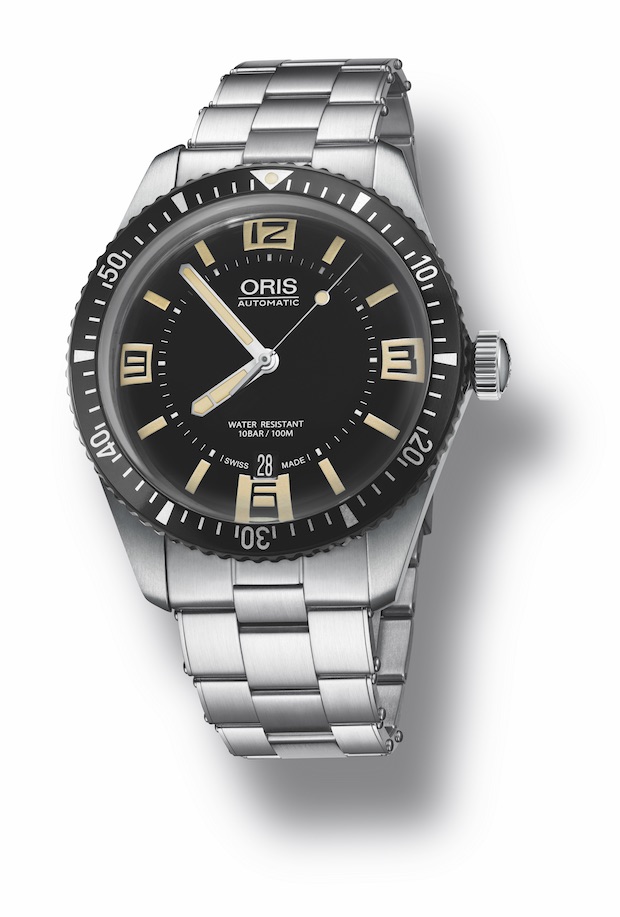 Should we really get excited about a bracelet? YES! Nobody would have blamed Oris if they simply took a regular bracelet, perhaps even one already used on one of their other watches, and introduce it on the Sixty-Five. But Oris decided to take a different route and created a bracelet especially for this divers watch, complete with riveted sides. The result is that the watch now has even more character that it already had.
Of course the bracelet is made with all modern technology, so you are getting a solid link bracelet with safety clasp, but the old school look. That is really like having the best of both worlds. Of course the watch itself doesn't change and the Sixty-Five is still fitted with Oris caliber 733, which is based on the Sellita 200, and housed in a 40mm case.
What did change was the price. Oris is now asking 1900 euro's for the Sixty-Five, 200 euro's more than the version with the fabric straps. Is the bracelet worth an almost 12% premium? Yes, because this is not a whole lot of money for a good steel bracelet, and by giving it the riveted look, Oris really went all the way to create the perfect companion for the Sixty-Five. Smart of them? Perhaps not, because the Sixty-Five is already in high demand, and I think that this will only increase the demand even further. The only downside is that you still have to choose if you want your bracelet on the Sixty-Five with black dial, the blue-black dial, or on that stunning two-tone grey and light "Deauville" blue dial….choices, choices, choices……
More info can be found here
Save
Save