One of the clever things that Apple did with the Apple Watch, is that it is quite easy to change the strap. What contributed to the success of Panerai in the late 1990's, now also works for Apple. Not only Apple itself, but also a lot of after market straps have hit the market. A lot of colors, textures and materials, but none like the Rhino Band.
The Rhino band, basically turns your Apple Watch into a G-shock. All you have to do is remove the current strap from your Apple Watch and click it into the Rhino band. Of course it doesn't make the Apple Watch indestructible, but what it does add an extra layer of protection, much in the same way are the rubber bumper protects the Victorinox INOX (you can read a full review on this watch in Watchisthis?! Magazine)
The Rhino band fits on the 42mm models of the Apple Watch 1, but also on the new Apple Watch 2 that has just been announced. Because the watch is still fully operational when fitted with the strap, it does not increase water resistance, so it makes most sense to get with the Apple Watch 2. It does come however with a military grade tempered glass shied, so the face of the Apple watch is protected as well.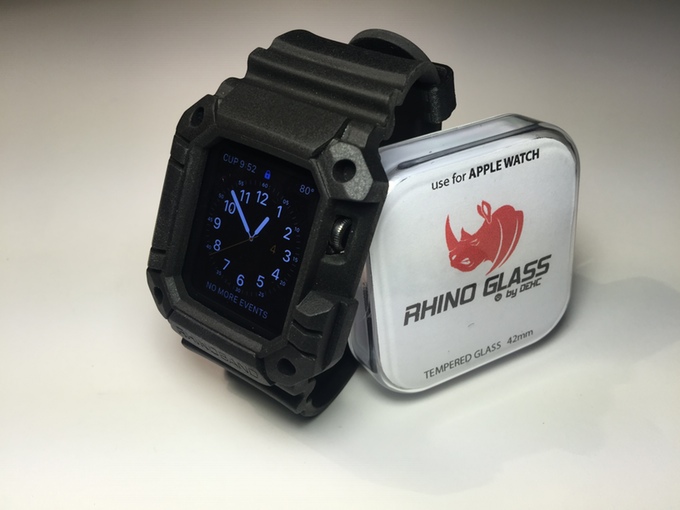 Quite honestly an Apple Watch wouldn't be my first choice to wear, when I am doing something rough and tough. But imagine that you are moving, you might have a few calls come in, but this way you can leave your iPhone in a safe place, wear your Apple Watch and still get the alert when somebody is trying to reach you while your watch is extra protected against damage.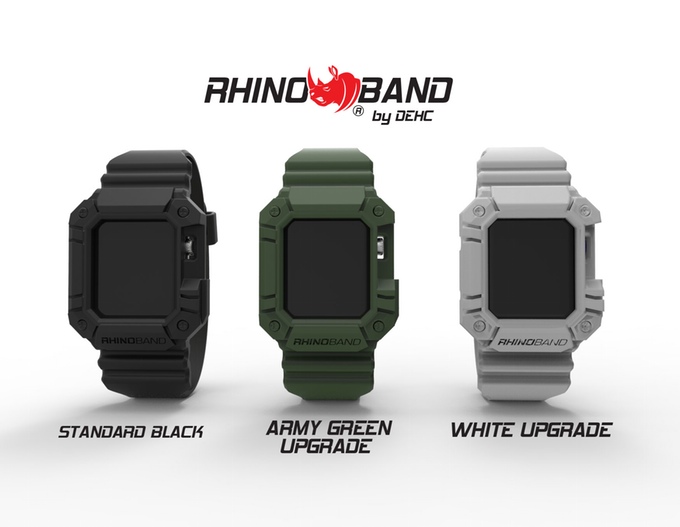 Although the added protection is great, I would honestly buy the Rhino band for the look alone. Unlike any other strap, it really changes the whole look of the watch. It turns the Apple Watch into something completely different and does so for US$30,-. The Rhino band is offered in black, green and white and is currently running on Kickstarter.
More information can be found here