When you want to start a watch brand there are two roads that you can take: you can start from scratch, or find a historic brand that is available. That is the route Votum took, and although they start from scratch as well, they have the brands history as inspiration.
The original Votum did not make it past adolescence. It was founded in 1962, but did not survive the quartz crisis of the 1970's. However, in that short period of time, it did create watches impressive enough to make an impression on Rolf Bodmer, a designer and graphic artist from Zurich, and François Zahnd, a watch manufacturer and industry expert from Biel. The combined forces and revived Votum. I would have said to its former glory, but both gentlemen actually went beyond and created an impressive collection of four different models.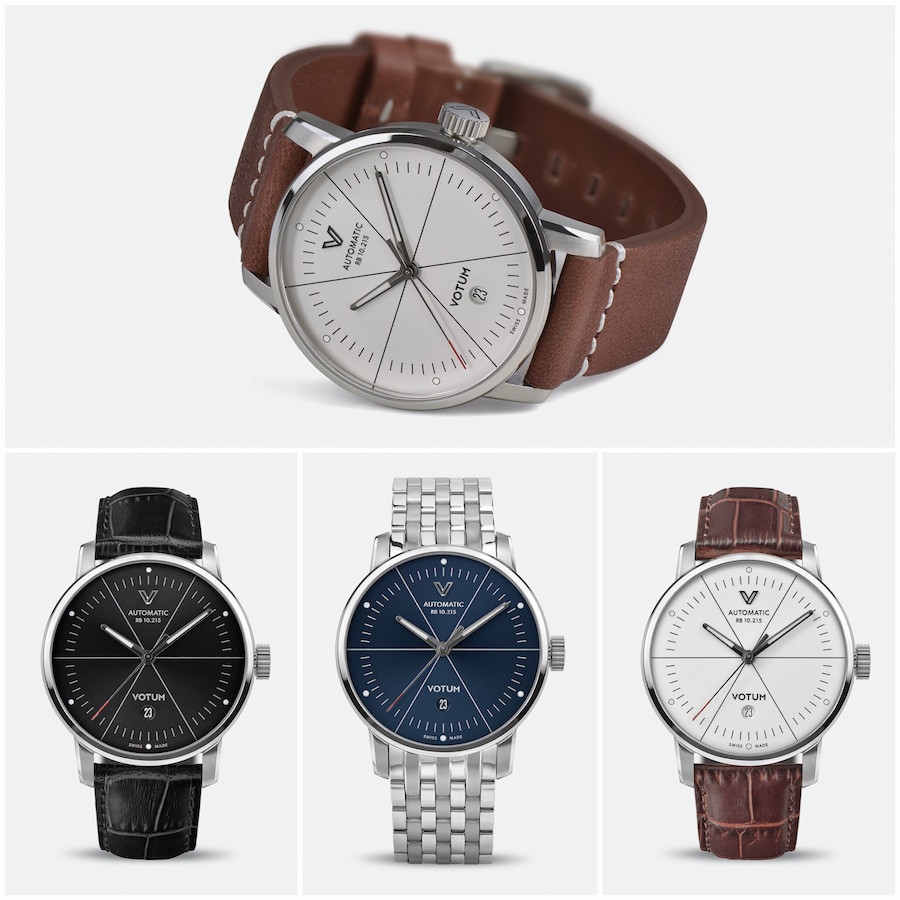 The one closest to the Vorum's of yesteryear is the Heritage. Most striking detail of this watch is the dial, which is divided into 6 segments. This gives the watch a bit of a vintage look, although it is fitted in a modern sized stainless steel case of 41.5mm. When you look at the dial, combined with the position of the hands, the Heritage is very balanced, yet always striking. Votum also applied quite an eye for detail, look for example at the red-tipped seconds hand, which perfectly covers the minute marks when it passes over them. The date could be a deal breaker, but Votum positioned it just right!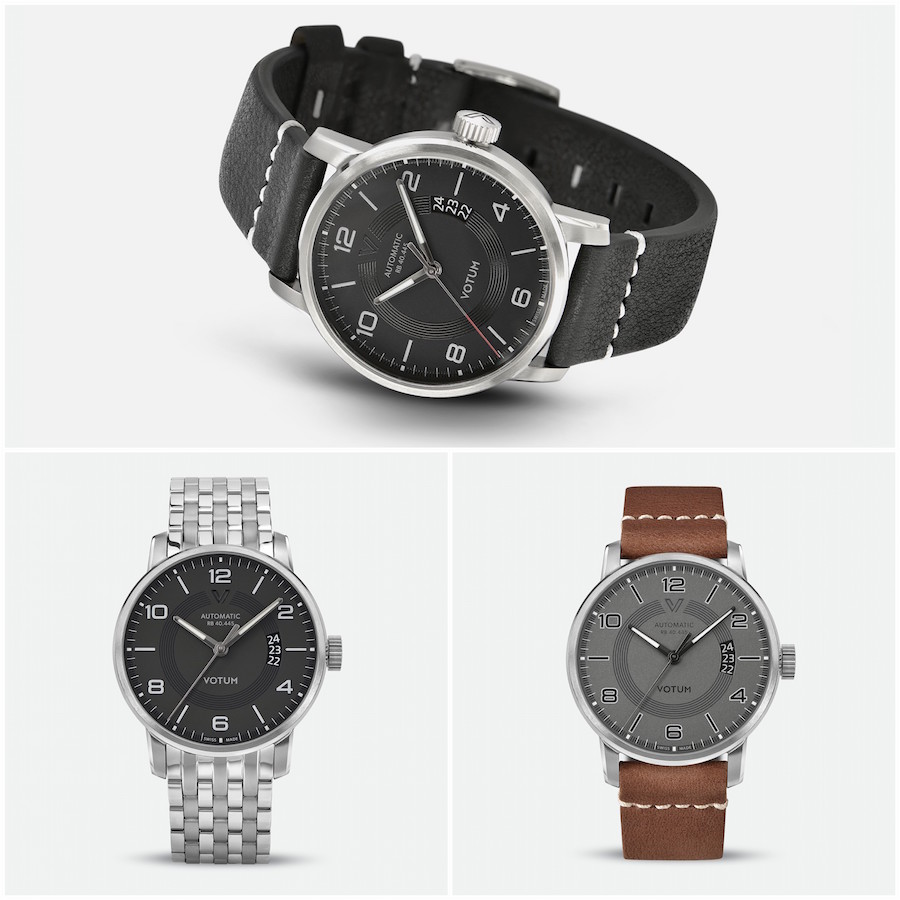 Sister model of the Heritage is the New Classic. It features the same case, and powered by the same movement (ETA's 2824-2) as the Heritage, but with a more contemporary dial. The date is at three o'clock, and features a sporty three numeral window. Bold Arabic numerals are on black or grey dial with a textured ring on them, give the New Classic a bold personality.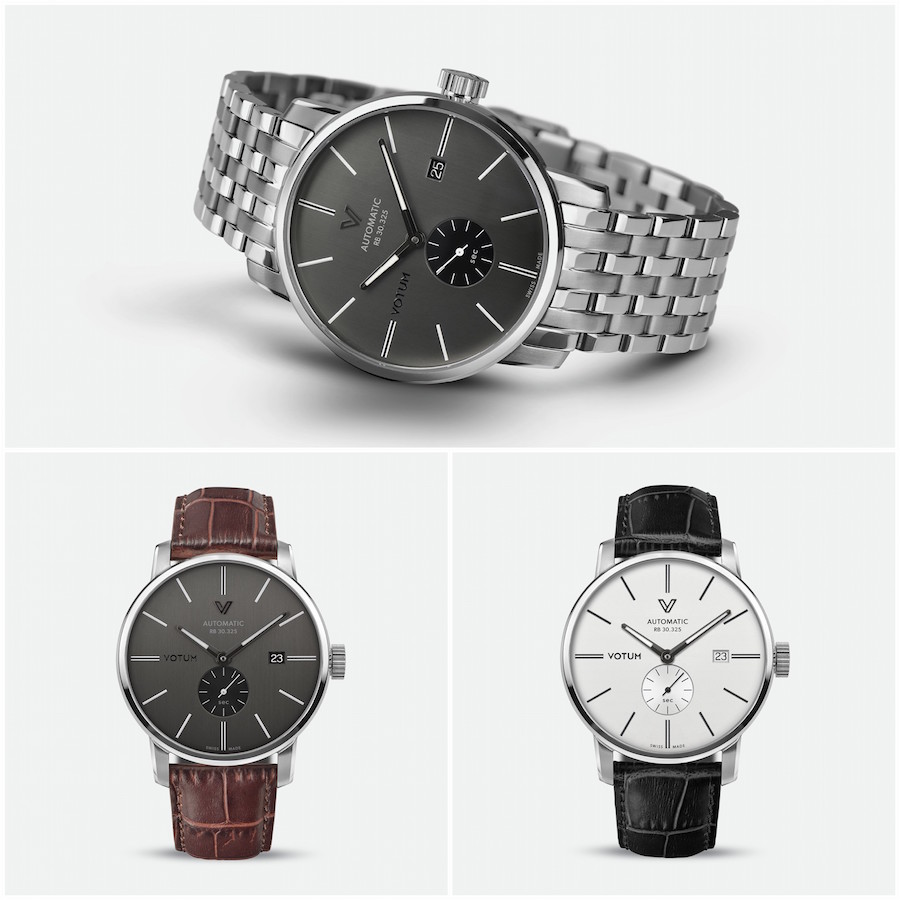 The Elegance is the third model, and combines a date function with sub-seconds at six o'clock. The dial, with its dashes as hour markers, give the watch a very contemporary look. In fact, I think that it makes the watch almost look strict, especially with a darker dial color. Powered by a Sellita SW260 automatic movement, the Elegance is also available (like all other models) on a very nice, seven link bracelet, that does a great job matching to all the different characters in the collection.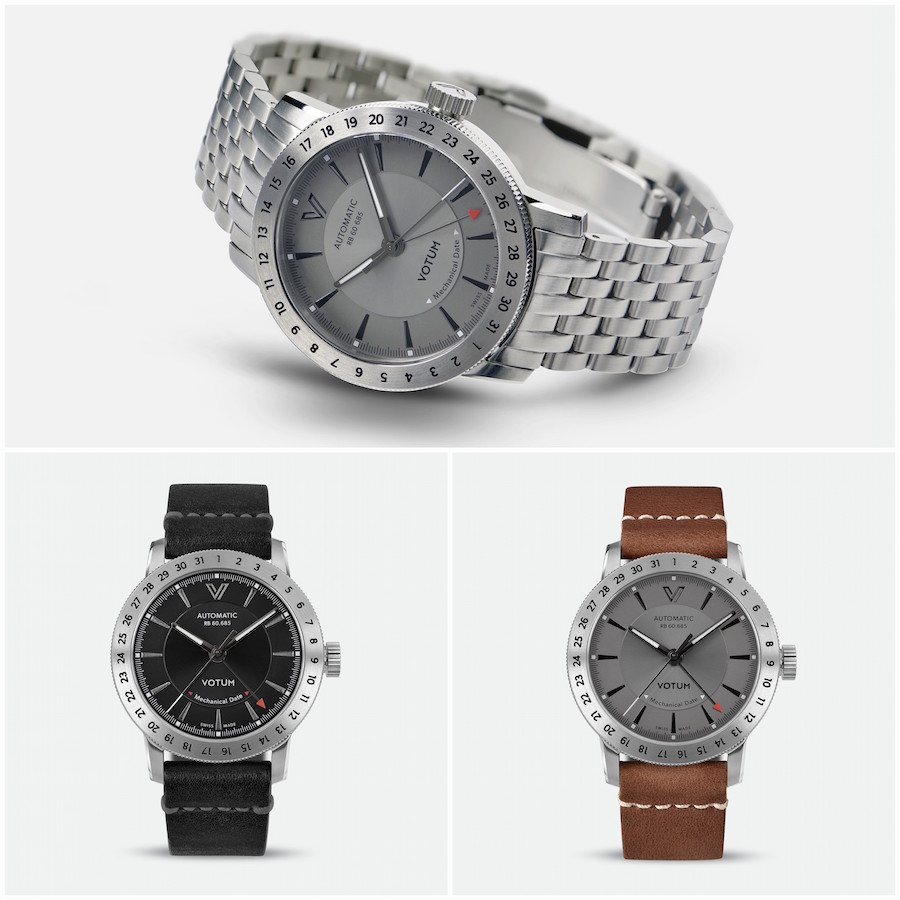 My favorite is the Mechanical Date. This Sellita SW 221 powered watch features a central mounted pointer date hand, with the date featured on a turn-able bezel. The idea behind this is that when a month has less than 31 days, you don't reset the date, but simply turn the bezel. A stroke of genius, and why didn't any other brand thought of this? It is a very small complication, but one that really sets the watch apart from the competition. In fact, I think that this date-function is something that Votum needs to consider to make it its signature, and actually use it on different models as well.
Votum decided to launch on Kickstarter, which is a clever idea, because it keeps launch costs low, and can give the some traction. The same can be said of their prices, which are modest for a Swiss made brand, but the question remains if they are modest enough. The following prices are the Early Bird's all on leather straps, with the metal bracelet adding a little over 50 Sfr to the price:
Heritage: 495 Sfr
New Classic: 687 Sfr
Elegance: 885 Sfr
Mechanical Date: 825 Sfr
With these prices Votum enters a very competitive field of Swiss watchmaking and has to take on offerings from well-known brands as Hamilton and Tissot, while also take on the Stowa's and Archimede's of this world. In terms of quality Votum has no problems holding its ground, but it is all about appealing to the consumers emotion in order to gain ground. For that the Votum collection is broad enough to appeal to different tastes, but really proves its worth with the Mechanical Date.
More info on Votum can be found at Kickstarter