Several weeks ago I discovered on the social networks a new Swiss microbrand named Timeless. I've been directly captivated by the design of the piece and so I decided to contact Mael Oberkampf, the founder and designer of the brand (an interview will come in the next weeks).
After some weeks of conversation he decided to send me the two watches that are part of his first collection. Let's welcome home the HMS watches 🙂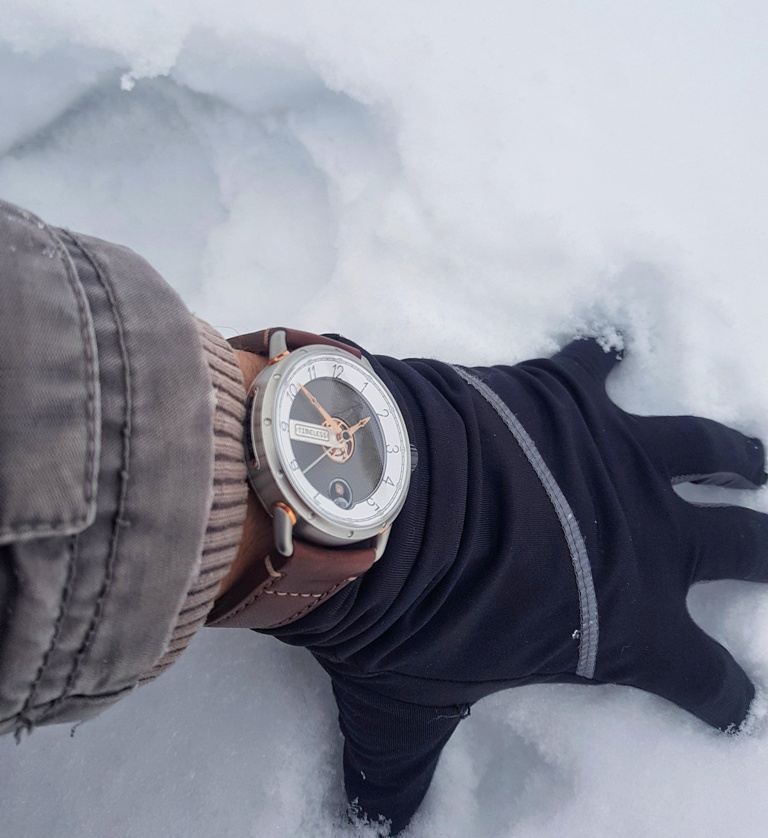 I was honestly happy that he accepted my proposal because I was quite intrigued by these pieces. It is quite rare to find a new brand, or micro brand, which has a more or less affordable price, and which has a totally different design than what is already on the market.
So yes, for those who follow me on social networks, you see that I share a lot of things about this brand. And that's simply because I love both pieces and because Mael is a really nice guy.
Stop talking, and let's take a closer look at the watches from the HMS collection.
What is really certain is that Timeless has its own design which is recognizable from afar. A strong design, for a watch full of details. Indeed, even if the dial directly catches our eyes, the rest of the watch has a lot to offer. Well, coming from a freelance graphic and 3D designer who has already a strong experience in designing wristwatches, we can't expect less.
In one word, the HMS is clearly a conversation watch!
What's nice about the whole design is that it comes from old wheels and old mechanics from early 20's, but in the meantime you can find some more contemporary details. We are here clearly in front of a kind of avant-garde watch which respects also the classical design codes.
The watch is an all-in-one. They decide to play with curves, and you can find this on the bezel of the watch.
But also with textures and depth, as you can see just under the sapphire crystal. With, guilloché center dial and circular satin-brushed anthracite (or matte white) flange.
This outer-dial ring features hour-marker numerals and minute track in a real contemporary way. For me, it's a kind of mix between bahaus style and Gatsby style… Well that's my opinion lol.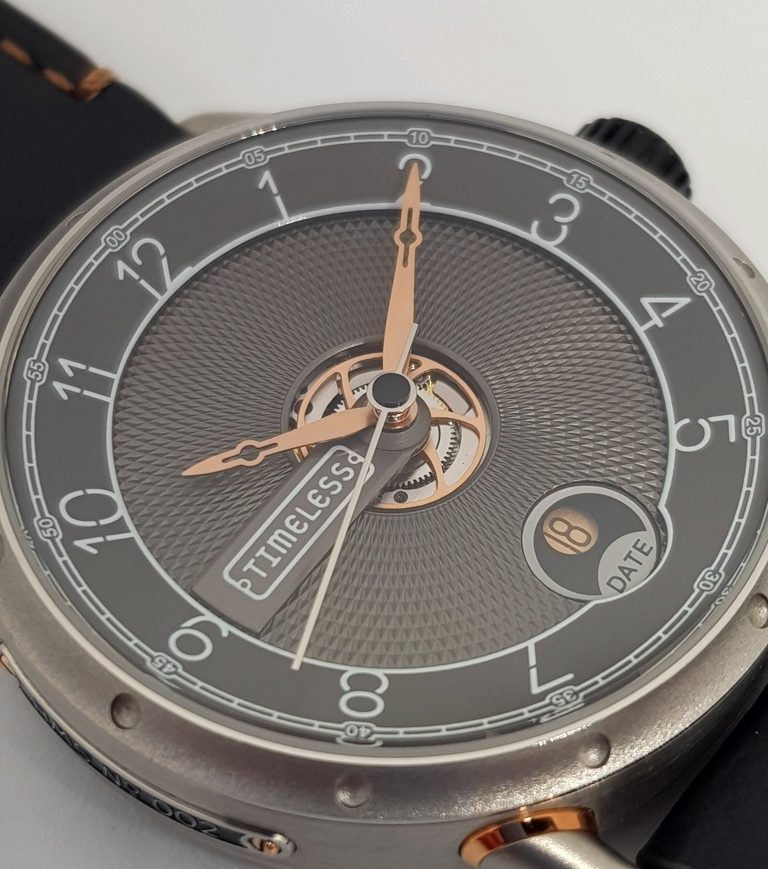 What I like is that you have two curves back to back. The one from the bezel and then this outer-dial ring. It's like you're in the mountains, you go up on one side and you go down on the other…. I maybe go to far with my metaphores, but hey, at least I describe the watch just like I see it.
The central opening of the dial offers a small glimpse of the mechanical movement and presents a decorative hour-wheel. The visual effect of this this little wheel is quite nice when you set the time of your watch.
And indeed, when you mix this wheel with the gold & steel (4N gold plated) hands you clearly see that the inspiration comes from old locomotive.
To finish with the dial, at 6 o'clock you have small yet visible, and readible, round-shaped hour-window and at 9 a big plate on which you have the name of the brand.
This one is a controversial one when I see the comments on the social media. Obviously, we can ask ourselves « Why this plate in the middle of so many others details and above all, over a beautiful guilloche dial? »
It is true that it takes up a little space and catches immediately the eyes.
Let's say that a watch must bear the name of its brand on its dial. So they put it there.
I admit that I don't see where they could have put it otherwise. Or maybe remove this nameplate and stick the name on the guilloche, like Czapek does.
Well that's an idea, but I personally don't mind this nameplate.
Inside the watch is the self-winding Swiss STP-1-11 movement, which offers 44 hours of power reserve. This one is a very good alternative to the ETA-2824 movement.
STP stands for Swiss Technology Production, however, you will mostly see this manufacturer simply referred to as STP. Their website also references the name SwissTP. Whatever you call it, STP is a Swiss factory owned by Fossil Group.
The development of the STP-1-11 movement started in 2006, so exactly the same year than the Swiss Technology Production company creation. Today they have a wide range of movements that you can find in many watches.
The Timeless HMS watch has a 41.50 mm x 12,80 mm stainless steel case with curved screwed-in-lugs highlighted with nice touches of real gold. Top glass is scratch-resistant sapphire crystal and on the other side the watch is secured with a screwed-stainless steel caseback featuring Timeless logo and numbering.
To finish with the case, at 3 o'clock you will find a multi-part crown that boasts the brand's wheel style logo. This unique crown incorporates a black PVD outer structure with flywheel styled edges and an inner core made with steel and pink-gold. This crown is really nice because, thanks to its size and structure, it's really easy to use and grip.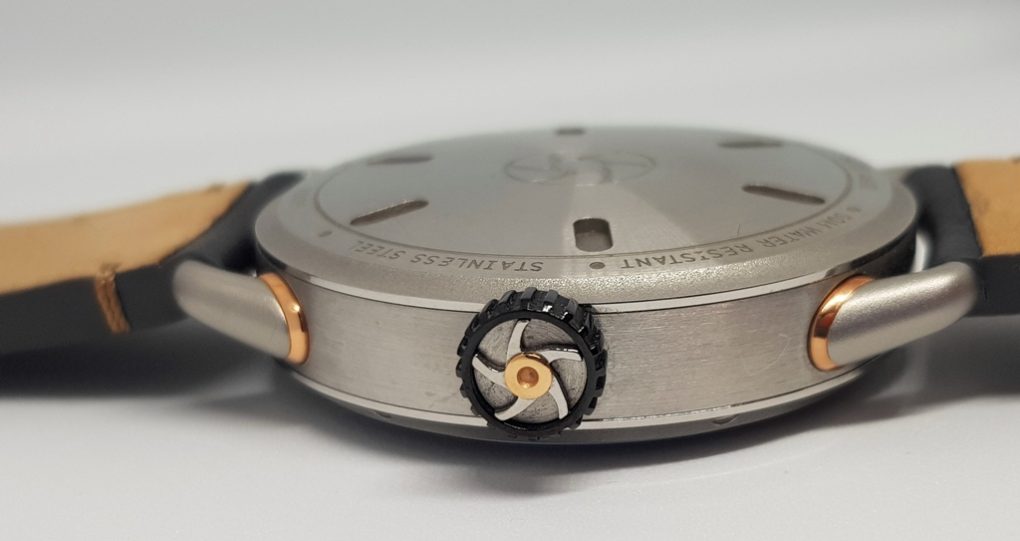 On the other side of the case, the watch features a small plate with serial number. That means, you will have you own number on the watch and so, it will be really yours. Note that these models are limited to 250 pieces each. The number must be chosen directly on the website when you order your piece.
Because yes, just like the majority of the microbrands, if you want to buy one of their watches you have to do it directly on the website. Now what's really cool is that you can also speak directly to Mael on the social networks or by eMail.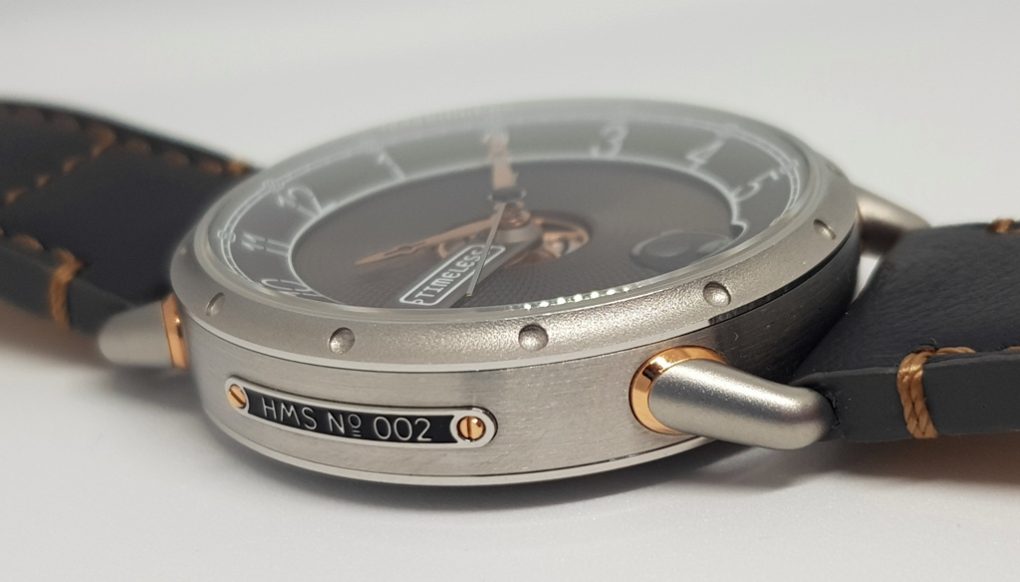 At the moment, the brand offers the HMS watch in two dial versions based on the finishing of the outer-dial ring: matte white (HMS 001) and anthracite (HMS 002).
To finish, the watches are fitted with a strong calf leather straps. The HMS 001 with brown colour and the HMS 002 with anthracite colour strap.
You will receive the watch in a nice genuine leather travel pouch. Let's admit, it can be very practical, and in addition it takes up less space than the usual large watch boxes.
Well, I personally like this piece very much. She's up for adventure and honestly I'd take her with me on a mountain hike.
My only problem is I wouldn't know which one to take with me. It is quite difficult for me to choose between the two versions.
I think for everyday wear it will depend on how I'm dressed. The HMS 001 and its white outer dial ring is classier, while the HMS 002 seems sportier.
I think you got it, if you like watches with character, I highly recommend you to buy a Timeless Swiss Watch.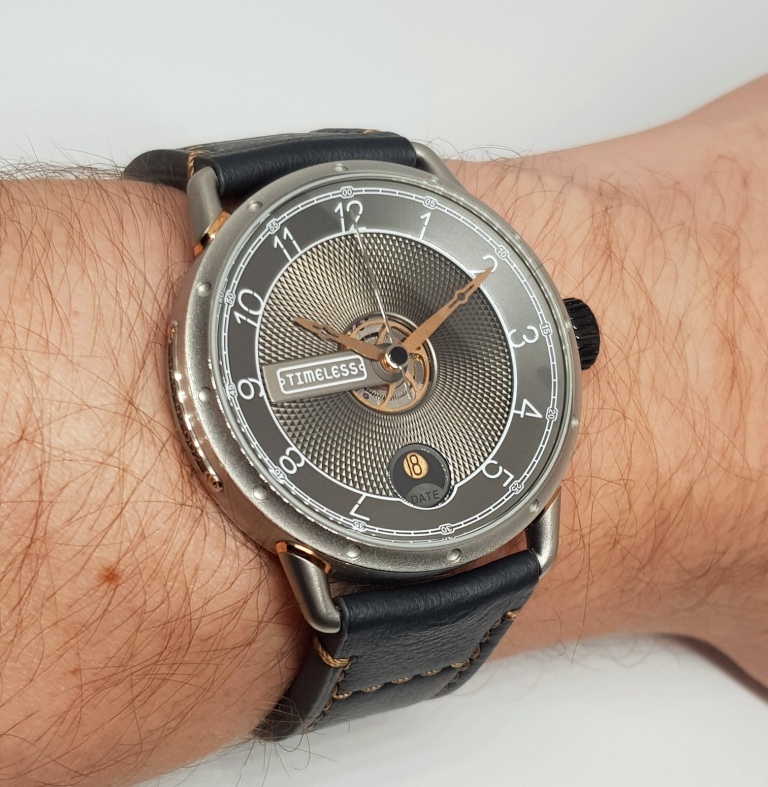 Retail price starts at 1,450 CHF.
Technical details
Case
Stainless steel case
Diameter: 41.50 mm
Thickness: 12.80 mm
Circular satin finish, fine sandblasting polished details
Glass: Sapphire (domed), with anti-reflective coating
Screwed case back; numbered and engraved with the Timeless logo
Crown: Gold & steel; Made up of 3 parts
Lugs: Screwed-in-lugs in Gold & steel
Water resistance: 50 meters
Dial
Guilloché finished centre-dial with decorative hour wheel
Dial ring: Circular satin-brushed anthracite or matte white
Date at 6 o' clock
Hands: Gold & steel
Movement
Swiss made self-winding movement
Power reserve: 44 hours
Strap
Calf leather strap
Polished barb buckle
I will update this review with live pics of the HMS 001 quite soon.
You can follow Timeless Swiss Watch on the social networks :
Facebook / Instagram / Website
Jonathan Kopp