Richard Hoptroff is the kind of guy that you can easily put in the category « crazy genius ». You have probably already heard about his atomic watch – the N°10, but now you have to know that he also creates really cool and affordable watches.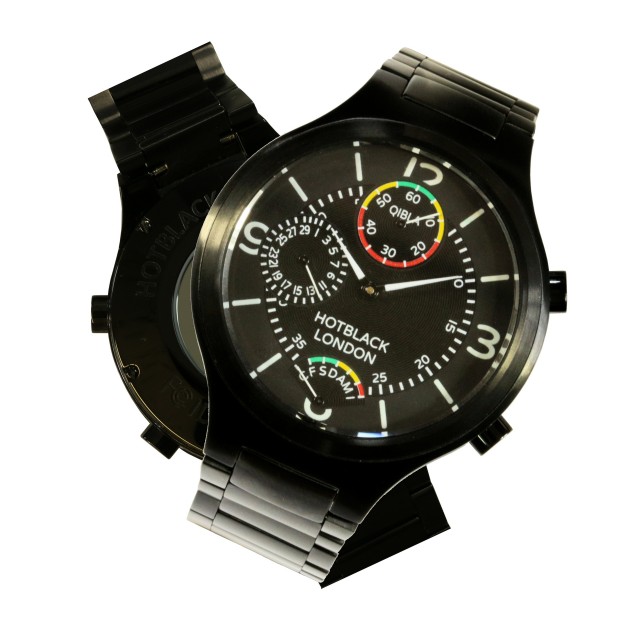 The British Watchmaker based in London is doing interesting and smart complications with electronic watches that are linked directly to your smart phone. Instead of trying to do everything, like other smart watches, and losing the look and the utility of a conventional watch, these timepieces present only one specific function, and use the hands and subdials of the watch to convey the information of this smart function.
Hotblack timepieces are tough on the outside with a very sporty look and really smart on the inside.
Yes, Richard is a pioneer in the smartwatch market. You will understand why.
The Hoptroff Hotblack watch is a Smart Watch with a single purpose… that means that the Hotblack watches are available with options to keep you up to date with stock prices, but also a version with the direction and time of day for Muslim prayers, and finally one with important notifications like anniversaries.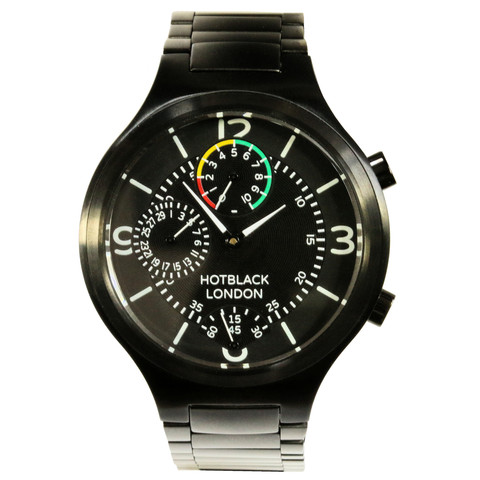 And this is the most practical because … You know what happened if you forget the birthday of your wife?? Lol … Okay but how does the watch learn your anniversaries?
The Hotblack Anniversary uses Bluetooth to connect to your mobile phone, via the Hoptroff mobile App, and from where you can teach it important upcoming dates. So if something important slips through your phone reminders, the Hotblack Anniversary will jog your memory in time to avoid disaster. A connection to the phone is not needed for normal use.
Another one and more simple, named "Gravitas", displays Hoptroff's characteristic rocking seconds on the top dial and perpetual date on the bottom dial. It's even smart enough to adjust for daylight saving time.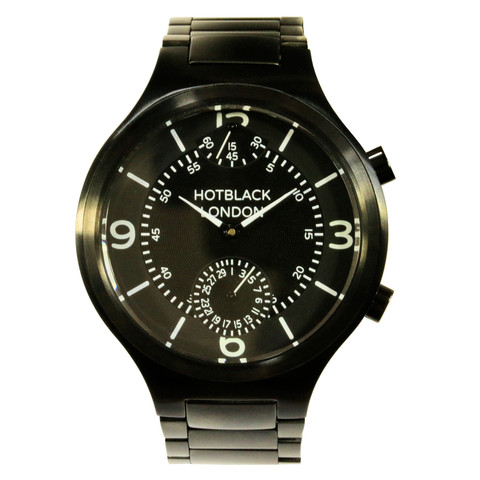 The watch case of the timepiece that measures 44mm in diameter and is 13mm thick, is PVD coated stainless steel or silver backed, with a sapphire crystal, SuperLuminova on the hands and numbers and 5 ATM of water resistance. All the models can be ordered with the pushers on the left or right side following your preference, for right-handed or left-handed people.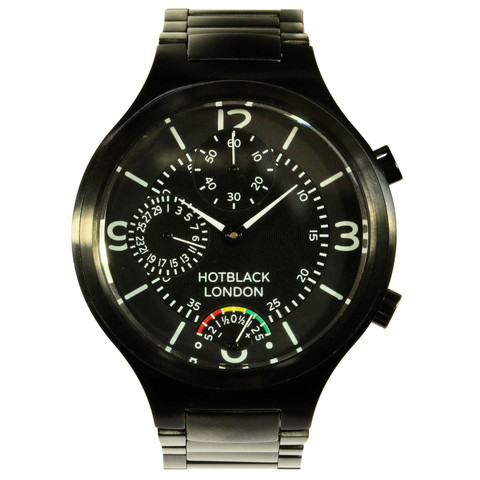 Note that to achieve the precision of only 1-second/year, each timepiece is individually subjected to an 8-hour temperature cycling ordeal while timing it against an atomic clock….These watches are the most accurate quartz in the world, except for their atomic watches.
All the watches are made with Hoptroff No.11B (or 9B / 14B / 15B) 1 sec/year movement that has been developed in-house… and that's another prowess for an affordable Watch.
Yes affordable, because you can find these timepieces priced around 1000€.
In Pics : First the Salah Watch, then Anniversary, Gravitas and Stock Market.