We are witnessing an entire horological revolution: classical watches towards smart watches and smartwatches towards classical watches.  Just think on how classic watches are going smarter like the Longines VHP, which is actually a smart watch with micro-processors and sensors but doesn't synchronize with phone and doesn't have notifications.
On the other hand, think at the smartwaches, for instance Samsung S3 done with Artya to be more close to a classic Watch (to read more about it jump on the last issue of our magazine by clicking HERE).
Everybody wants what the others have…
This seems somehow logical as both sides try to keep their customers and gain new ones. In the last two years the market was assaulted by better horological smartwatches and more classical designed smartwatches, but there is still a great gap in between.
The first step to remove this gap was made by MyKronoz Switzerland, a company that designs and develops wearable devices, and which are based in Geneva, Switzerland. Their smartwatch with touchscreen and real hands is available for pre-order on Kickstarter.
Wait… what? Yes, a colour TFT touchscreen smartwatch with classical watch hands for hours and minutes and, most important, a battery life between charges of 30 days! All of this is possible with the new technologies.
Packed in a nice 44mm diameter and 12.8mm thickness stainless steel, gold PVD or black PVD case, the ZETime is covered with a Corning® Gorilla® glass (used for the touch screens of mobile phones) and offers 3atm (30m) of water resistance.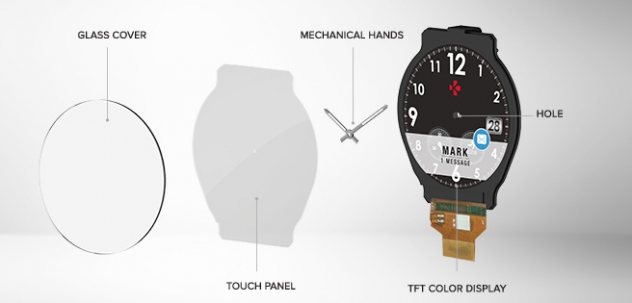 The dial is 1.22 inch TFT display with a resolution of 240×240 pixels, it has customizable and interchangeable watch faces and a central opening for the chrome hands axis. When the display is not used, the watch can be used normally, as a classical watch and for the moment when the smart functions are used, the hands controlled by the smartwatch's processor are aligned in an optimal position for display reading.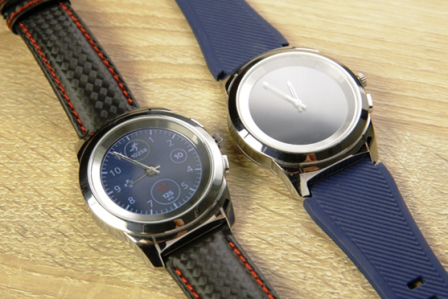 The functions that can be used are: activity & sleep tracker with three-axis accelerometer and optical heart-rate for monitoring heart-rate, steps, distance, calories, active minutes and sleep.
The user of the ZETime can control his watch simply by touching, but also thanks to the physical smart crown and can receive notification of incoming calls, read social networking notifications, check weather forecasts and get calendar reminders, control music, take photos or use the "where's my phone function".
The hybrid smartwatch uses a proprietary operating system and Bluetooth BLE4.1 to connect to an Android or iOS smartphone, it has a Li-ion 200mAh battery type that can reach a 30 days autonomy.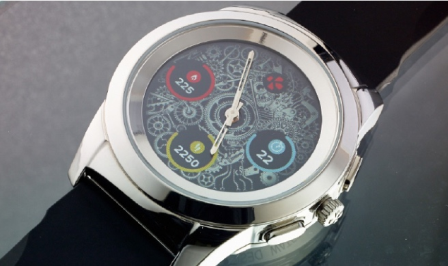 Moreover, the watch can be personalised using a 22mm quick-release system with different strap styles: genuine leather strap, silicon or metal strap, carbon fibre or denim strap and various NATO straps.
MyKronoz started the Kickstarter campaign with a goal of 50,000 USD and by the moment when this article was written, they raised more than 1,800,000USD – more than 36 times the goal-amount.
You can still pre-order this watch, on Kickstarter till 27 of April 2017 for 139USD for the Original Collection (steel case and silicon band), 160USD for the Premium Collection (steel watch and premium band) and 174USD for the Elite Collection (steel case and metal band).