At Watchisthis?! we love special projects and we have just the thing for you! A lot of brands, large and small, have released copper and brass cased watches in recent years. These cases look stunning when you buy the watch, but will soon start to develop a unique patina. The metal is influenced by the elements, how harsh or mild they might be. Each one of these watches will develop a unique patina, and that probably explains the popularity of these type of watches.
We were interested how this patina develops, so we took a Skull dial by Regia Timepieces and see if we could get it ready for Halloween, monitoring the development of the patina along the way. The Regia Skull Dial has a brass case and buckle, and is fitted with Seiko's automatic caliber NH35. With a diameter of 44mm it's a substantial watch, which makes it perfect to see how the patina will develop.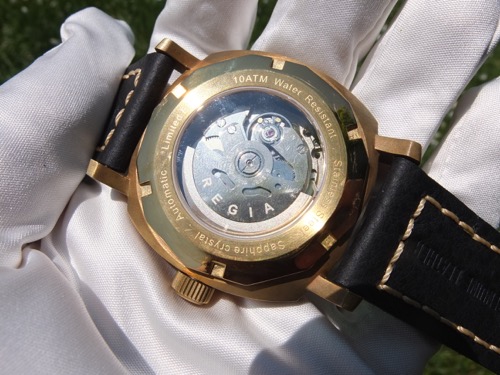 Right now the case and buckle are perfectly clean, with that golden tone brass is known for. No signs of any tarnishing, discoloration or other indicators that the patina process has already started. It will be interesting to see how severe the conditions have to be, before the case and buckle are starting to put on some patina.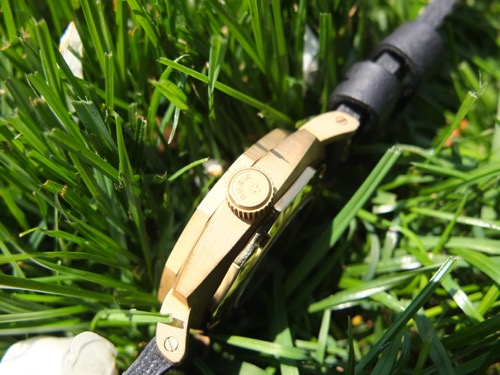 With summer coming up the watch will spend a lot of time in the outdoors, just being taken to the paces of everyday life. Depending on the weather we are getting, heat, humidity and the occasional rain showers will be the ingredients for this watch to take on its « tan ». In all honesty its actually quite exciting to see how this will all develop.
For now the Regia Skull dial is still in perfect shape, but we will post regular updates on how the brass case and buckle are developing.