Dedicated to putting the world of aviation around your wrist, Belgium brand RSC watches introduced their latest model, the P-51 Mustang on Kickstarter. Inspired by one of WWII most legendary fighter planes, the watch is more than an homage and bound to delight also those who are simply looking for a good looking sports watch.
The designer of RSC is Ronald Steffen (RSC stands for Ronald Steffen Creations), and he is not exactly what you would call a rookie! Some might have heard of his other brand Steffen which is known for its high-quality watches in a unique Belgium style. With the P-51 Mustang, you can also see this, for example with the uniquely designed crown at two o'clock and the lugs with the oversized screws on the side.
That is not all because the polished bezel and case back stick out a little bit over the edge of the case, adding to the watch character. The P-51 Mustang carries, by the way, the « Swiss Made » seal, and in this case, it also means that it is fitted with a Swiss movement. ETA's 2824-2 has long been a favorite among watchmakers for combining reliability and precision with a sturdy construction of the movement itself.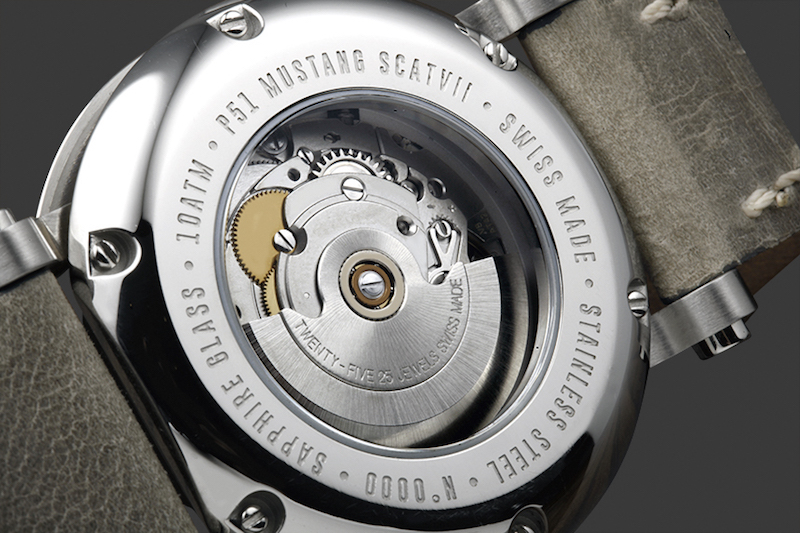 Another prominent feature of the P-51 Mustang is of course the dial. Two oversized numerals at 3 and 9 o'clock dominate the design of the sandwich dial. It gives the watch a bold edge, and a lot of character. The date at 6 o'clock balances the design nicely and the front profile of the P-51 Mustang gives the watch a touch of aviation, but when you are not really into vintage fighter planes it doesn't overpower either.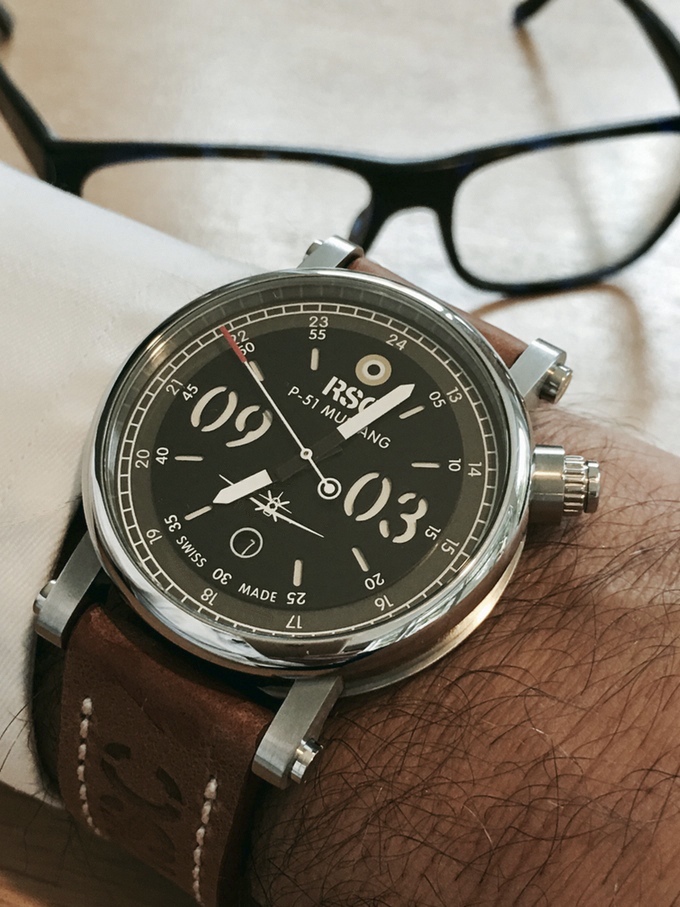 The strap on the P-51 Mustang is of a rugged kind that goes well with the watch. The RSC initials are on them as well in a stenciled font. The watch is limited to 200 pieces, and right now you can still get an early bird for 495 euros. That is a very competitive price for such a well made, even Swiss made, watch, with such an expressive design!
More information on the P-51 Mustang RSC can be found on Kickstarter
Save