Mondaine enhancing the watch functionality with Oberthur Technologies' contactless payment system- PayChip ™ with NFC.
Blurring the lines between technological innovation and horological excellence, Mondaine has once again excelled with a fresh update to its outstanding Mondaine Helvetica No1 Smart watch.
Mondaine continues to innovate and has updated its smart watch offering by adding Near Field Communication (NFC) contactless payment technology.
A number of the Swiss-made brand's watches will be imbued with a Mondaine PayChip, designed to offer convenient and efficient transactions at contactless payment points.

We already know the Mondaine Helvetica Smart watch, which was inspired by the world's most used font Helvetica (Latin for 'Swiss') which encases modern technology in a design that feels fundamentally grounded in Swiss watch-making. In fact, the only indication that it is smart is the sub-dial at 6 o'clock, which provides an analogue readout of sleep and activity tracking data collected via sensors by MotionX/FullpowerR.
In a similarly subtle style, the Mondaine PayChip, which is the same size as a phone SIM-card, will be invisibly secured within a specially-designed part of the Mondaine watch strap on the 12 o'clock side, or inside a strap loop which can be fitted to most watches.
The 'handy' positioning of the PayChip ensures that a simple flick of the wrist results in uncomplicated payments at NFC pay counters worldwide; freeing the wearer from unnecessary bulky bags or wallets.
With this new add Mondaine has stayed true to its iconic Swiss roots by blending craftsmanship, functionality and simplicity with technology designed to declutter and destress.
The Mondaine Helvetica smart watch will be the first to introduce the PayChip installation, however Mondaine is also offering this technology with several other Mondaine models. These versions are sold at the same price as those without this facility… what seems to be an asset to the success of the latter.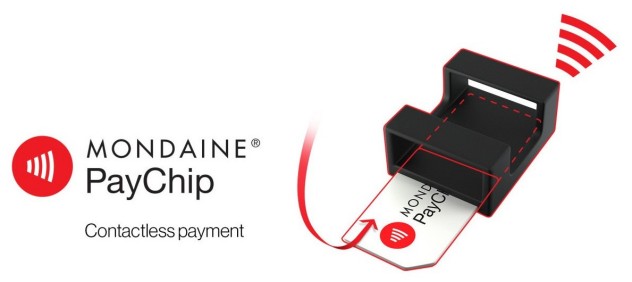 A live demonstration of the Mondaine PayChip prototype will be presented at this year's Baselword to show contactless transactions for servings of original Starbucks on the go coffee, supported by Selecta vending company (Selecta is Starbucks' exclusive partner for the Starbucks on the go brand in Europe).
To achieve this goal of convenient transaction, Mondaine has partnered with Oberthur Technologies, a leading global provider of embedded security software products, services and solutions, who produce billions of smart cards worldwide. Oberthur Technologies and Mondaine are of the strong belief that more and more retailers globally will have contactless payment devices installed.
For the Swiss Market, Mondaine has partnered up with Cembra Money Bank AG, who will issue the MasterCard Credit Card to consumers. The PayChip uses the same technology as the majority of credit cards, allowing customers to simply hover over contactless payment devices in thousands of point of sales worldwide.
In other countries, Mondaine's distributors will partner up with domestic credit card issuers who will then provide the same PayChip produced by Oberthur Technologies.
Note that, the chip services are subject to the same rules as for credit or debit card payments. For payments in Switzerland below CHF 40 the wearer does not need to enter a pin, but will be required to do so above this threshold. If the card or watch is lost, the wearer can contact Cembra Money Bank and block the PayChip™.