In a time when the world is a global village people travel for many reasons all over the globe. Frederique Constant has just released a watch to accompany you on your travels. The Classics Index Automatic GMT is the type of watch that Frederique Constant always does so well; not a crazy design breakthrough, but a solid, well made watch with a classical touch and an affordable price tag.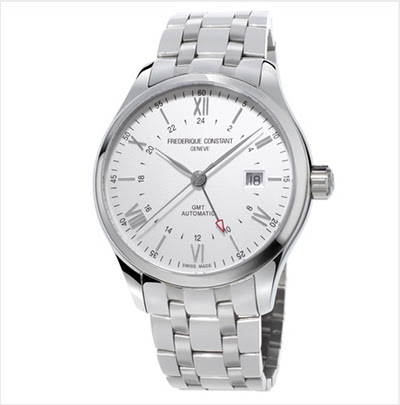 As straight forward as the design of the New Classics Index Automatic GMT may be, it is far from boring. The dial features silver-colored (of rose gold for the rose gold-plated version) Roman numerals that are sandwiched between printed minute dashes and the 24 hour scale for the second time zone. Stunning leaf-shaped hands give the watch a slightly more classic look, but they are more slender than is common for this type of hands. The hand for the second timezone really stands out because Frederique Constant featured this with a red triangle for easy reading.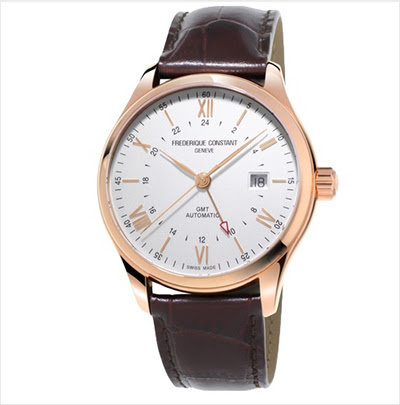 A date function makes the watch even more practical. The dial would probably look even better without it, but when facing a jet lag in a bustling metropolis so different from your own home after you traveled through several time zones it is a highly regarded feature! The same goes for the fact that the GMT setting can be changed by using the crown. No need to awkwardly use your pen in the plane to push in the corrector for the second time zone. A 38 hour power reserve will keep the watch going, and the sapphire crystal will endure anything you throw at it, except diamonds, but who does that anyway?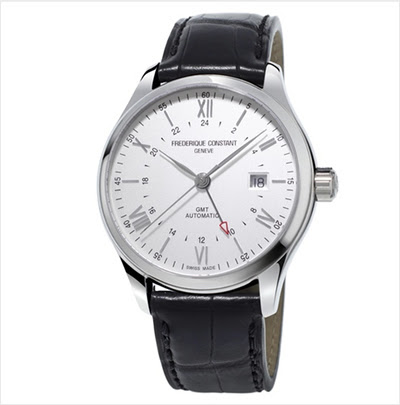 In four models Frederique Constant has been able to create a range to appeal to the taste of many. The rose gold-plated version with a silver dial on a brown leather strap is by far the most classic, while the Classics Index that features a steel case with a black dial and a metal bracelet has more of a sporty look. There is also a white dialed version in a steel case, which can be fitted with either a black leather strap or a metal bracelet.
The stainless steel model with a leather strap is priced at 2'195 US$, the version with the stainless steel bracelet adds 100US$ and sells for 2'295US$ and the rose gold plated model is priced at 2'495US$.