Let's first clear something up: it might seems very strange as an Irish brand to name your watch "Holland//01". However, this has nothing to do with the country that sometimes goes by the same name, but refers to John Philip Holland (1841 – 1914) a brilliant, Irish engineer that without any modesty can be seen as the "father of the modern submarine.". This all makes it a bit more logical why Neonos choose him to name their first watch after.
That watch is 44mm of design delight. Neonos did an excellent job in transferring the work of Holland a century into the future. The front is crafted from forged carbon, the back from marine grade stainless steel with a diamond-like carbon (DLC) coating, and features a nice engraving. The Holland//01 looks sleek and sophisticated, yet with an authoritative undertone. It commands respect, much in the same sense as a modern military submarine would.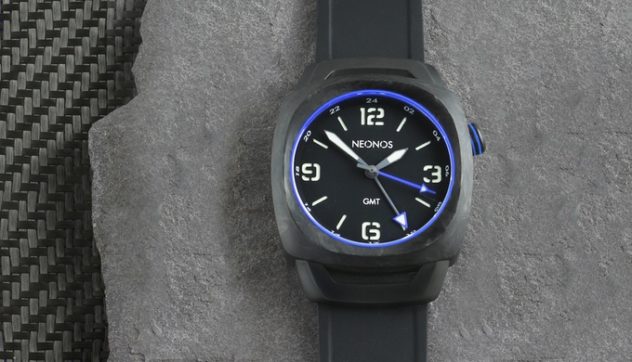 Most watches that feature a carbon case (or DLC case for that matter) are just a whole lot of black or monochrome details at best. Neonos did it differently and used an electric blue gasket that makes the whole watch pop! They also used the same electric blue on the running seconds, GMT-hand and the crown. To really get that brand image together they even incorporated it in a very clever way in the box of the Holland//01. Neonos crafted this so well that you think that all the electric blue details will turn immediately to red when the sign for battle-stations is given….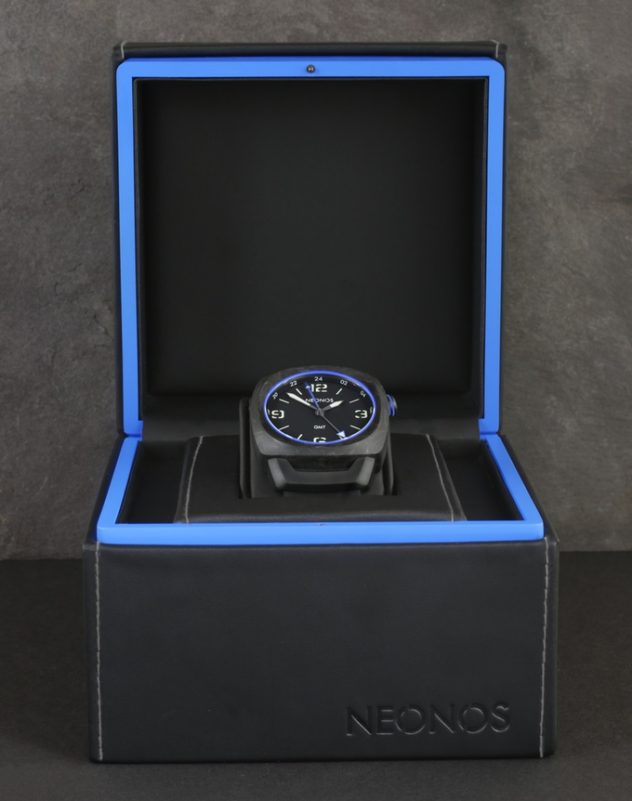 What I like about this watch is the case for the details. The lugs are stunning, and fit the overall look of the watch so nicely, the sapphire crystal is flat, yet has a chamfered edges that reflects the light a bit and highlights the electric blue gasket even more. But also the custom buckle show that this watch was crafted with care, precision, and most of all, passion!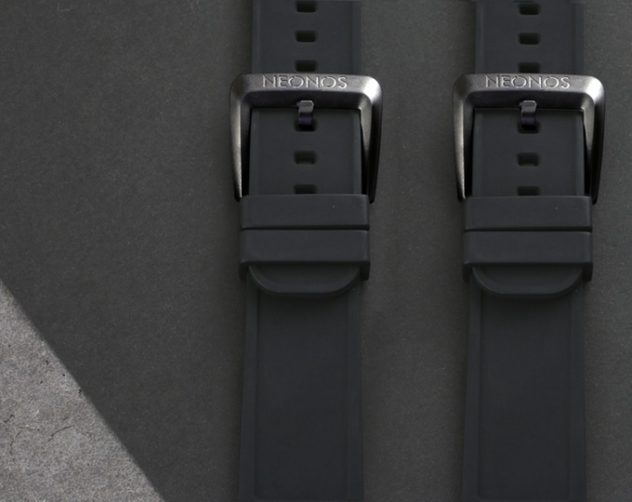 The only thing I am less excited about is the movement. It is powered by an automatic Hangzhou 6460, which the Chinese based on ETA 2836-2 yet with an added GMT complication (or actually they modified the day-indicator). For Chinese movements the 6460 is not a bad choice, but it is still a Chinese movement, which makes servicing quite difficult. And servicing is something all watches are going to need at some point. On the other side, this is a watch created with clear link to the world of submarines. A world where the existence of day and night is often only visible on your watch. A GMT or day/night indicator is important, and there are not that many affordable movements out there that offer this complication, and are readily available.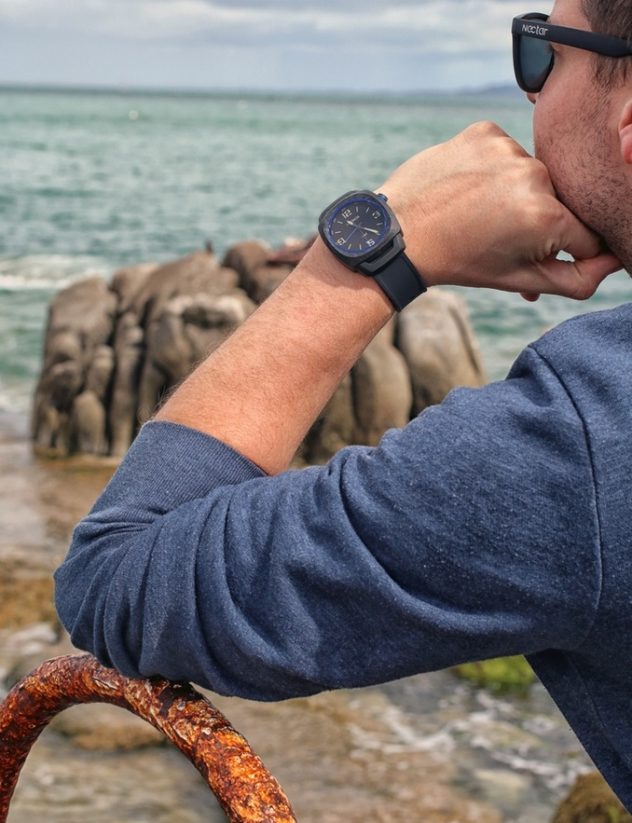 You probably should still be able to pick a Neonos Holland//01 up for US$600,- which is a very reasonable price for a watch crafted from forged carbon.But what I like especially is that Neonos has been able to get a nice, tangible link with an interesting piece of history that never seemed forced. They where inspired by Holland, but don't dwell in the past. Instead, they used his design legacy, applied it on a watch and took it a step further. They don't look back into the past, but forward in the future, as did Holland, and that resulted in a very original and refreshing design.
That future will increasingly be about brands like Neonos, who blend history and future in one interesting watch, full of details, created with passion and offered at a very competitive price point.
More information on the Neonos Holland//01 can be found on Kickstarter