Yes, we admit it, the new ProMare Chronograph by Mühle-Glashütte is pushing the limits of Watchisthis?! highest price barrier, but we decided to include it as an exception to our rule. Why? Because of what it has to offer, and it might be worth for some watch connoisseurs to save up to get this watch.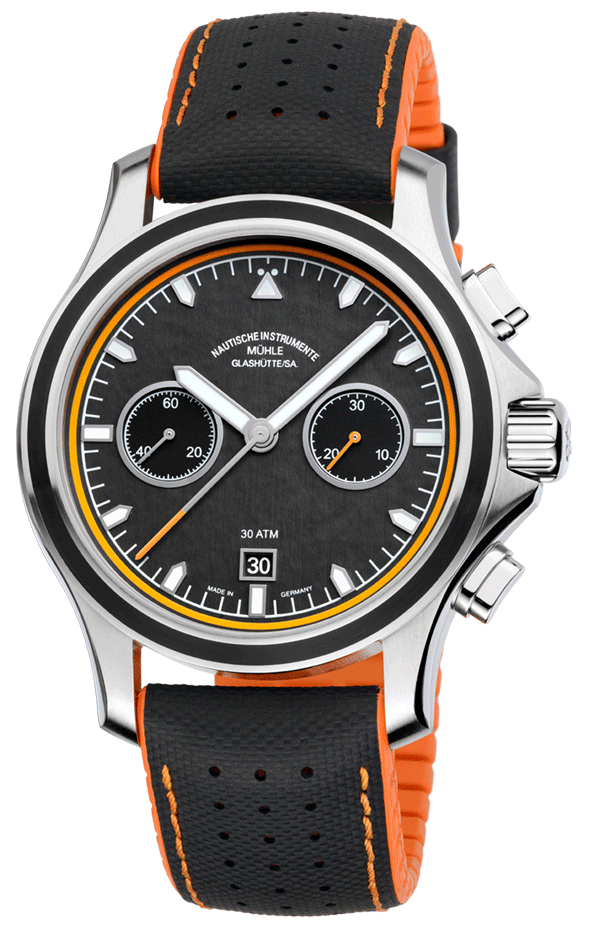 The ProMare is a nice all rounder. With a diameter of 44mm it's large, but the beautiful carbon coated black dial makes it wear slightly smaller. Depending on the light does this dial have a greyish hue to it. The design is very clean, yet it has small details that make it very interesting to look at. Like the applied indices that not only reflect the light quite well, but are also topped off with luminous material. The orange outer ring of the dial, gives a nice, sporty touch that corresponds with the hands of the chronograph.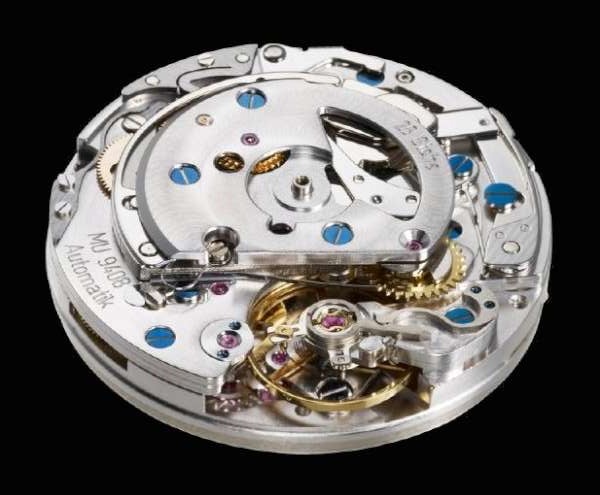 The ProMare is powered by caliber MU 9408. No, this is not a manufacture caliber, but in fact something that we like even more; a modified workhorse movement! Manufacture calibers are great, but often come at a price. Not only the initial purchase, but also maitenance can get expensive. Being a manufacture movement, means that only that particular brand makes and service it. However, it usually also means that they are made in smaller quantities, and that in turn can mean that they are not as reliable as you might want them to be.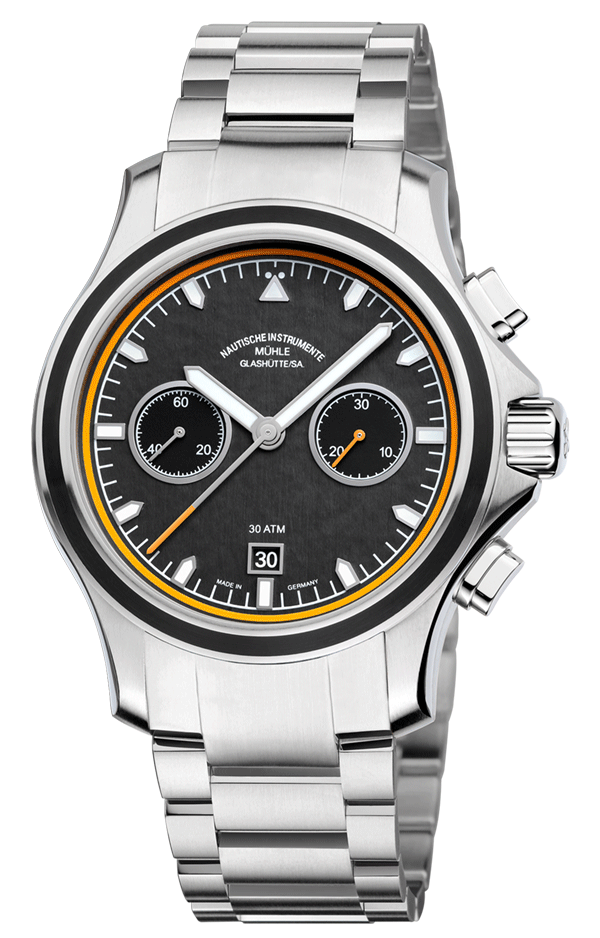 By improving an existing and proven caliber, in this case a Valjoux Automatic Chronograph caliber, you often increase performance, while maintaining reliability. Mühle-Glashütte gives this movement not only a better finish, but also fits it with their Woodpecker neck regulator, of which we wrote about earlier. The ProMare is available with either a leather with rubber waterproof strap (£2.990,-), or a metal bracelet (£3.080,-), and is waterproof up to 300 meters.
Is it worth it? Eventually you, as a consumer, will be the judge of that, but given the extensive reworked movement, the good finish of the watch, and the fact that its looks are actually kind of refreshing in a time and age when a lot of chronographs look alike, we think it is.