Between all the interesting projects we found on Kickstarter, there is one that stands out for originality – The First Moon Step Watch. The watch was inspired by the space stories told by Neil Armstrong himself. The brand owner, Yelena Makarovskaya had the chance to spend some time with the great American astronaut who first set foot on the Moon.
The First Moon Step Watch was designed for the 50th Anniversary of the first step set by a man on the Moon. The watch's appearance is lovely and fully original. The 44mm round case has an interesting two-piece construction of steel and it is covered by a domed mineral glass. To be noted that there are no lugs, the strap being mounted between the two constituent parts of the case.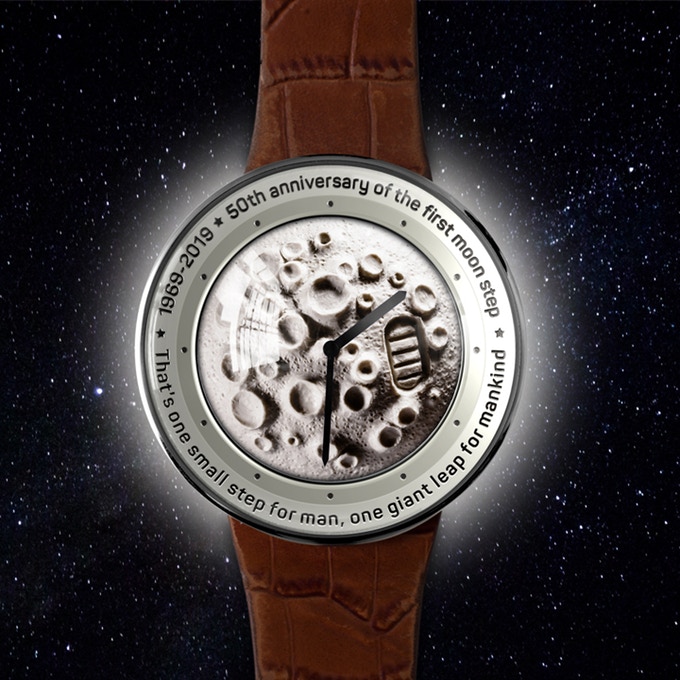 The watch's dial is a domed "Moon" face with suggestive Moon craters and, the cute element of the watch, a reproduction of the first step on the Moon. The silver dial is completed by an oversized inner bezel containing the hour markers and the inscription: "* 1969-2019 * 50th anniversary of the first moon step * That's one step for man, one giant leap for mankind".
There is a second version of the watch, the Dark Side of the Moon which comes in a black theme with a black PVD case and black dial.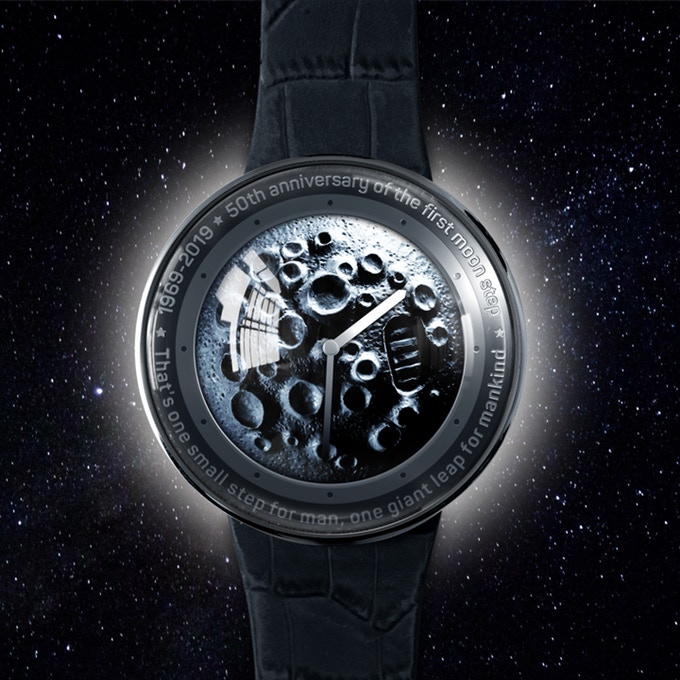 The watches are powered by the ISA K62/132 Swiss movement. This calibre is an inexpensive machinery that has the advantage of an easy and cheap service in case of need. At 6.75mmx8mm and 2.95mm thickness, the ISA K62/132 is small enough to fit without issues under the curved dial.
The First Moon Step watch will be available in a series of 10,000 pieces worldwide with charcoal-brown-coloured strap. The Dark Side of the Moon comes with a black strap.
The watch comes in a special design box (no pictures available yet) and can have as an extra an additional strap with an imprint of the flag of the United States of America.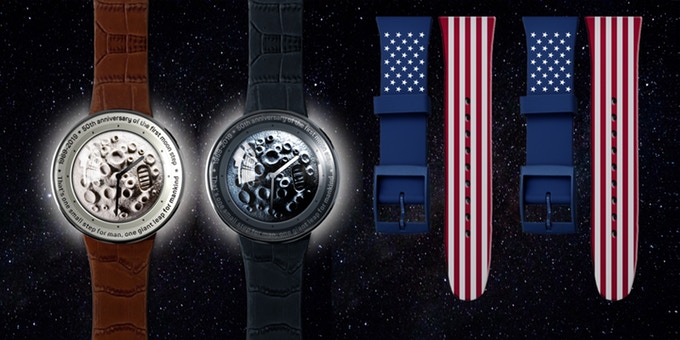 The campaign price is US$199 for the both variants or US$249 for the watch with the additional US Flag strap. The campaign is live until September 3rd, 2017. As it looks today, unfortunately, there are not enough backers to support this watch. But let's hope this original design will make enough waves.
For more information please visit the Moon Step Watch Kickstarter campaign and the Facebook page.