This is your last chance to get a super early bird of the new and highly customizable Miang Copenhagen Bespoke as it is on Kickstarter until March 28th.
With 20 Million design variations this watch is probably the world's most customizable watch.
In 2015, the Denmark based brand launched their very first watch, the customizable Flash Automatic GMT which was a big success. As a proud owner of one of these, I can only say that I'm always impressed when putting it on my wrist about the quality of this piece.
So right now, I'm thrilled to see this new release.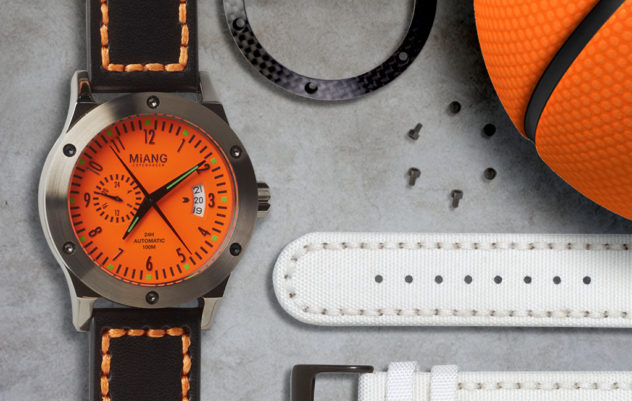 The particularity of the brand created by Jens Ole Miang is that it gives you the freedom to create a truly personal watch. I mean, you have the choice in everything !
Your chance to show off your personal style.
The customization process is easy and playful, and the price is way below standard watches with the same premium components that they use.
By letting the customer decide three different watch case, crown and bezels colors (even bezel screws), 10 different dial colors, 9 different hands colors, 15 strap options and personal engravings on the case back which consists of 30+25 characters (including spaces), the same watch can end with almost 20 million designs. The customer can even buy extra bezels and straps and further alter his watch on the go.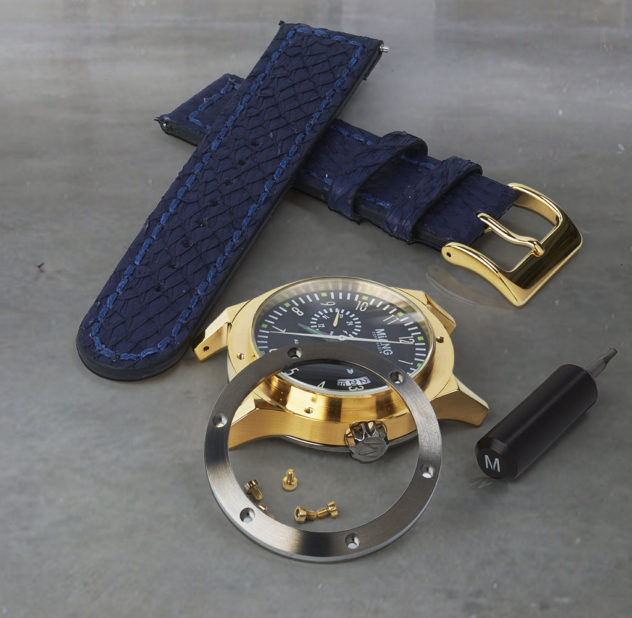 How is that possible with so many interchangable parts and design combinations ? They should had to come up with an extremely strong design system… And they have succeeded thanks to one of Denmark's leading industrial designers, Mr. Jan Egeberg.
About the watch itself… It will be complicated to explain everything but let's try to see the main things.
For the watchcase which measures 42.5 x 12.6 mm, the 7.5 mm crown and the buckle they decided to choose a Grade 5 titanium material. Titanium is a great and luxurious material that's 3 times stronger than steel but at half the weight. And it's allergy-friendly too. Unlike other titanium types, Grade 5 can be polished to a mirror-like finish. A feature they implemented on several surfaces.
You have also 4 bezel options -Natural, Black PVD and Red Gold PVD Titanium as well as in Solid Carbon Fiber, and then you can choose between 3 colors for the screws.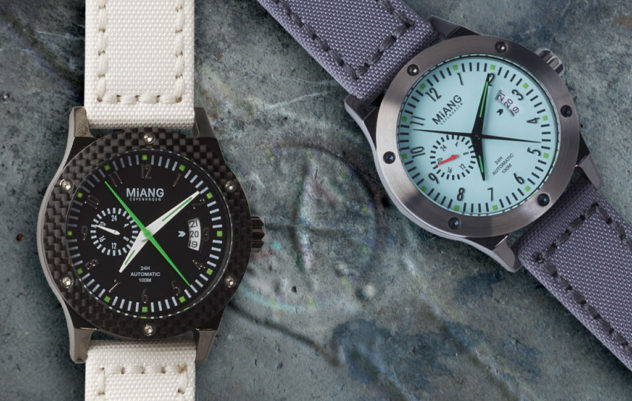 You have the choice between 10 dials colors and all with green lume 5-minute markers. On this dial and to read the hour you have the choice between 5 colors for the hour and minute hands.
Both front and back of the watch are equipped with a sapphire crystal. This one is the best choice because of its hardness, which is really close to the diamond, making the glass extremely strong and scratch-resistant with a superior optical transmission. The backside of the glass is coated with anti-reflective properties to reduce glaring.
The Miang Copenhagen Bespoke is built on a mechanical movement with automatic winding that's powered by the movement of your wrist. No need for batteries or hand winding.
For the heart of the piece they chose the Japanese movement ca. 8217 from Citizen-owned Miyota. Compared to a Swiss ETA or Selitta movement, the quality of the 8217 can easily compete. It just comes with less of the overhead that always goes along with a "Swiss-made" tag, which means that they can offer great quality at a really great price. They even customized the movement by electroplating the rotor in a stunning blue color and engraving the « M » logo on it.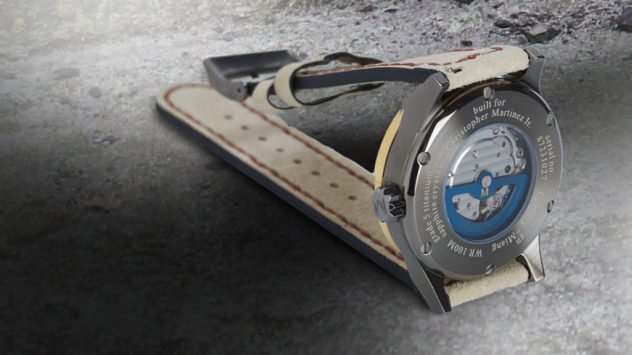 As with everything else with this timepiece, they handpick the best materials for their straps. They get their calfskin from Italy, the suede in Denmark and salmon leather from Brazil. All straps are hand-stitched and lined with soft and comfortable suede on the backside, which means that you'll have something really confortable on the wrist. They are supplied with buckles in the same color than the case of the watch.
A sporty watch that gives all these possibilities really gives envy. I can not even imagine the size of their stock, but what is certain is that they can deliver each piece. A real headache in terms of logistics, but it is necessary when you want to propose something so special.
Finally, early backers of the Miang Copenhagen Bespoke can get their timepiece for as little as $339 including shipping. Click HERE to get yours.