Many new micro brands pop up every year, and we cover quite a few here at Watchisthis?! Although many of them are quite refined, few reach the level of Lundis Bleus, especially not with their very first watch. Perhaps also not a fair comparison, because Johan Storni and Bastien Vuilliomenet are veterans of the Swiss watch industry, with experience working with brands that charge for a strap what Lundis Bleus wants for an entire watch. They poured all that experience into Lundis Bleus, but fortunate for us they also gave it a far more accessible price tag.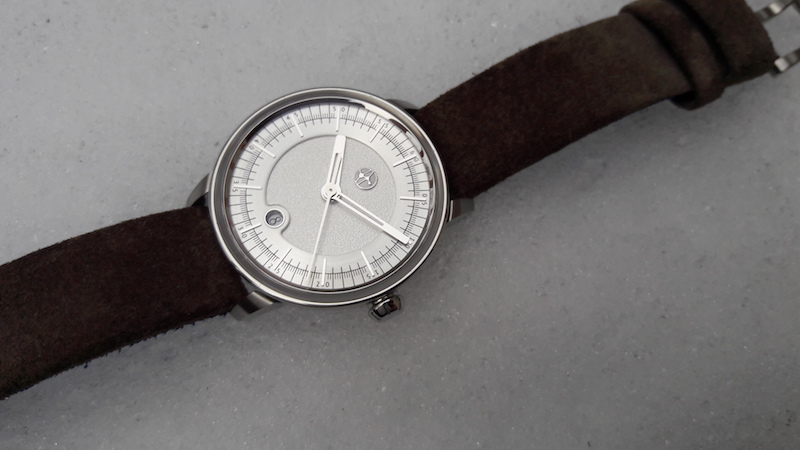 The first thing that strikes you when you see the watch is that everything is custom made. Lundis Bleus is very straight forward in where their source their parts from, and which of their suppliers delivers what part. This transparency is even today a rarity in the watch world, yet quite refreshing, especially when it lead to watches that are as well executed as the Lundis Bleus.
One of the most striking details of the watch that hits you right away is the dial. The hammered texture of the inside of the dial, that thick, slightly raised outer rim with the hour markers and railroad track, and that perfectly integrated date….it makes the watch captivating. Also, the complete lack of any text on the dial is a breath of fresh air. This extends to the construction of the case, and closer examination will reveal that the case is actually mounted on the case back from which the lugs extend. The lugs and the case are not directly connected and the small opening that they left as a result of this, is one of these mesmerizing details that make this watch so special.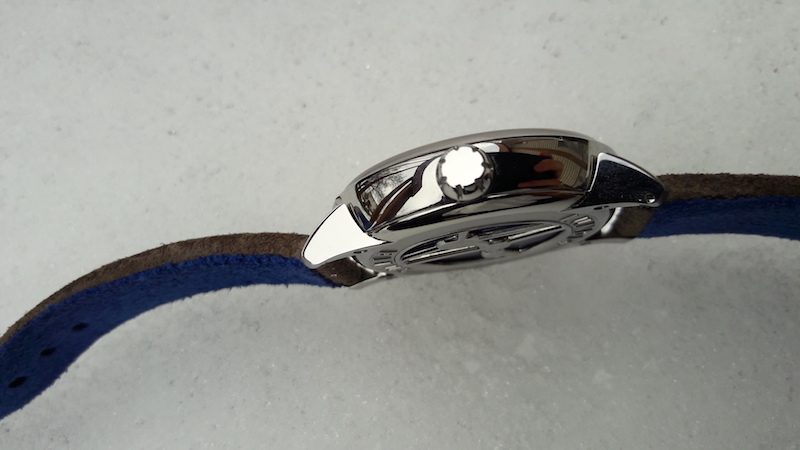 The same can be said for the back of the watch. Here once again a minimum of writing, with only the brand name and an interesting skeleton case back design over a colored glass back. This design actually represents the alcohol molecule. Strange choice? Not so much, since Lundis Bleus means blue Monday in French, and refers to the old « right » watchmakers used to have to stay Monday home as well, which was often the case when the weekend featured too many alcoholic beverages. The intricate design looks at first a bit uncomfortable, but once on the wrist, you notice that not only everything is polished to perfection, but also that the design makes the watch sits firmer on the wrist, and actually increases wearing comfort.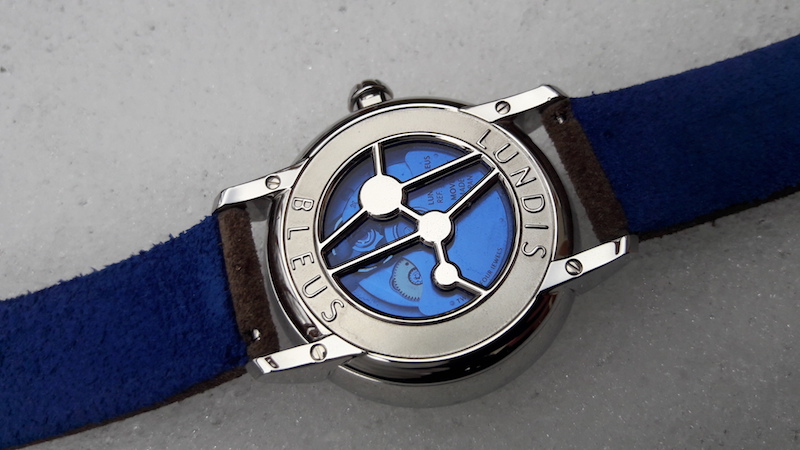 Is it ironic that Swiss watchmaking veterans opt for a Japanese movement? Perhaps it is more a sign of the times we are in. Lundis Bleus takes a Miyota movement, yet fine-tunes it themselves for optimum performance. With the performance, design, and finish on par with any Swiss movements of equal value (but often with a higher price) there are no arguments left to opt for the Swiss movement, other than it is Swiss. Interesting is that Lundis Bleus is not even concerned about where their watch is made, it is a Lundis Bleus, and that is all that matters. They are right about that because this watch stands on its own, and its stands strong. In fact, design and execution are of such a remarkable high level that it even gives watches costing triple the amount of a Lundis Bleus, a run for their money. Too much credit? Judge for yourself.
More information can be found on the Lundis Bleus website
Save