Fliegeruhren, or pilots watches, Limes has always had its own perspective on them. When they introduced their first pilots watch in the early 2000's they did something just a bit different. Stil very recognizable as nothing but a pilot watch, yet with a distinct signature of its own. This is a tradition that Limes continues now with their latest version of the Nightflight!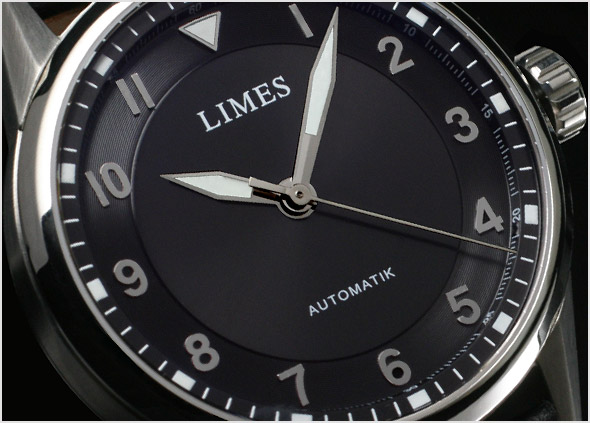 At first glance, this NightFlight might seem to be more in line with what one expect from a pilots watch than the previous versions. However, closer examination will proof that this is not at all the case. Indeed the sword hands seem to be slightly more elegant. The dial has two levels and features bold applique numerals, but the secret is the chapter ring. It goes almost straight up and planes there. This leaves plenty of room on the inner side as well as the top part to print minute indicators and a railroad track. It also gives the Nightflight a significantly different look, all by what seems to be a detail.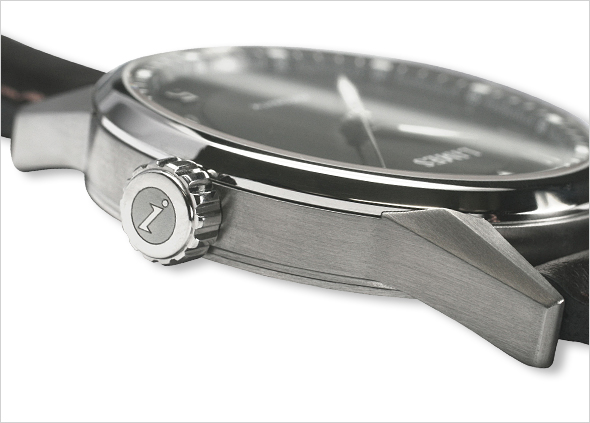 I've said it before, and I will say it again: Limes is part of the Ickler-family, especially known for their exquisite crafted cases. The case of the NightFlight is worth buying the watch for alone. Again, a quick glance will show a familiar outline, but closer examination shows lugs that are more sharped edged than usual. They feature different panes, almost like a stealth airplane. It gives the watch a high-tech feel and lets the classic design transcend into modern times.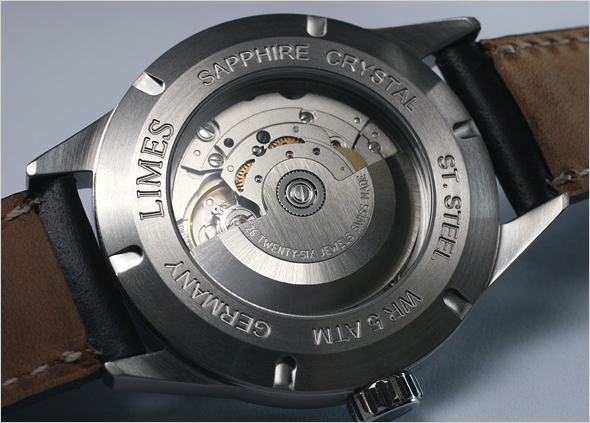 The NightFlight is powered by a Sellita SW200 automatic movement, which you can admire through the glass case back. Limes did not use the date function of the Sellita, and that was a good call because it results in a very clean looking watch. With a diameter of 42mm, it has plenty of wrist presence without going overboard. And of course is this pilot watch fitted with a sapphire crystal with AR-coating. Price without VAT is a very acceptable 655,46 euros.
For more information on the NightFlight visit the Limes website 
Save