There is an ironic tension in the name of the Laidback Freelancer. Usually being a freelancer doesn't mean a very laidback lifestyle. What it does mean, is that you are in control, and do what you feel most passionate about. For those people Laidback made the Freelancer.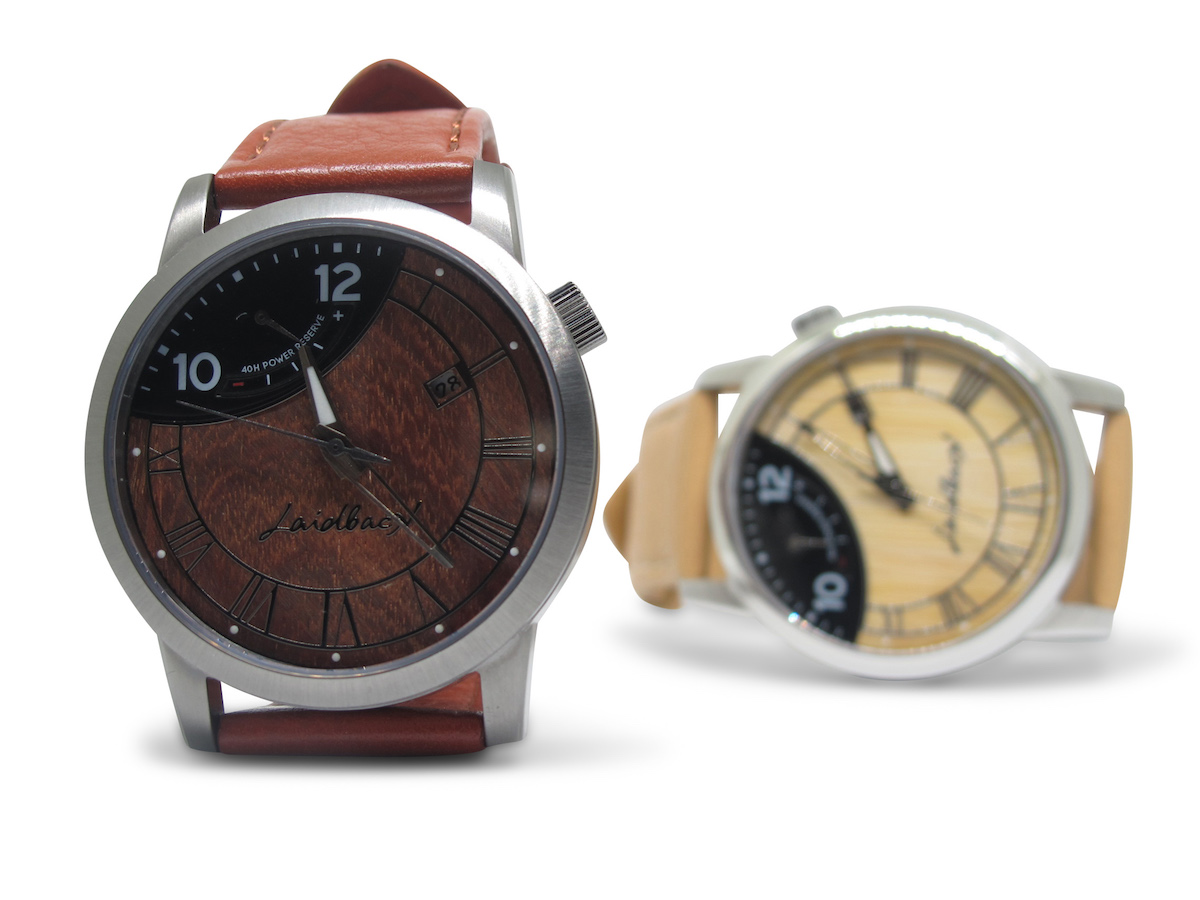 The Freelancer is a love it, hate it design, there is no other way to put it! It stands out and that is a good thing, because there are already too many generic offerings in the market place! The most eye-catching aspect is the wooden dial of the Freelancer. It is your choice of either light Bamboo, or the rich color of Sandalwood. On top of this dial is a frame of roman numerals. Both dials are « framed » by a suitable case, brushed 316L Stainless steel for the Bamboo, and gun-metal PVD covering the same case for the Sandalwood dial. This all sounds pretty straight forward, but there is a twist.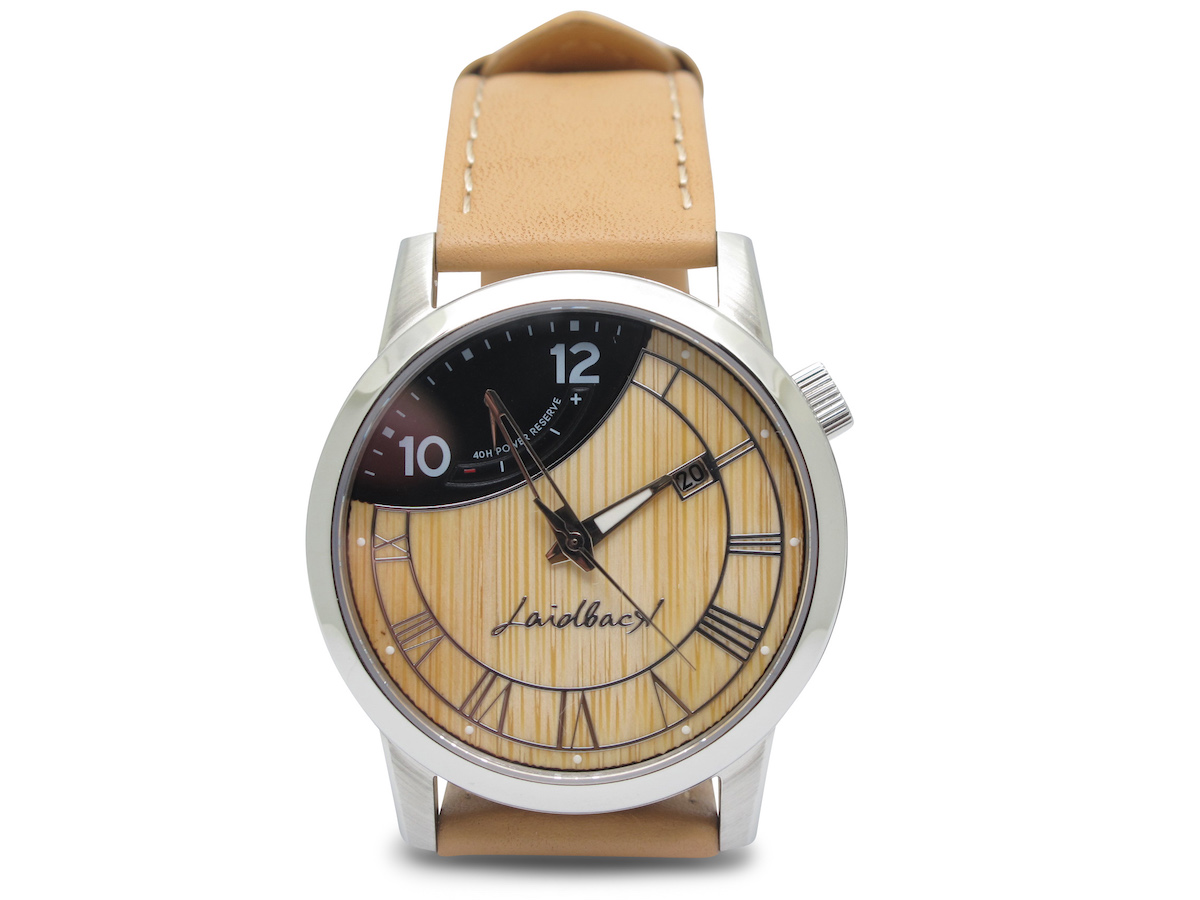 Between 10 and 12 o'clock, part of the dial becomes all business. Stark Arabic numerals on a black background. It is a schizophrenic contrast with the rest of the watch, but it works. It elevates the watch from just another watch with a wooden dial, to something much more tantalizing, like somebody just added a nice aged rum to your fruit punch.
This black part of the dial is also where you can see the complication of this watch; a power reserve indicator. Personally I always find this one of the most charming, small complications. Although more useful on a manual wind with, it continues to be intriguing to see the power reserve meter moving forward during the day. Sometimes I even think that just seeing this gets my spirits up, while the day winds down.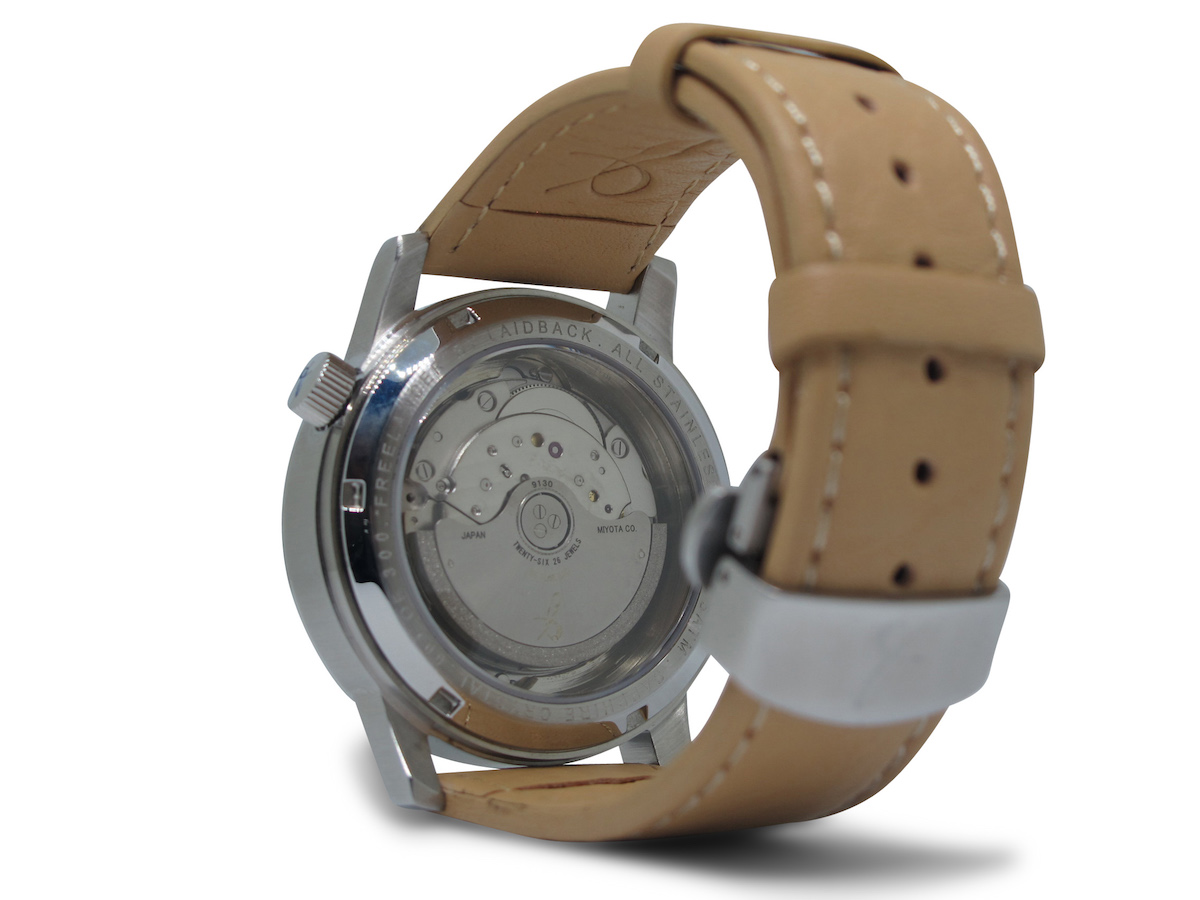 At the back of the 42mm case, you can see the Miyota automatic caliber 9130. As always a workhorse movement, reliable, dependable, and a sensible choice for a watch like the Freelancer. It also comes with a date-function, and quite frankly I could have done without. However, since this watch is meant to be worn by free-spirited freelancers, a date is of course mandatory. Doing what you love, usually still comes with appointments. The Laidback Freelancer really fits nicely into this niche, but more importantly, it is a watch that stands out of the crowd in exactly the same way as a freelancer should, 10/12th creativity and free-spirited and 2/12th all business. Talking about business, Laidback offers the first 300 Freelancers as early bird for $395,-, making it competitively priced, another freelancers hallmark.
More information on the Laidback Freelancer can be found here of on Kickstarter