For such a young brand Swatch has a lot of traditions, and one of them is the Christmas Special. This year the Christmas Special is inspired by lights! And lights are usually not in short supply during this season. Especially those of you who have been able to visit a traditional Christmas market in Europe, will recognize the designs on the strap, as they often feature on the stalls that sell hot chocolate, gluhwein or other delicacies.

But Christmas is often also the season in which less is not more. People dress up, enjoy good food and each others company near boldly decorated Christmas trees and cozy fireplaces. To highlight this, the dial, buckle and strap keeper are featured in gold! Hands as red a Rudolph's nose make sure that you can still read the time and the star-shaped hour markers might not show you the road to Bethlehem, they do finish of the glamorous looks of this Swatch.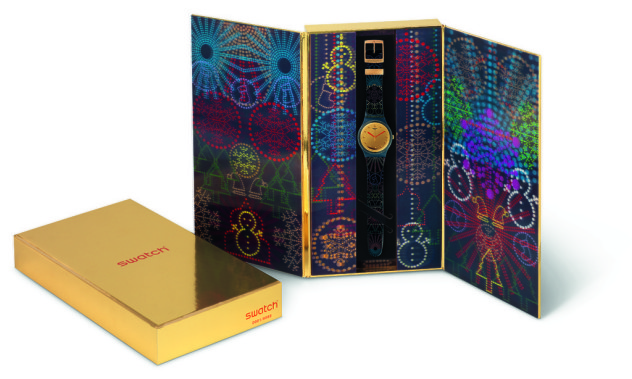 Christmas also means presents and the packaging of the Swatch Christmas Special does not need additional wrapping. The outside of the box has a gold foil on it, while the inside features the same decorations as the watch. Swatch is only making 8.888 pieces of the 2015 Christmas Special and the retail price in Europe is 104 euro's.