Moon phases play an important role in the natural world, so it's quite logical that they are also important when it comes to the watch market.
A friend of mine recently told me: "My next watch will definitely be a moon phase watch" and then, it was exactly at the same moment that the guys from MAEN Watches contacted me.
The brand was launched by two Dutch guys living in Stockholm and the brand name "MAEN" is taken from an old Dutch word meaning Moon and is inspired by the Dutch ship, Halve Maen (Half Moon), that discovered what is known today as New York City back in September 1609.
So in tribute to this ship, the founders of the brand decided to debut their collection with a classic moon phase watch. To be honest, I'm a little disappointed that there are no references to this ship and its great adventure led by Captain Henry Hudson (an Englishman in the service of the Dutch Republic).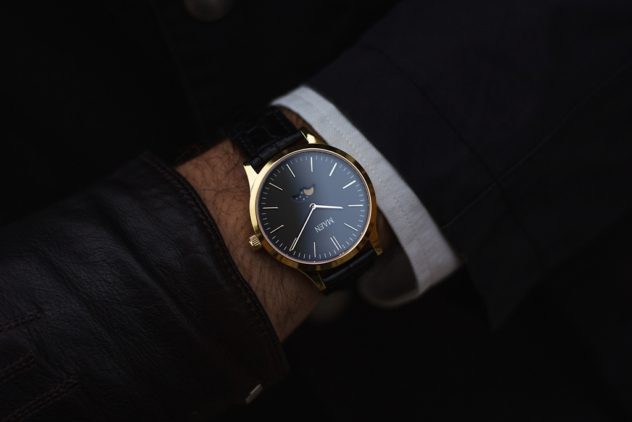 But hey, they don't make a diving watch so why putting a reference to the sea or a ship? Maybe that's something to explore for a second collection. More than that imagine they had engraved a sea monument on the case back of a minimalistic watch…The first reaction that one would have had would have been: "Why the hell this ship is here?"
No here on the screwed case back they added a laser engraved image displaying the MAEN logo in the center and a pattern all around symbolizes apparently the movement of the Moon around the Earth.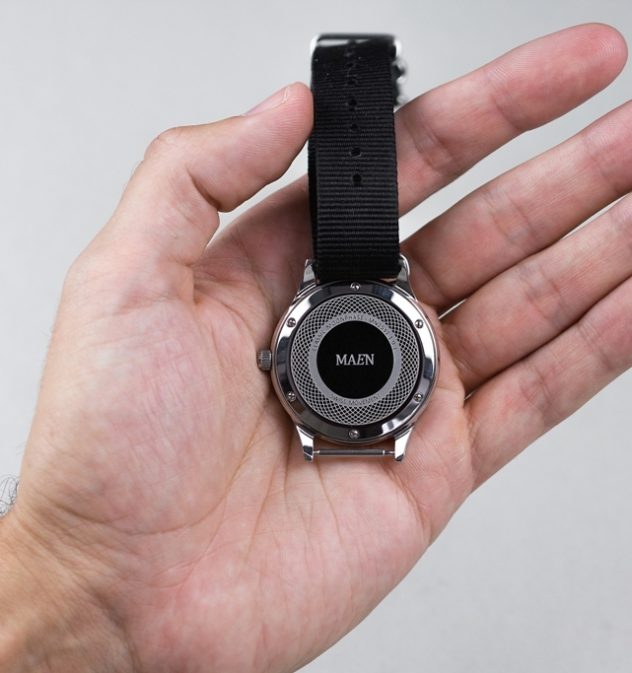 The 38 x 7 mm case has a certain charm thanks to its classical aesthetic, and it's brushed and polished finishing that makes it quite desirable when you like dressed watch.
On the powder coated dial there's faceted hands and baton style polished indexes, that create an elegant combination of reflections, and of course there is the moon phase indicator at 6 o'clock.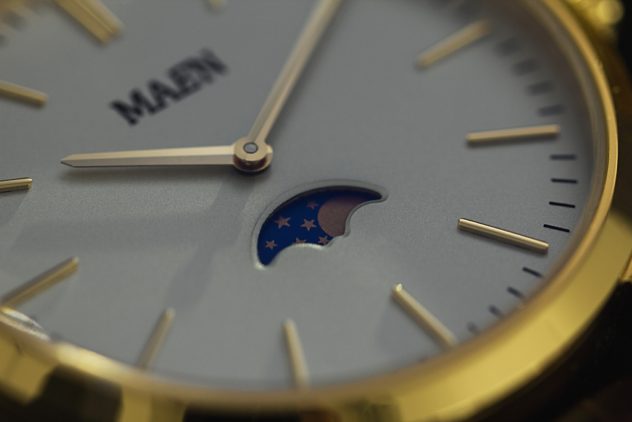 The moon phase indicator on a watch is a rotating disc that illustrates the illuminated portion of the Moon, as seen from Earth. This one which is displayed in an aperture on the dial is, in my opinion, a bit small. It would have been great to have a bigger opening to better enjoy the cycle of the moon.
But frankly, all the simplicity of the dial design provides an excellent legibility which is just what we need with a watch.
Another important thing, and definitely a plus for MAEN, is that the watch is light at only 50g including the strap, which result in a comfortable piece to wear.
The Classic MoonPhase watch is priced around 200€ and comes in 4 variations, two models in stainless steel case with frost white or midnight blue dial and two models in stainless steel gold plated case with charcoal gray or ivory white dial.
The timepiece comes fitted with an Italian leather strap in black, brown or midnight blue shade depending upon the version you choose.
While I find the look quite appealing, there are some things like a calendar or luminova hands that I would love to see in a future model.
My preference would be the stainless steel and midnight blue version… but that's just a personal opinion.
Check them all HERE
Save