Launched Wednesday 15th, February, Klynt Genève is the Kickstarter campaign not to be missed when you love Haute Horlogerie.
Haute Horlogerie is a strange word when we talk about crowdfunding campaign, but here you'll really find an affordable product that has all aspects and details of a luxury watch.
Now, and for a starting price of 990 CHF, you'll have access to an automatic Swiss Made watch with a creative and contemporary design inspired by architecture and modern art.
Guess what, even the name of the brand has been inspired by art. Indeed, Klynt is a reference to Swedish artist Hilma af Klint, pioneer of abstract art, who successively broke every rule of realistic painting to freely express her passion to create.
Let's now have a look to what the Geneva based brand has to offer.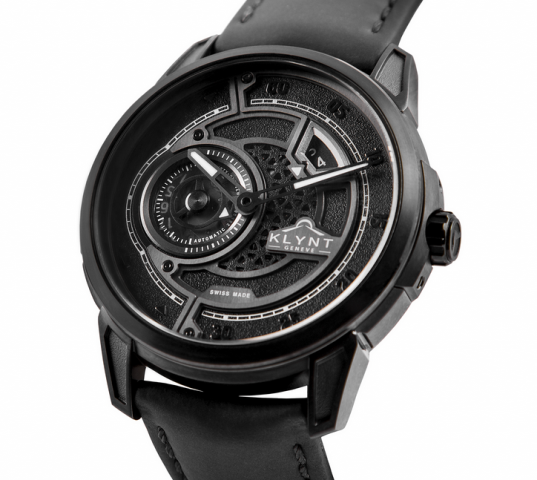 The first thing that for me expresses all the creativity of Klynt's owners is the multi-layered dial which is full of details. This is one of the most complex dial ever made by a microbrand. The light is successively reflected on each layer of the dial, highlighting the fine balance of textures and depths. The decorations come to embellish the watch and thus the appearance of the piece itself is improved and perfect in the lowest details. From sun-ray satined finishing to rhodium finishing passing by sandblasted and even circular brushed finishing, everything is made to capture to light in the best way. To complete this elegant landscape, the smoked glass and the triangular honeycomb offer a discreet glance at the movement.
The triangular honeycomb structure is the Klynt signature which is composed of triangular tiling cells made by chemical cutting.
Let's go further with in the details of the watch with the nicely made watch case which features a subtle combination of the most advanced finishing techniques used in Haute Horlogerie. They use circular brushed on the bezel, sandblasted and brushed finishing on the lugs, but also some polished parts. The whole gives to this 43,5 mm case the possibility to play with the light but more than this it gives to the watch a very classy and sporty look.
To classify the perfection of a watch, every detail must be taken into consideration in order to obtain the best result in quality of finish and aesthetics. It can be said that on this aspect Klynt managed his bet.
But what about the movement? When you create such a nice piece and that you want to offer a real quality piece, it's sure that you can't use any movement.
Klynt selected the Sellita SW-290, which is a variant of the well known SW-200, for its original display and solid reputation. Sellita introduced their SW 200 collection as a direct replacement for the ETA 2824.
Interesting thing about the SW-290 is that it has a lepine small seconds at 9 o'clock which on this watch is presented thanks to a rotating disc. We will also find a large date display between 1 and 2 o'clock.
The movement has 31 jewels, a frequency of 28,800 vph (4 Hz) and a power reserve of 38 hours (Average rate: 7±7s/d set by Klynt's Watchmaker).
Thanks to the open caseback you can see that this mechanical automatic movement is engraved and decorated with Côtes de Genève.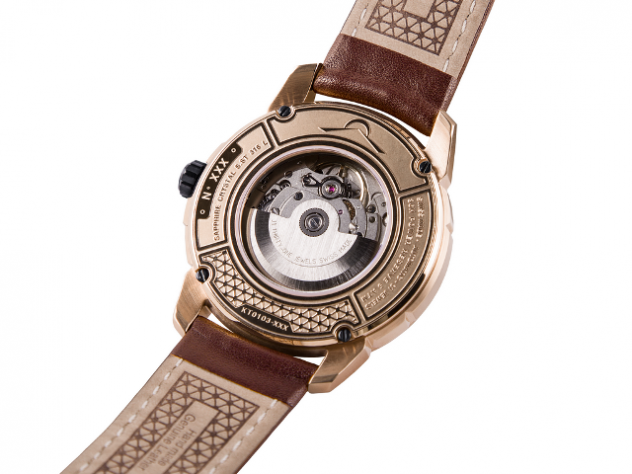 Finally, every detail of the bracelet was carefully studied, from the different grains of leather, the lining with the stamped signature pattern, to the custom manly buckle… And they even have a fast release system which allows you to change your bracelet easily.
The collection includes 4 versions and each piece will be available at 500 limited edition.
As mentionned above the Kickstarter prices start at CHF 990 ; After that you'll find the watches between CHF 1650 and CHF 2050, which is still not bad for what Klynt has to offer.

Well, A high-end product nevertheless remains an object whose aesthetic quality is decisive at the time of purchase.
With this first piece Klynt offers us a product whose proportions are harmonious, a remarkable quality of execution and a solid movement … All at an affordable price. What's better for a luxury watch?
So if you're interested in this really cool piece just click HERE and you'll jump directly to their Kickstarter campaign.