In recent days I had the chance to chat with Christian Moriggi, founder of the watch brand of the same name.
Today I'm happy to share this interview with you and to introduce you to his watches.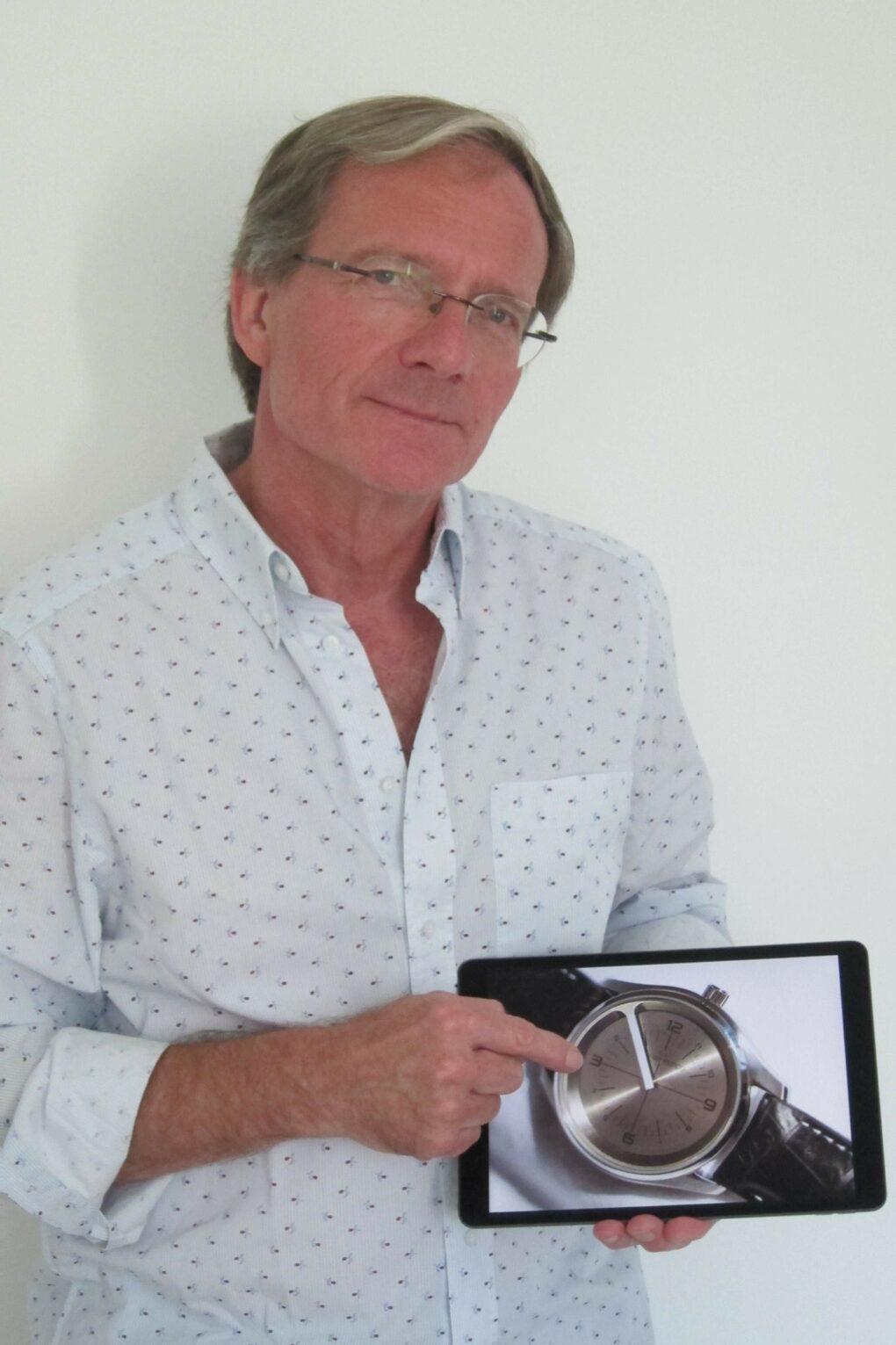 Could you tell us a bit about you and about your story with watches?
I was born in Lausanne, Switzerland. I discovered my passion for design and watches during my architectural studies at the Haute École d'Architecture de Genève. After graduating, I decided to continue my studies by attending a design school in Milan, Italy. On my return to Switzerland, I opened my own practice. I also founded Christian Moriggi Creations, where I design many watches and furniture.
Watches have always been a passion, I enjoy looking at them. It is a beautiful piece of jewellery to wear.
When the idea to create a new brand came to you? and when do you start working on the creation and on the launch of it?
The idea of creating my own watch has always been there. I tried to create the watch I am presenting to you before the internet existed, but not being trained as a watchmaker, I had no connections in this field and it proved impossible. But since then, thanks to the internet, I have been able to get in touch with craftsmen, who have shown great interest in participating in this adventure and creating a Swiss Made watch.
A first prototype was made in 2020, which showed the improvements to be made.
From where comes your inspiration concerning the design of your pieces?
I can't tell you where the inspiration came from. But from the moment the decision was made to create, I had nothing but that in mind until its realization. I would say that when I decided to make my watch, I had only one goal: to design a piece of jewellery that had never been thought of before.
And I also realised that, since the creation of the first watch in 1508, it is always the hands that turn around the watch.
So I decided to make « the watch turn around the hand ».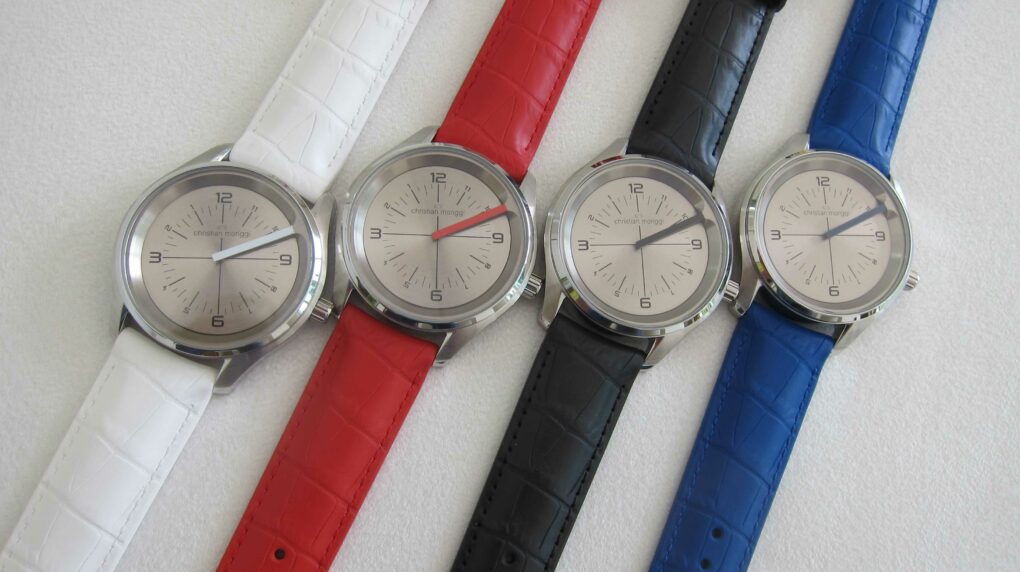 What's the most important thing in the process of creating your timepieces?
This is clearly phase 1 : state the problem, the objective and the goal I want to achieve.
Do you have an anecdote about the design and creation phase of your timepieces?
During its presentation at the Nit de l'Art in Palma de Mallorca, several people asked me: what's so special about your watch? Even when they held it in their hands they didn't realize that it only has one hand and that it is fixed. It was nice to see their reactions when they realized the question they had just asked.
From your perception, what makes your watches so special?
A fixed hand that still tells the time. This is special, because it's innovative.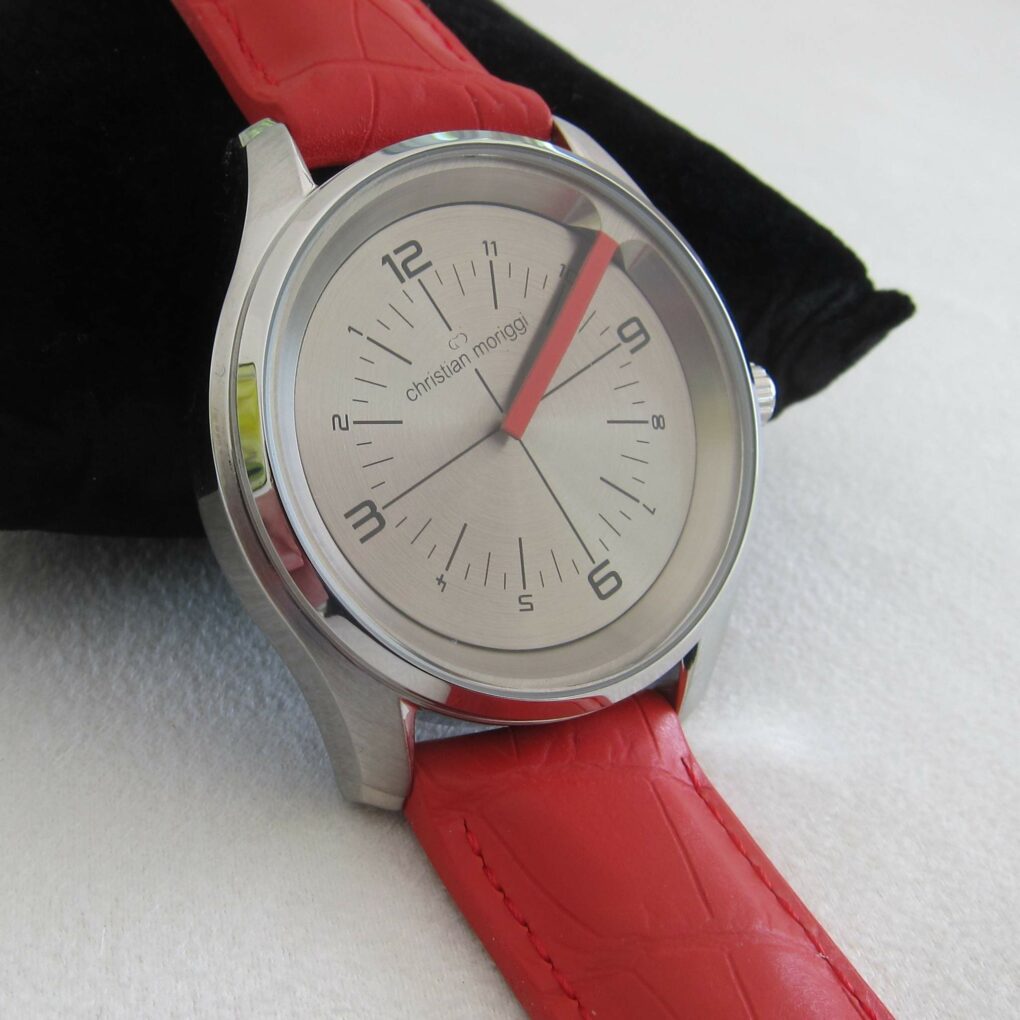 Now, and that's imporant, could you explain us how we can read the time on your watches?
The reading is very simple: the dial is divided into 12 for 12 hours, each hour is divided into 4, or 4 times 15 minutes. The hand is the width of a 15 minute slice.
Let's take 4 hours as an example:
When the hand is perfectly superimposed on the number 4: it is the full hour and therefore 4 hours.
Similarly, when the hand is perfectly superimposed on the first scale: it is 4.15 a.m., then 4.30 a.m. on the next scale, then 4.45 a.m.
When the hand is between 2 graduations, i.e. between 4 o'clock and 4.15, it is 4.07 and 30 seconds.
Then, with a minimum of experience, it is very easy to read 4:10, for example, when the hand has passed the middle of 2 graduations.
Could you tell us how your collection is composed?
Being at the beginning of the adventure, for the moment there is only a graphic for the dial.
The colour of the hand can be adapted to the colour of the strap or to the stitching of the strap.
There are currently 5 colours to choose from for the hand: white, black, red, green, blue.
Social networks are really important for microbrands like yours. Could you let us know how and why do you use them? and what's your strategy to stand out from other brands in your price range ?
Surprisingly, I don't use social networks much. For the time being, I prefer to sell through intermediaries such as jewellery stores. It's a way of standing out from other brands.
I think that jewellery stores have a reassuring side for a buyer, whereas buying without an intermediary can be destabilising.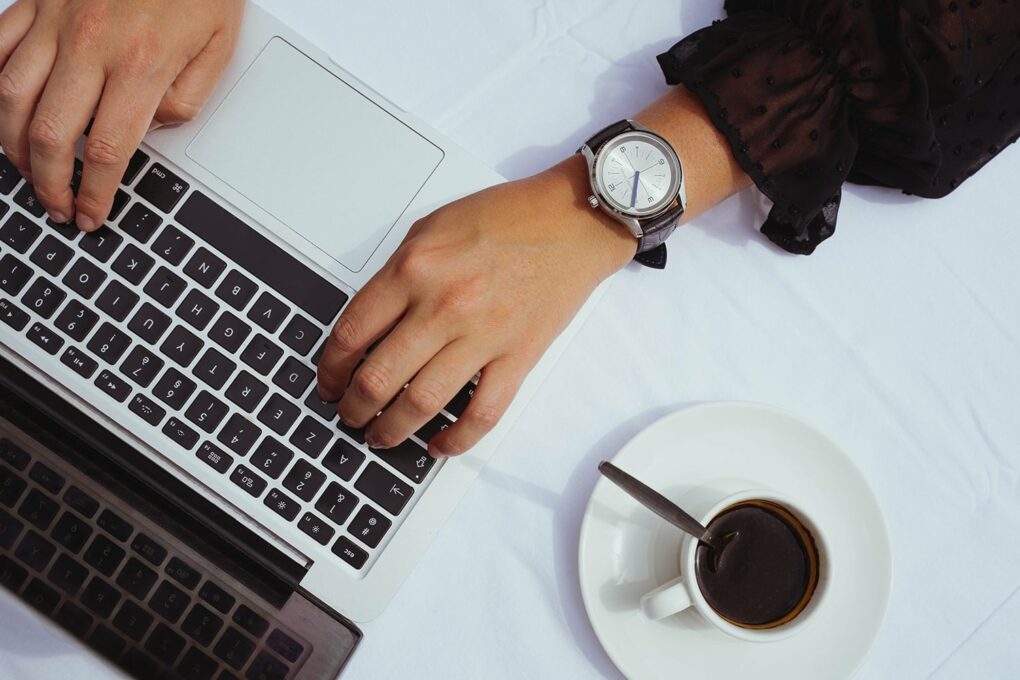 Let's talk about distribution. Obviously, you use the direct sales strategy which is better for a young brand like yours. Could you tell us how people can buy your watches and at which price? In the future you want to develop a new distribution strategy?
The sale being privileged with intermediaries. It can be found in jewellery shops, at the International Watch Museum, in a luxury hotel or in a supermarket. In this type of sale, it is difficult to get in and have a new brand accepted with a concept never imagined before.
The watch can be bought either directly in the above-mentioned establishments or on my website www.christianmoriggicreations.com at a price of 870 euros.
If the brand manages to find its cruising speed, the distribution strategy will have to be rethought and adapted to this evolution.
As you are not in the mass market, how many watches do you already have delivered?
The production of the watches was completed in September 2021, to date 50 watches have been sold in Switzerland, France and Belgium.
Now and more generally, what are your plans for the future?
I have set myself the goal of selling 100 watches. As soon as it is reached, a new design will be proposed, but still with a single fixed hand.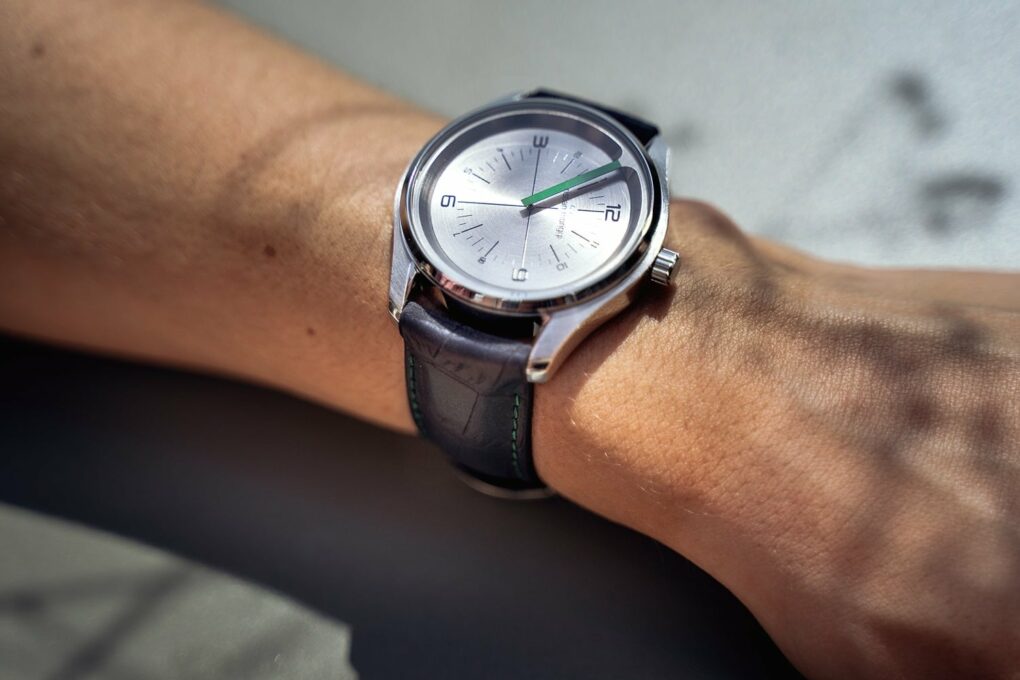 What aspects of your brand you think people should know more about?
They must know that the concept is unique and has never been imagined before. A watch that tells the time with a fixed hand is simply incredible……and yet.
OK, now something more personal. For you, what's the most important thing to find in a watch?
The aesthetics only, it must correspond to my criteria of beauty. Its quality must be exclusively the fineness and harmony of the jewel. The financial value is not important, only its brilliance counts.
To finish, are you also a watch collector? If yes, what kind of watches do you collect?
Of course I own a few. They all correspond to the above criteria or they surprised me by their originality, aesthetic or technical aspects.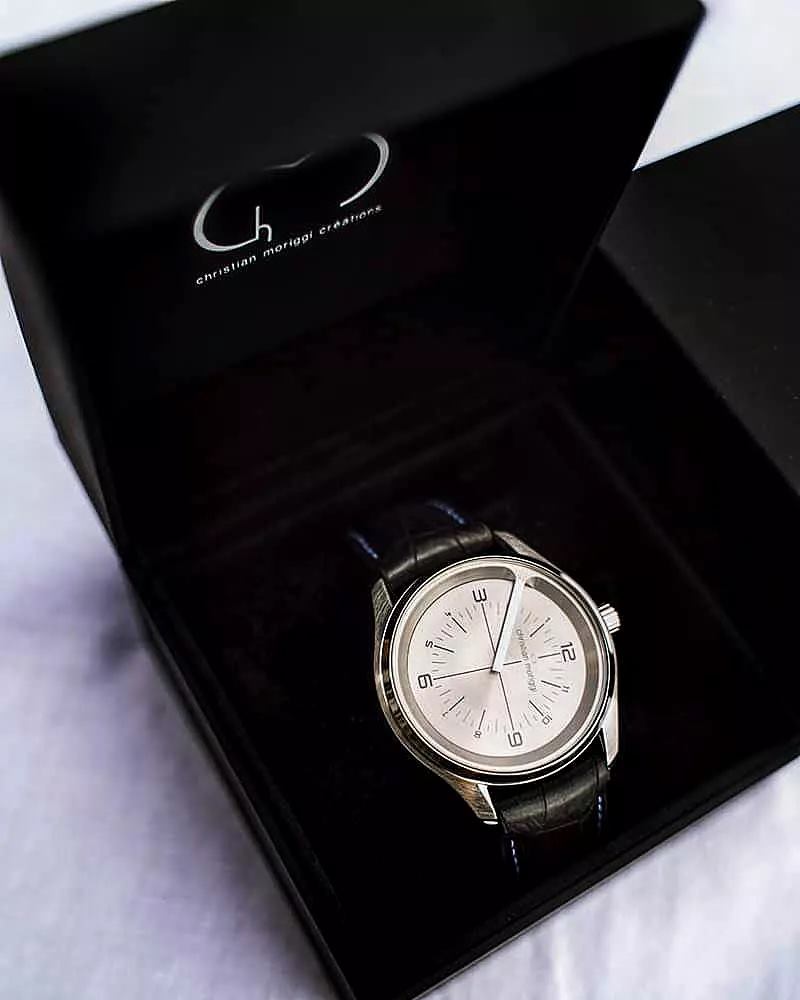 Manufactured by Swiss watchmakers, these original design watches meet the highest quality criteria of Swiss Made. The realization is entrusted exclusively to quality Swiss companies, from the conception to the execution.
Some details:
– Stainless steel case with a diameter of 44mm
– Water-resistant, waterproof to 100 meters
– Treated mineral glass
– Ronda 517 Movement
– Black leather strap
– Stainless steel buckle
– Matte metal dial that will highlight the color of the hand.
You can follow Christian Moriggi on the social networks :
If you're interested to buy one of them just click HERE.
Jonathan Kopp
Feel free to follow us on the social networks :