During my last trip in London, in November 2019, I met by chance Matthew Cule. After a few minutes, he started talking to me about his watch brand « CuleM Watches« .
I was immediately interested and intrigued … In this interview he tells us all about his brand, and believe me … it's worth it!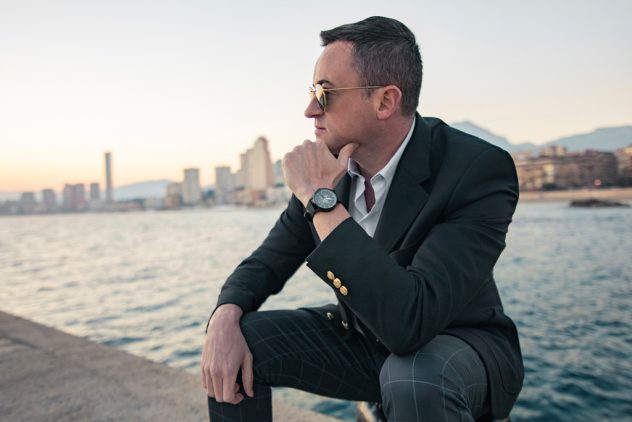 Could you tell us a bit about you and about your story with watches?
I am originally from Wales in the UK, I have lived in a few countries but currently in Alicante in Spain as close to the beautiful Mediterranean Sea as I could get. Ever since I was very young, I have always loved watches and they have seemed so special to me. I remember my first watch was digital and played lots of tunes and this fascinated me that this little object could be so clever.
At 15, I saved some money to buy a Seiko chronograph watch in Miami and this watch meant the world to me. Again because it felt so special and it also reminded me of good times and holidays.
When I was 28, I bought my first serious Swiss made watch – a Rolex date just oyster perpetual. When I look back now, it was a quick and impulsive decision. My cousin had a Rolex for his 18th birthday and he was two years older than me – I thought his watch was the best thing ever, not that I knew anything about Rolex growing up in Wales at that time.
Several years and many watches later, my lovely Dad bought me a Jaeger LeCoultre Master Compressor Geographic, which is a stunning world timer. This watch remains incredibly special because my Dad gave it to me and it celebrated my other passion, which is travelling.
Although I've too many watches to cover here, these ones present the biggest landmark moments in my journey with timepieces so far, perhaps only missing my very first CuleM watch!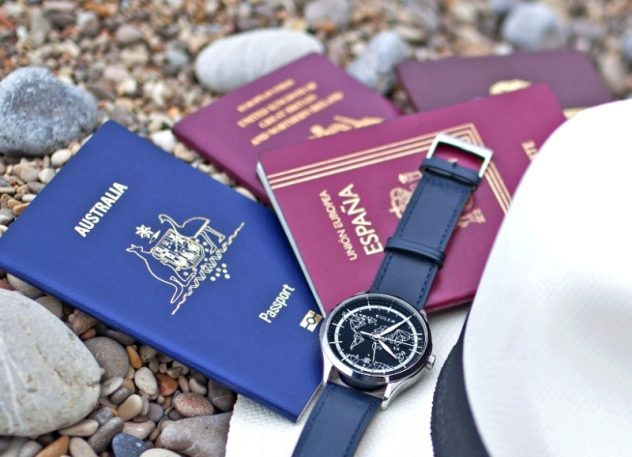 When the idea to create a new brand came to you? And when do you start working on the creation and on the launch?
I conceptualised my idea to create a Swiss made luxury travel watch brand in October 2017 and the excitement took hold such that I started to work on the project almost immediately. I did extensive research and to this day I have not found another company exclusively focused on travel and the world's beauty – this is where CuleM began and remains firmly rooted because they are passions shared by myself and the whole CuleM team!
Firstly I came up with the name CuleM, which is a combination of my surname, 'Cule' – meaning very small, this represents the watch and it's many intricate components, and then 'M' this stands for a number of things, including the meaning you add to the watch over time and on your journey.
In 2018, I worked on the design of the watches and prototypes and started the production of CuleM Watches' first collection, The World GMT collection.
In May 2019, we successfully launched on Kickstarter and raised €75,000 in 35 days.
What made you want to enter the already overcrowded watch market?
Being passionate about watches and travel, I wanted to combine two things I love and I discovered a gap in the market for exactly this mix.
As I mentioned, I looked high and low but my extensive research to this day has not turned up the combination of style, function, value and inspiration focused on travel and the world all in one watch – this is CuleM's niche.
Many watch brands make travel watches like a GMT or world timer, but are not brands focused uniquely on travel.
Additionally, travel and tourism total contribution is expected to rise to 10.5% of Global GDP.
That's an awful lot of travel inspired people without access to a watch that celebrates the world they love to explore and journey through – I thought it a call well worth answering.
What's the most important thing in the process of creating your timepieces?
The designing of the watches was the important part of the process – defining a brief that encapsulated the vision of the brand with a long-term view and a vision for the World GMT collection. This process is absolutely critical because if you feed the wrong information and concept into the process, you come away with something entirely unsatisfactory.
I am incredibly fortunate to have a design partnership that just works. The communication, creative energy and collaboration is like nothing anyone involved has experienced before and whether working on different designs ideas to create the most beautiful and unique world map dials or finalising and prototyping the watch designs we're awell oiled and perfectly synchronised machine. I find our design process as fascinating as rewarding and an absolute pleasure to date.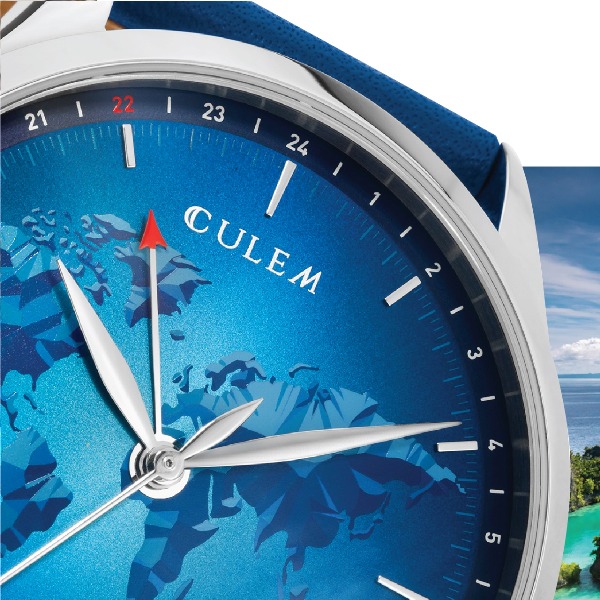 What steps do you go through to develop and produce them?
I met with several private label manufacturers in Bienne, Switzerland and decided to work with a company called Walca to develop, prototype and produce my watches. Christine Le Marquand and her team at Walca have been a joy to work with on my project.
They understand all too well that I can't compromise on the quality of the timepieces we are producing because of the meaning they will represent for those who eventually own them, not to mention that my name is on them.
From where comes your inspiration concerning the design of your pieces?
Our beautiful planet and the world we create upon it is the inspiration though is coupled with the experience of travelling and exploring all the meaning it holds. This is what inspired the design of the watches.
It's a point often not noticed, but I also wanted to make the world time right.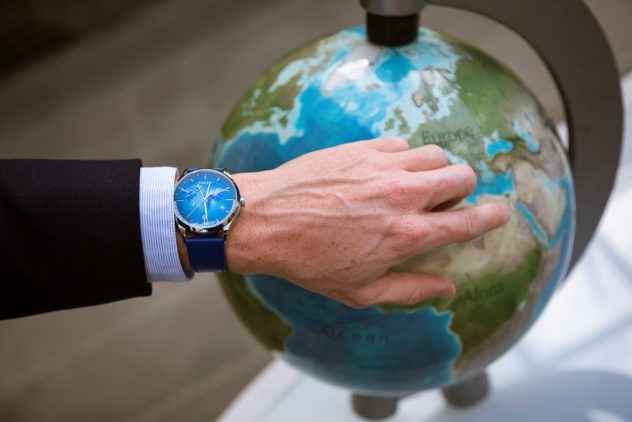 Do you have an anecdote about the design and creation phase of your timepieces?
For me it's simply about creating the ultimate design. Ultimate to me means creating the best imaginable and to many this would look like adding more features, frills and complications, however for one of the watches in this collection called 'The Lights' I wanted to celebrate the vast, openness of the world with all the billions of people coexisting here.
My watch designer couldn't believe his luck when we sat down together and I was directing him to take things away rather than add them! This made the final design an exquisite and beautifully clean one with a dial that holds a surprise only visible in the night.
From your perspective, what makes your watches so special?
The world means everything to me and when I look down at my wrist, I often forget to check the time. I have done this so many times now and I asked myself why? In answer to your question the reason the watches are so special to me is because of the beautiful and unique world map dials on each of the three models.
Additionally though, every single Cule (small) detail has a deeper meaning, and I mean everything. From the red tip of the GMT hand, the number 22 being displayed in a different colour, the meaning of the wave like crown and more. These small but perfect details continue right through to the travel trunk style watch box and watch passport that comes with every watch. I have many meanings assigned to all the aspects of these watches (readers can discover more at www.culemwatches.com) and I welcome and encourage others to explore and assign their own meanings too.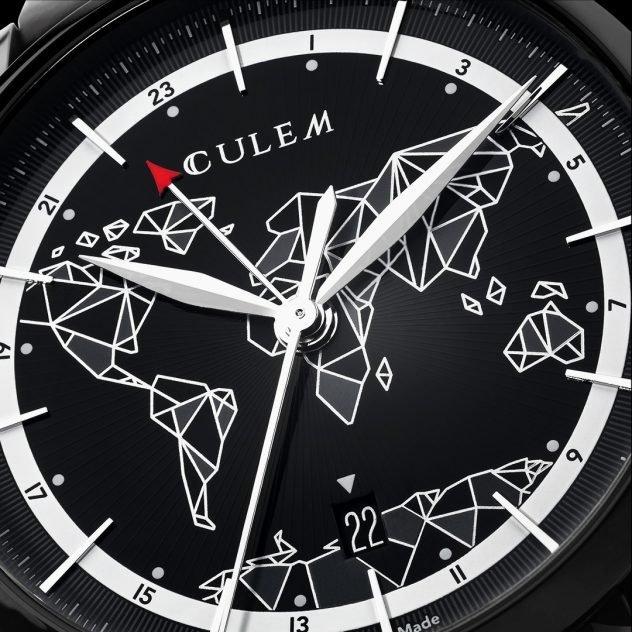 Your first collection, The World GMT, is a Swiss Made automatic watch that displays accurate time in twenty-four of the world's time zones. Could you explain to us how it works?
I am glad you mentioned this as we touched briefly on this earlier.
I lived in Australia for many years and I was always surprised to see the wrong time for Sydney, Melbourne and Auckland on Swiss made world timer watches – always showing Sydney at 10 hours ahead of London (GMT). This frustrated me as Sydney is either 11 ahead of London during GMT or 9 hours ahead of London during British summer time (BST). This frustration led me to designing the engraving on the caseback and you can see the correct time zones in 24 destinations around the world in both GMT and BST.
You would be surprised how many GMT watches have some technically incorrect time zones!
This first collection is very large and it is separated into three parts. Could you explain to us how it is composed?
The World GMT Collection is divided into three models: The Frame, The Portal and The Lights. I will just describe the three blue limited editions below.
A 2 dimensional contemporary interpretation of the world map with geometrically defined stainless steel edges around the continents and shades of blue inside. On the outside of the guilloche dial, there is a translucent plate with indexes on top of it in order to see the end of the map at extreme east and west.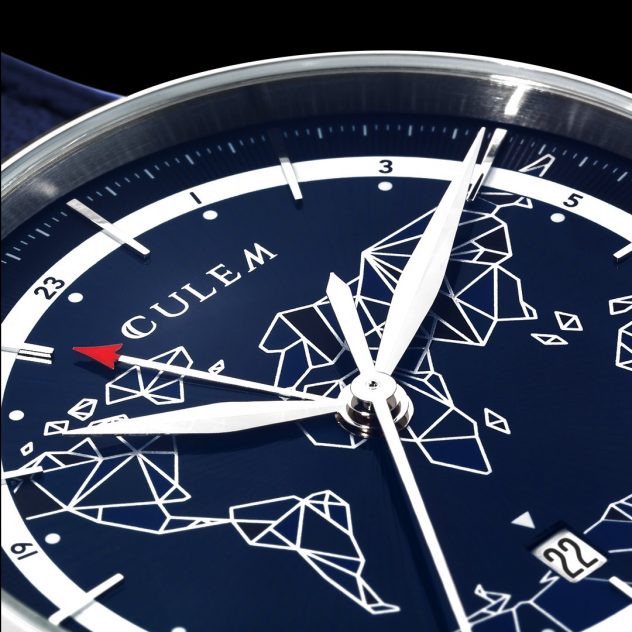 A totally unique creation of the world map, by printing shades of blue in many layers, giving a very strong 3 dimensional impression. Further, the dial is sunray brushed and has a radial gradient finish.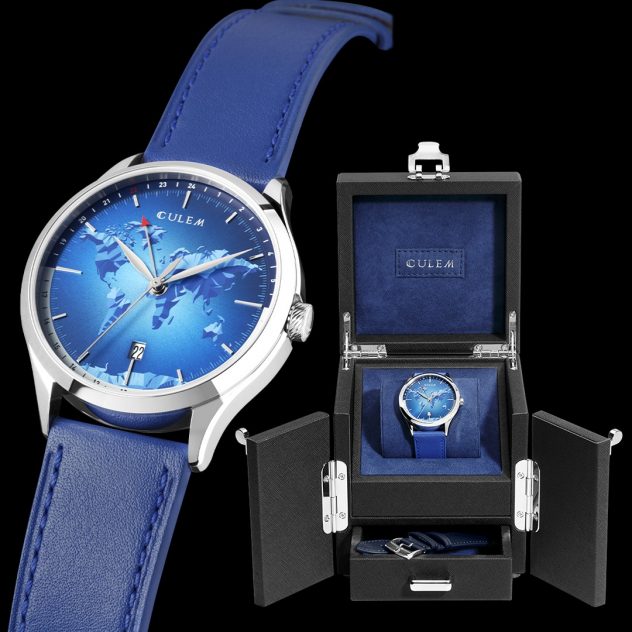 This watch I mentioned earlier. It has the minimalist world map outline is metallic blue printed on a white sunray brushed dial. Additionally, hundreds of luminescent dots are applied to the dial. So, when you go in the dark, the cities of the world and densely populated areas illuminate!
All three watches in the collection come in three to four colour variations and with quick change straps to increase their versatility and the pleasure of wearing the same watch in many ways.
Do you have one favorite in this collection?
I don't have a preferred model and love them all equally – it's just too hard to pick a favorite and fortunately I don't have to. When I started CuleM, my intention was only to design two watches – one with a world dial and one without in a couple of color variations. However, I love all three versions of The World GMT dial and have come to see them as a family, belonging together. They are distinctly different yet complementary to one another.
Before I started CuleM, I was looking to buy a blue watch. So, I would say that I love all of the blue watches in The World GMT collection most. I was looking to buy a blue watch before I created CuleM. I guess it stuck in my mind and the color blue always reminds me of the Mediterranean Sea and makes me feel calm and happy.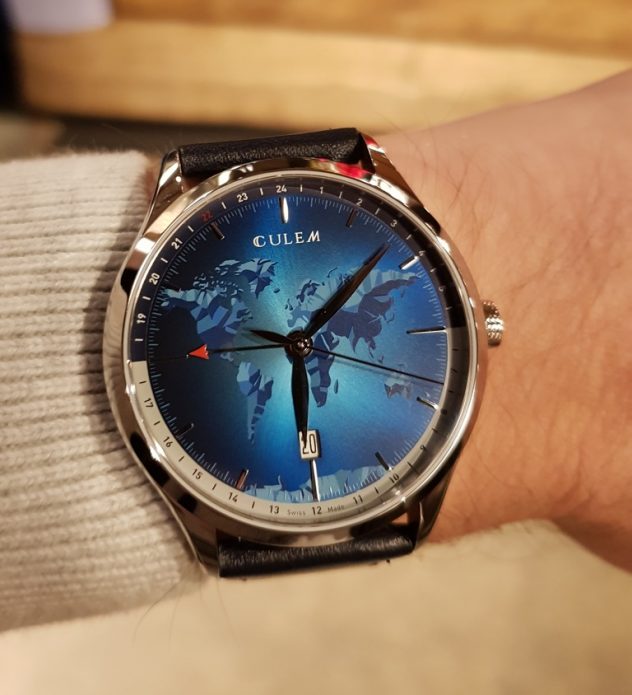 Let's talk about distribution. Obviously, at the moment you work with the e-commerce and of course your own e-shop. In the future you want to try another kind of distribution or what's your strategy?
Our plan is to be a completely e-commerce driven business. This is for a few reasons; firstly the appeal we have is very much with those who will be used to shopping this way. This also opens up CuleM's audience to what it is intended to be – the people of the world who explore and appreciate it.
I wouldn't rule out a physical presence at some point, but it may not be very traditional and be more experientially based.
Now and more generally, what are your plans for the future?
During 2020, I have been working on building a leadership team, which includes Marketing, Operations and Finance. I have also now established a Board of Directors.
In 2021 and beyond, we will release between 1 and 2 collections per year. All collections will be focused in form and function on our beautiful world and the wonder held by it.
What aspects of your brand you think people should know more about?
I created CuleM for people who love the world and look for meaning within things, people and places they encounter. A CuleM watch appeals most to someone who likes to think about the endless possibilities available in our world rather than someone following the ticks boxes of life.
In general terms, people that follow the 'the script' tick boxes of life are people that want a Rolex but they don't know why they want a Rolex and couldn't tell you. Often it can be just because it is the first and maybe only quality swiss watch brand they know which doesn't leave a lot of room for identity, values and personal journey coming into the equation. This kind of purchase can become another tick-box, status symbol or momentary bit of frivolity rather than a lifetime of meaning and curious exploration.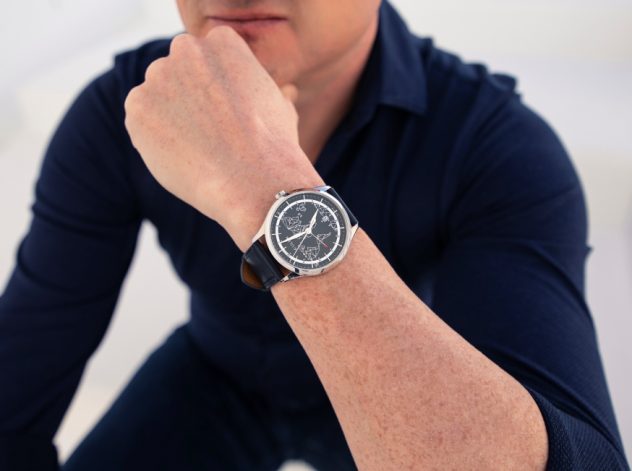 Apparently you have decided to create a foundation and I heard that want to keep a percentage of CuleM sales aside for this one so that every watch makes a contribution. Could you tell us more about this and explain how it works?
From the outset of CuleM, I wanted to create more good and contribute back to the world I love in some way.
This is part of our bigger plan for the future and I would have loved to be able to say it from the beginning. However, at the moment we are selecting some charities to work with that meet our company values and we will contribute 2% of every sale to charity. Watch out for more announcements here!
OK, now something more personal. For you, what's the most important thing to find in a watch?
It's the meaning of a watch; what does the watch mean to me?
For example, as a traveller the most meaningful watch to me is a travel watch (dual time, GMT or world timer). The more I connect to the meaning of the watch, the more it becomes a 'companion'.
Secondly, the design of a watch and for me the most important thing is the dial. The dial is like a piece of art in the centre surrounded by a frame (the case, strap, crown, sapphire glass)
Also, I am always looking for something different in general. I don't desire to have the same as everybody else. For example, I love my Rolex, but I don't wear it often simply because I see it's twin on another wrist too frequently or could be confused as being a box-ticker! Haha.
You are yourself a world traveller, what was your favorite(s) place(s)?
My favorite places in the world are: Antarctica, Australia, China, Colombia, Hong Kong, Spain.
Instead of CuleM watch what's the watch you take with you when travelling?
In November 2012, I went on a four month round the world trip visiting every continent wearing a casio world timer. I wore this watch because it was a watch I did not have to worry or think about as I was going on an adventure. However, I regretted not wearing my Jaeger LeCoultre world timer and still regret this to this day because the Casio watch had no meaning to me at all, whereas the Jaeger LeCoultre would have been full of memories of my journey around the world and it was gift from my Dad.
This is also one of the reasons I created CuleM with a lower price point and therefore people would not worry about the watch and simply enjoy it while travelling and look back at their memories while wearing that watch. Imagine the stories the watch could tell.
For me, I enjoy wearing a finely crafted Swiss made timepiece on my wrist and I don't feel complete without one. I have only been wearing CuleM watches for travelling since I received my first one back from production last year. This is a feeling and investment I want to make accessible to as many like-minded people as I can and is part of the world inclusivity that CuleM stands for.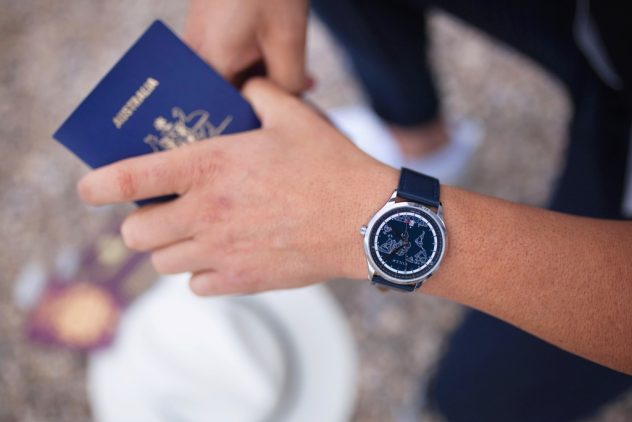 To finish, are you also a watch collector and if yes, what kind of watches do you collect?
I have a collection of about 30 watches and I mentioned some of them earlier. Some are just for fun and others are high end Swiss made watches. However, since I started CuleM I have stopped collecting because I love wearing my own creations. I suspect these will become the larger part of my collection before very long – something my team teases me about already!
You can follow CuleM Watches on their social media channels :
Jonathan Kopp