We are just days away from the District Time Washington event.
Watchisthis Magazine is proud to be a media partner of this event.
District Time will take place at the District Architecture Center, 421 7th Street NW. Located in D.C.'s bustling Penn Quarter neighborhood, on March 4th and 5th.
In the meantime, here is an interview with Loren Sciurba – Co-Founder of the event 😉
Could you tell us a bit about you and about your story with watches?
My wife may disagree, but I'd say she started it. I'd always liked the idea of watches as an accessory but didn't know much about them. I got my first nice one, a Maurice Lacroix Masterpiece Moonphase, when we were married, then, years later, she bought me a TAG Heuer Monaco. I loved both, and wanted more, but needed to find a price point that made me more comfortable. That is when I discovered Christopher Ward. I soon learned about the world of affordable independents and microbrands. By 2013, I had gone right down the rabbit hole and thought I'd try my hand at writing reviews. That is when The Time Bum was born.
When did the idea to create a watch event come to you?
It was actually Bill McDowell's idea. We met when he asked me to review his first watch, the McDowell Time Del Ray. We kept in touch afterwards and he approached me with the idea of a D.C.-based watch event. I had been trying to connect watch fans in the area with the occasional watch dinner and had organized a meet-up the year before, but nothing on any scale. We rented a room in a restaurant and figured we'd attract 10 brands and maybe 50 people. Instead, we got 20 brands and well over 100 visitors, all crammed into this one little room! We were right; there really was an untapped enthusiast presence here.
Why did you choose to do it in Washington and not in another city?
It's where I am. Bill and I both have busy jobs and young kids so it is not always easy to get away. We figured there were plenty of watch fans right in D.C., so why travel when we could bring the watches to our own town?
Is the show only for microbrands? If yes, why?
It is not exclusively for microbrands, but they do represent the majority of our exhibitors. The Time Bum has always focused on small brands and, as a result, I have come to know many microbrand owners. Bill and I originally conceived the event as a microbrand showcase but our visitors appreciate all kinds of watches, so right from the start we included more mainstream brands as well. When my son was 10, he told me I needed to invite Rolex. I'm still working on that one.
How many brands will participate in the 2023 edition of the event?
As of today, we've got 32 who will be represented at the show, not counting the door prizes or the selection that Little Treasury (an authorized dealer for several brands) will bring. I expect we may add a couple more before we open our doors.
From your perception, what makes your show so special?
We always have an eclectic mix of watches at District Time. The brands come from all over the country and sometimes, from all over the world, but I think many of our visitors are most surprised to learn that there are watch companies right here in Maryland, Virginia, and D.C. I like the fact that when you visit our show, you will see watches that you probably won't find just anywhere.
How many visitors did you have at previous events, and what is their profile?
We always get a few hundred over the weekend and all are rabid watch fans. They learn about the show in forums and watch groups online and come ready to check out their favorites. The majority are men, but I've been pleased to see more women attending in recent years. Everyone who comes through those doors loves this hobby and arrives looking for their next watch. Our visitors are the kinds of collectors who delight in finding new or uncommon brands and they'll be the first to post it online for their fellow watch nerds. These are my kind of people.
Social networks are really important for microbrands. Can you explain to us what is your strategy to highlight the brands that participate in DT Washington?
Speaking with folks at past events, it's clear that nearly all of them learned about the show online. This makes sense because that is really where the microbrand community exists. We push the show through several channels. I've got the blog, of course, and its associated social media accounts. District Time has its own accounts and this year, we've engaged a PR firm to handle our social media marketing. We also try to spread the word through forums, online publications, other watch sites like Watchisthis, and Facebook groups like The League of Microbrands.
Now and more generally, what are your plans for the future? Do you think of developing the event, and possibly making it live in another city?
We are considering different venues in the D.C. metro area and I'd like to keep expanding the number and variety of watch brands at the event, but another city? I don't know. People have asked us to do that since the very first show and maybe we will one day. I just don't have the bandwidth for that right now. I tip my hat to the folks at Wind-up and MicroLUX who do shows all over the place, but at this point in my life, handling one event is enough!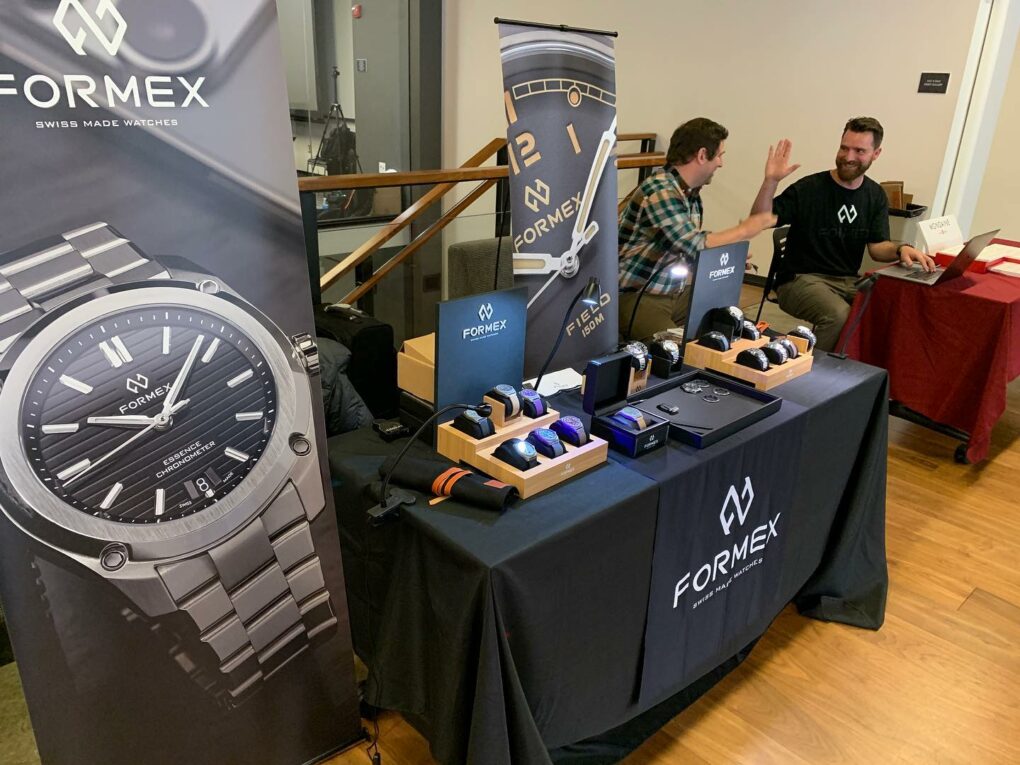 What aspects of your show do you think people should know more about?
I think the first aspect is the atmosphere. It is very relaxed. We'll have established, high-end boutique brand with watches that sell for thousands of dollars right next to a brand-new start-up launching their first watch for a couple hundred dollars, and both will be happy to chat with you. There is no snobbery or pressure, just a shared love of the hobby.
The other aspect would be the chance for free watches! Everyone who signs in at the entrance is registered for a prize drawing at the end of the day. We always have a great selection of watches, straps, and accessories. This year, we have straps and pouches from Stella, and watches from Vario, McDowell Time, RZE, Farr+Swit, and Davosa. I wouldn't be surprised if we added one or two more. The drawing is at the end of each day and you have to be present to win. It's a blast.
To finish, are you also a watch collector? If yes, what kind of watches do you collect?
Of course! As you might imagine, I have quite a few microbrands. I tend to favor tool, dive, and sport watches. I've got a handful of vintage pieces too. I prefer mechanical movements but I won't turn my nose up at a nice quartz either and I've recently started modding Casio AE1200s. One of my favorite purchases was a beautifully kept 1970s Omega Dynamic that I found on eBay for $200. I just love the way that watch combines fashion, industrial design, and engineering. Come to think of it, that what I love about watches in general.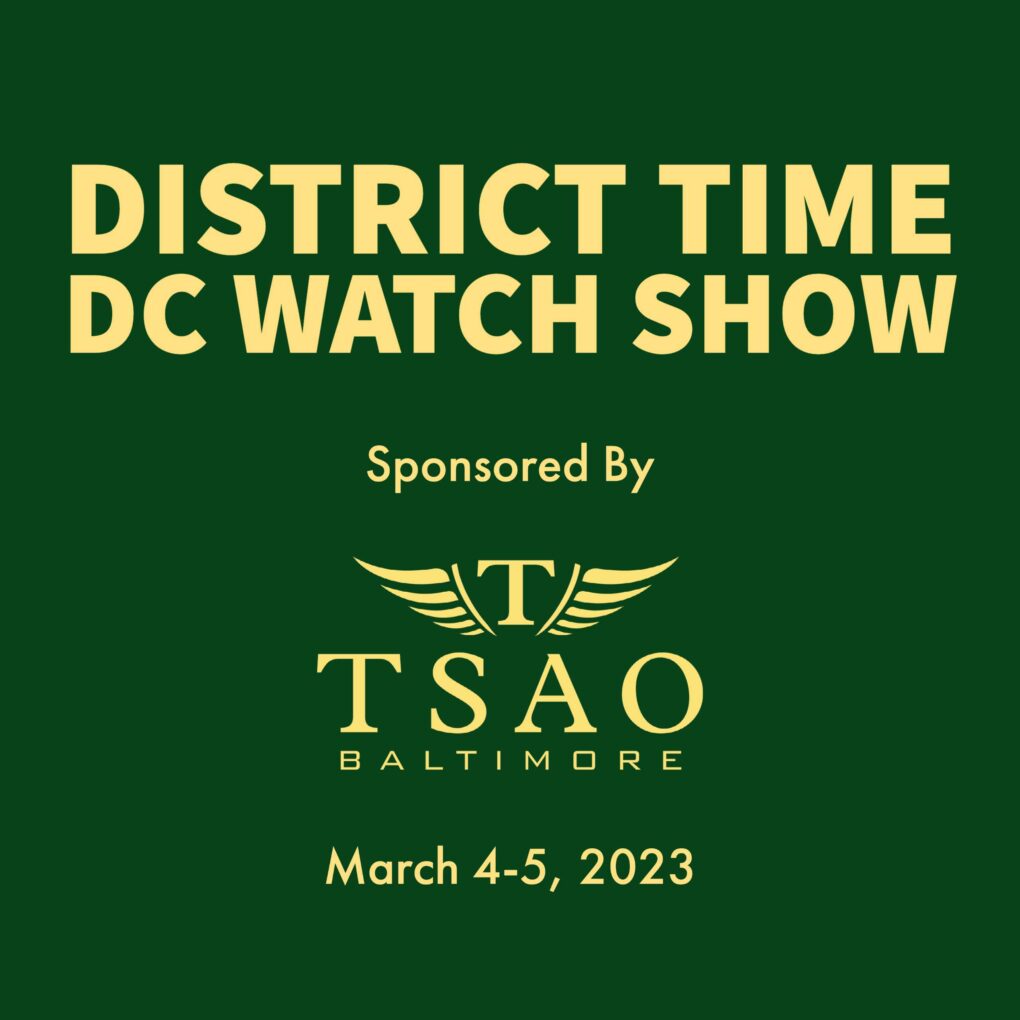 You can follow District Time on the social networks :
Jonathan Kopp
Feel free to follow us on the social networks :