A few weeks ago we had the chance to sit down and speak with Léopoldo Celi, Founder of Fugue Watches.
Now, let's jump into the story of this young brand…
Could you tell us a bit about you and about your story with watches?
My love affair with watches started 12 years ago with a very special gift from my parents, an Omega Speedmaster. This gift came with a condition: I had to find the watch myself aftermarket with a maximum budget of 1000€ which was, even for the time, very challenging. After I succeeded finding this gem the hunt changed me forever. I became a vintage watches collector (on a budget) and was instantly drawn to the creativity and soul of vintage pieces. I later became interested in the mechanics and the product development and decided to make a career change by launching Fugue and, just recently, graduating from the watchmaking school of Paris.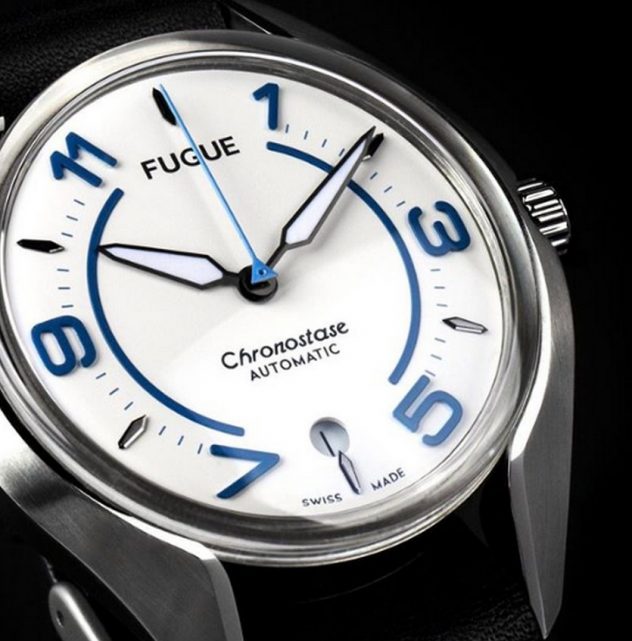 When the idea to create a new brand came to you? and when do you start working on the creation and on the launch of it?
The idea to create a new brand came to me after I realized that, as a watch buyer, I could not find what I was looking for on the market: a vintage inspired watch with great design and execution, on a budget. This was back in 2013. But a brand is more than a product, and the decision to create one had a deeper sense. At the time, I felt like communication from mainstream brands lacked authenticity and I could not identify to some of their message or values. So I decided to create my own voice through Fugue. Back then, I got in touch with Marc Tran who became our head designer and started working on a concept, which would eventually see the light of day in 2016.
What made you want to enter in the already overcrowded watch market?
First of all, back when I started with this project the market was not so overcrowded. Nonetheless, any sane mind I shared it with could not resist telling me how tough it would be to launch a watch brand… And rightfully so! The best reason amongst the number of reasons that made me do it is that I knew this would be an incredible learning experiment that would teach me invaluable lessons on watchmaking and on the industry.
What's the most important thing in the process of creating your timepieces?
Design has always been the most critical aspect in the creation of our watches. It takes time and it needs to be perfect. I would say that another growingly important thing is to make sure that the watch has a « soul » and is connected to our brand values and commitment.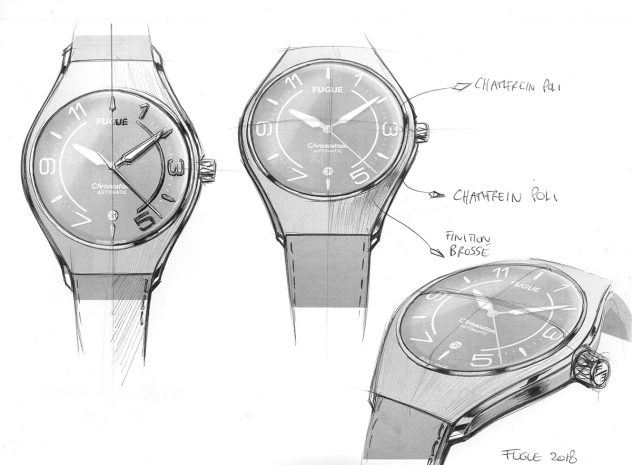 What steps do you go through to develop and produce them?
I start with a lot of research with a clear brief in mind, and look for inspiration in vintage watches I have in my collection or online… I believe watch design is an eternal cycle and I love paying tribute to the marvels of the past by reinterpreting them in a more contemporary fashion. I then share them with Marc and we come up with sketches, which are then created in 3D. The next phase is prototyping, which starts with quick 3D printing to validate forms and volumes, and goes all the way to finished product (with a lot of back and forth). We then select the best suppliers for each component, like the movement with Sellita, and assemble the finished products ourselves.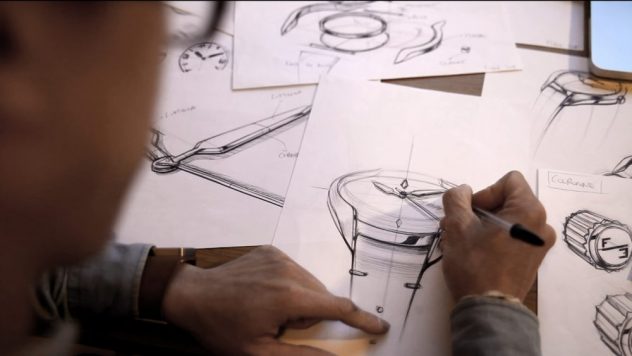 From where come your inspiration concerning the design of your pieces?
As I said previously, inspiration for the design starts with research into vintage pieces, especially the ones that have an understated look or a quirky detail that might catch our eye. We also take a lot of inspiration from other disciplines like fashion, interior design or art, which help us infuse a more contemporary vibe to the design with a certain color palette for example. The design is also inspired by our brand values and the way we decide to express them. We just recently finished working on a watch inspired by literature. Literature promotes "escapism", echoing the brand's name, (Fugue being the French word for "escape"), but it also embodies culture, knowledge and transmission. These principles are dear to Fugue in its mission to democratize watchmaking.
Do you have an anecdote about the design and creation phase of your timepieces?
Our first watch, the Chronostase has a standout feature that is the interchangeable case system and has become its trademark since. The true story is that we never set out to create a customizable watch and it only came after we had already done the design of the watch. It first came up as a solution in the development phase to help create the look we wanted around the crystal/bezel area and became a feature we decided to use to create a whole concept for the watch. New ideas can come at every stage and you are never really done until you are!
From your perception, what makes your watches so special?
I think that we create functional timepieces that push the envelope in terms of creativity all whilst keeping an execution that is true to the values of mechanical watchmaking in its traditional sense.
Could you tell us how your various collection are composed and what are their prices?
The Chronostase line is composed of a single modular case product with a range of 96 different combinations between case style, dial and strap color. The price for a leather strap Chronostase is 980€ and the same watch on a perlon strap will cost you 950€. A limited edition set is also available with 2 additional case designs and retails for 1300€.
Our newest line is called Fictions and includes capsule editions, which are limited in time and in number. The Fiction One, will be exclusively available to pre-order with a special price of 395€ and limited to around 500 pieces.
Do you have a favorite piece among all the ones you've already created?
I think our latest piece is the one. It is the result of a different approach that is not so product focused and includes a lot of thought on bringing an inspiration to life. The Fiction One is inspired by the literary genre of mystery novels, and the first edition in a long series to come (I hope). The challenge was to translate the idea of mystery in horological terms. Hence we reinterpreted the idea of the mystery dial on a smoked pattern backdrop bringing the right mood to the piece. It is also the best embodiment to date of our design ethos.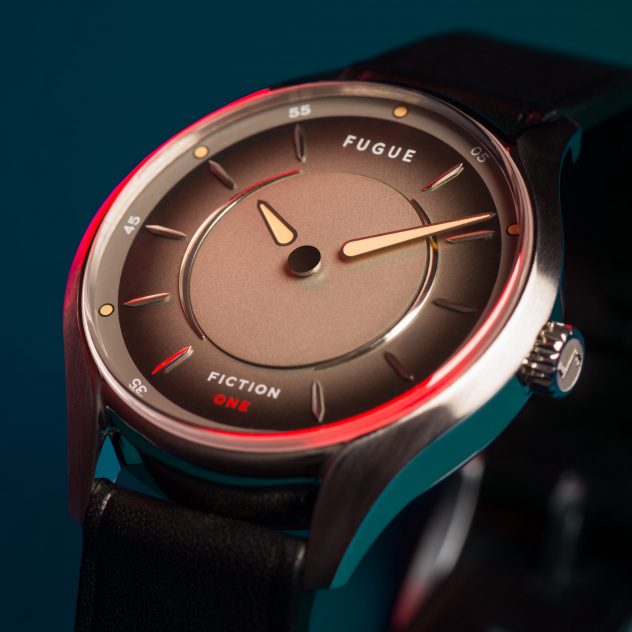 Social networks are really important for microbrands like Fugue. Could you let us know how and why do you use them? and what's your strategy to stand out from other brands in your price range ?
Social media is a window on our world into which people love to stare. It is also the best opportunity for us to gain brand awareness. Our first customer ever was an ocean away from us and yet bought our watch after finding us on instagram. This is vital for a small structure like ours that cannot afford the visibility of a big brand and needs to rely on a well-connected and enthusiastic community of watch lovers. Obviously today it is really hard to be heard amongst all the noise, because there is a lot of content polluting these spaces without a real message. Our challenge is to speak when we have something to say and to stay relevant in this community. We believe the first step in doing so is to create meaningful and interesting content.
Let's talk about distribution. Obviously, you use the direct sales strategy which is better for a young brand like yours, but you also have some retailers in France. Could you tell us how people can buy your watches? In the future you want to develop the number of your retailers or what's your strategy?
We are present both in store (France only) and online (shipping to 72 different countries). Distribution has been the industry's hottest topic in the past few years, and if there were a miracle strategy everyone would have figured it out by now. I think that direct sales and wholesale are two very different things and I think you can only do one or the other right. In our case, we are starting to focus more and more on direct sales with our newest release for example which will be online only. It is a cost-effective way of distributing our product and it gives us more independence. But we do believe that some other pieces that are more exclusive or experiential (like the Chronostase) have a lot to gain from physical visibility in brick and mortar when it is done right.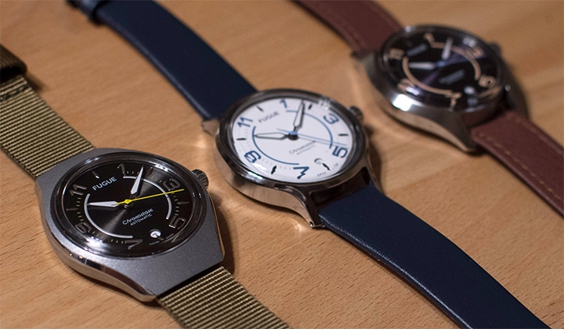 As you are not in the mass market, how many watches do you already have delivered?
Our first batch of our Chronostase watch was limited to 300 watches.
Now and more generally, what are your plans for the future?
The Fugue Fiction One will be released on Kickstarter in early September and we hope to make it a success. We will then focus on developing Fiction Two, which will be inspired by yet another literary genre.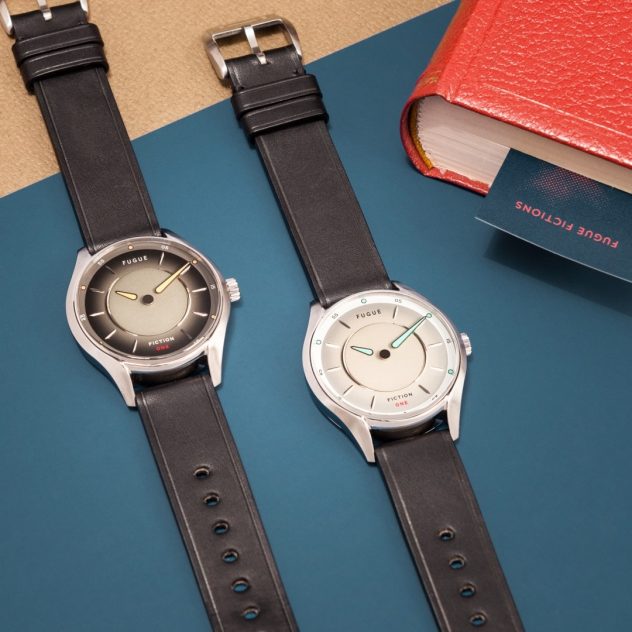 What aspects of your brand you think people should know more about?
Fugue was created to focus on a very contemporary interpretation of time, and how it is measured. It suggests considering a watch as a real "keeper of time". The "Escape" (or "Fugue" in French) refers to the elusive aspect of time and the beauty of the moment. By doing so, we want to give the watch a very emotional role and invite everyone to enjoy their own moment, their escape. We also want to promote great design through traditional watchmaking and spread our knowledge on the subject to eventually give birth to new passions.
Also, being French and based in France but your watches are Swiss Made. Could you tell us why this was important for you? And also, don't you want to create a Made in France watch one day?
Coming from a non-professional background, I wanted my project to be trusted by the Swiss Made label to have a certain standard of quality. It was very important on a market where anything tries to pass for "premium" or "luxury" and it can get a little confusing for everyone. However, thanks to my recent diploma from the watchmaking school of Paris, I have acquired the right technical skills to be able to supervise an in-house assembly, and that is what will be done on the Fiction One. The motor will still be Swiss, as we will keep using the Sellita SW200 élaboré grade.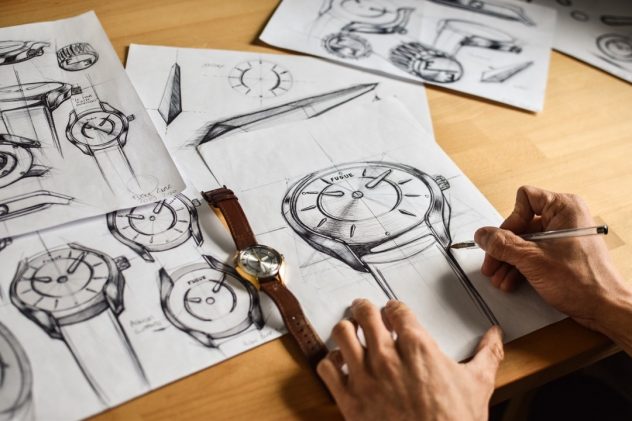 OK, now something more personal. For you, what's the most important thing to find in a watch?
I have mentioned this word before, and it may sound like I am talking about a person but the "soul" of the watch is really important to me. I feel like I should explain what I mean by that. It is something that somehow connects the watch to the world we live in either because it has a rich history, because it makes a statement or because it is relevant to our day and age. Personality would be another word for it. Strictly design wise, what I look for is the details, especially on the case, and I think most of the brands do not spend enough time on thinking about designing a great case.
To finish, are you also a watch collector? If yes, what kind of watches do you collect?
Of course! I collect anything vintage and (again) with a rich soul. I am especially interested in bi-compax chronographs (vintage and new) which I find have great design balance and I own a couple of them.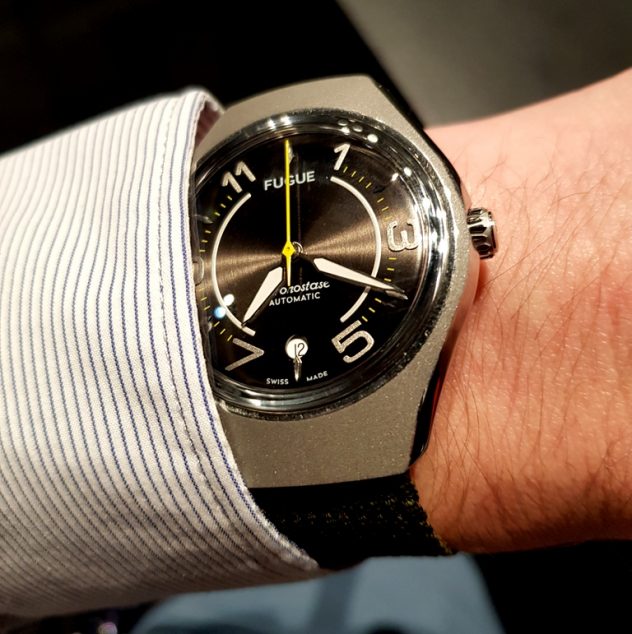 You can follow Fugue Watches on their social media channels :
Facebook / Instagram / YouTube
Jonathan Kopp