Today I present to you Jamie Armstrong who is the founder of Luxury Watch Rolls. As a watchmaking and travel enthusiast, I often look for this kind of products, which I must admit is very practical.

Unfortunately, in this jungle of accessories, there is everything and at all prices.
Luxury Watch Rolls seems to be a good alternative because the products are of high quality and the prices are well placed.

And here we go, Jamie will tell us more about his project in this interview.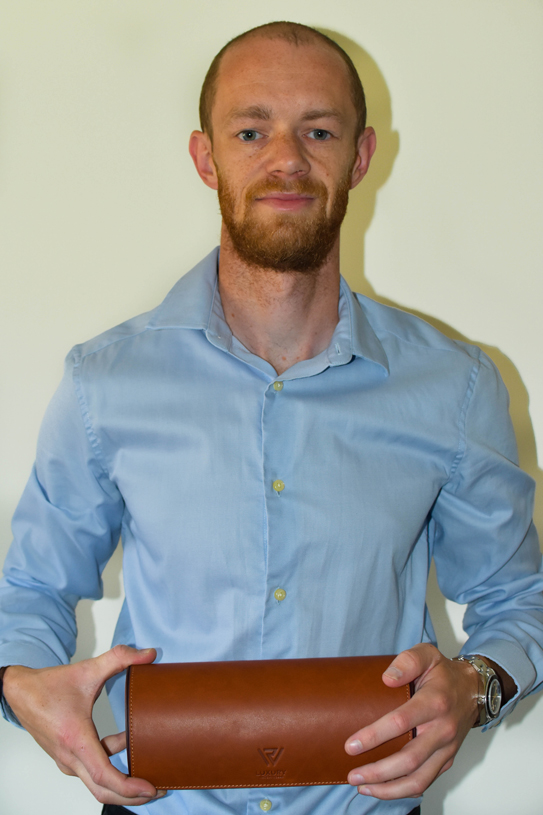 Could you tell us a bit about you and about your story with watches?
Of course! My name is Jamie, I'm 30 years old and from the U.K. where I have lived for all of my life. I have a master's degree in engineering and have been working in engineering since graduating, working my way up to head of engineering. I have always had a fascination with watches, and particularly mechanical/automatic watches.
Coming from an engineering background I really admire and appreciate the complexity of the movements. I can vividly remember being ecstatic at getting my first automatic watch for Christmas one year around 15 years ago. It is a Tissot PR100 automatic, a watch which has travelled the world with me, and I still have to this day. I think this ignited my passion for watches.
When the idea to create your brand came to you? and when do you start working on the creation of it?
I have always aspired to have my own brand, I am a hard-working person and when I have an idea I will give it my 100% to ensure that it is successful. The idea for Luxury Watch Rolls was something which came to me at the end of 2021 and started to become a reality in January 2022. As you can see Luxury Watch Rolls is a pretty new brand at the beginning of its journey. I came up with the idea after noticing a gap in the market with watch rolls and watch storage.
I had purchased a number of watch rolls from various places, some cheap ones and some not so cheap. I began to find that with the cheap ones, the quality was lacking and the simply didn't meet my expectations. I had also purchased some of the more expensive rolls from bigger brands but felt that the cost wasn't justified. I began to notice that there was a gap in the market for a quality handmade genuine leather watch roll, somewhere watch collectors like myself, could proudly and safely store their watches.
Since having this idea, I have been working tirelessly to design, make prototypes and find suppliers to help me realise my goal and aligned with my values.
From where comes your inspiration concerning the design of your watch rolls?
One of my personal favourite styles of watch are vintage dive watches. My daily watch at the moment is a Tudor Black Bay 58 black, which has styling heavily based on the vintage Tudor and Rolex Submariners, which I have a real soft spot for. I wanted to create a watch roll which had a classic and bespoke look, that was functional, and would suit all styles, modern and vintage.
One of the key factors in the design of my watch rolls is the design of the pillows. I have very small wrists, so much so that most watch rolls with oval shaped pillows do not fit my watches, and when they do they put a lot of strain of the bracelet and spring pins. The pillows were an area that I spent a lot of time developing and working on. From the density of the foam core of the pillow to ensure that they compress to accommodate the smallest wrist size, yet springy enough to return to their original shape to fit larger watches and bracelet sizes. You can see that the pillow style is of the 'm' shape, to allow this additional compression.
Overall, I have tried to create a watch roll which I am proud of and would feel safe storing my watches in whilst travelling or at home. I am convinced that I am not the only person to have experienced the issues I have mentioned, so with my watch rolls and brand I aim to rectify this.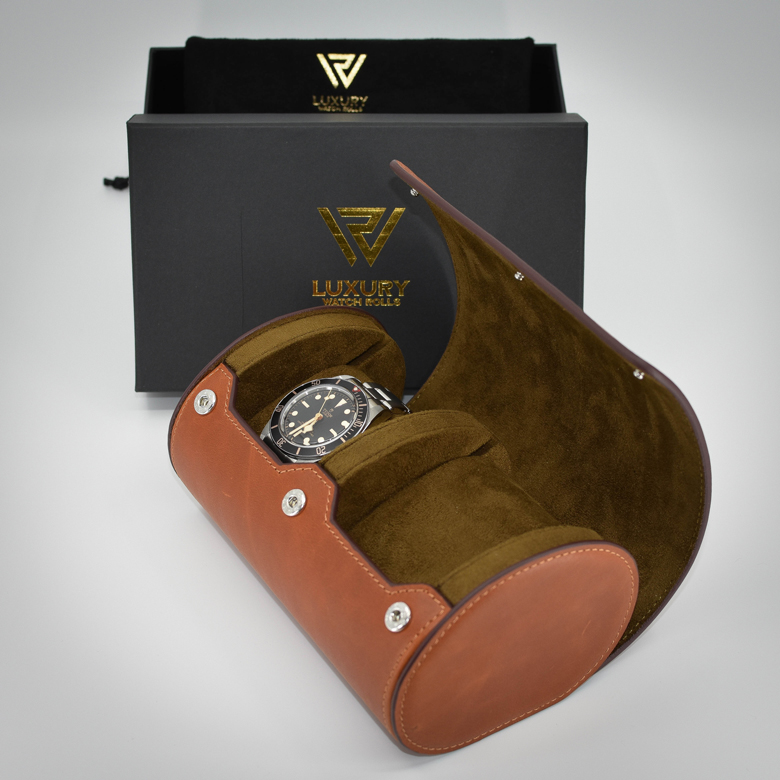 What's the most important thing in the process of creating your products?
For me the most important thing in the process of creating my watch rolls is the quality of the materials used to make the watch rolls. For many people, myself included, watches have a sentimental value. For example, one of the watches which means the most to me, is probably one which cost significantly less than others in my collection. Its therefore important to me that regardless of value my watches are stored in a safe and high-quality watch roll. It also goes without saying that having purchased an expensive watch you would want somewhere equally as luxurious to store it in.
I therefore spent a lot of time ensuring that the materials and leather that I sourced was of the highest full grain cut, and that the interior lining was of the softest suede. Throughout the process I have ensured that my watch rolls exude quality, from the packaging and velvet bag that the watch rolls come in, to the construction and materials of the watch rolls.
Do you have an anecdote about the design and creation phase?
During the design and development phase, I had a number of different samples of leather and suede sent to me as swatches so that I could chose the colour combination. I actually ended up losing a few of the suede sample swatches as my cats took a liking to them when I left them on my desk!
From your perception, what makes your new products so special?
For me there are a number of things which make my watch rolls so special. Each watch roll is handmade from the finest materials I could source, and the craftsmanship is second to none. In keeping with the vintage theme of the watch rolls, the edges that transition between the outside leather and the inside suede lining are oil painted in the French style. This means that each edge is hand oil painted and the darker colour of this creates the bespoke look.
This method of edge finishing also removes the possibility of the edges fraying or separating, something I experienced on other watch rolls. I also spent a lot of time on the design of the closure. My watch rolls have a main flap which, when closed, is recessed creating a seal preventing dust and dirt from getting inside the watch roll where the watches are stored. This is something which is fairly unique to my watch rolls and something which I believe is fundamental in protecting watches.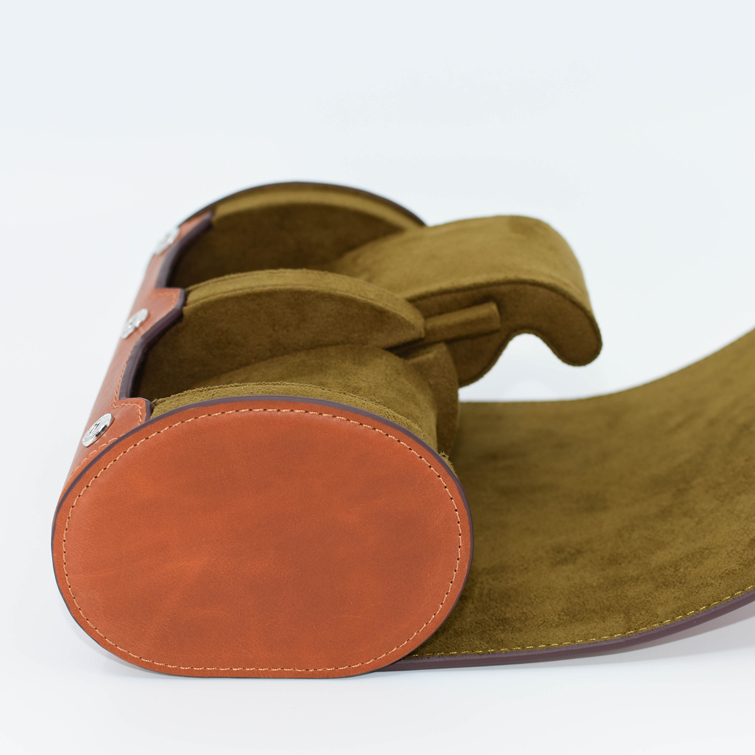 Could you tell us how your collection is composed?
The Luxury Watch Rolls collection is composed of three types of watch roll, a single, double, and triple watch roll. Each type is styled the same and manufactured from the same high-quality materials, it is just the size that is different. At the moment I have only launched the watch rolls in one colour combination, a vintage brown range. These use brown vegetable tanned full grain leather and a darker brown interior. In the future I plan to release many more colour combinations all in keeping with the quality and style of the current design, so keep your eyes peeled for those.
Social networks are really important for a young brand like yours. Could you let us know how and why do you use them? and what's your strategy to stand out from other brands in your price range?
I could not agree more, social networks are incredibly important for brands such as mine, currently I have accounts with all of the major social networks although Facebook and Instagram are my main focus. I use these accounts to increase the awareness of my brand, and I have partnered with a number of well-known watch accounts to help increase awareness of my brand.
It is also incredibly important to me to be active and engage with the watch community on these platforms, as it helps me to communicate my brand values and also my products. My strategy to stand out from my competitors is to post engaging content of not only watch rolls and my products, but also general watch posts and close ups that all watch lovers can enjoy. I have spent a lot of time searching for watch bloggers and accounts who align with my brand values. I have then gone into partnership with them to help showcase my products.
Aside from social media, I have sent the samples of the watch rolls to a number of independent watch blogs for review, and you can find links to these reviews on the Kickstarter campaign. You can find us on Facebook and Instagram with the username @luxurywatchrolls
Let's talk about distribution. Could you tell us how people can buy your products and at which price?
Of course! Currently my watch rolls are available for pre-order through the Kickstarter campaign at a discounted price compared to the future RRP. Once the Kickstarter campaign is complete, I will be launching the Luxury Watch Rolls website, where the watch rolls will be available to purchase. The pricing for my watch rolls at the pre-order price is below:
Single Watch Roll – £75
Double Watch Roll – £100
Triple Watch Roll – £125
Single & Double Watch Rolls – £165
Single & Triple Watch Rolls – £190
Double & Triple Watch Rolls – £215
Single, Double & Triple Watch Rolls – £275
I have priced them very competitively considering the materials used and the construction of the watch rolls. I am aiming to fill the gap in the market for the premium, genuine leather watch rolls, but at a price point closer to the cheaper end of the spectrum.
Could you explain us why you're on Kickstarter and what's your goal on this platform?
I decided to launch my brand on Kickstarter as a way of pre-ordering the watch rolls. To allow me to offer the watch rolls at the price point that I am, I need to bulk buy a lot of the materials such as the leather and suede. The Kickstarter campaign and crowdfunding model is a way of allowing me to help fund the first production run. At the same time this allows me to offer the watch rolls at a discount to those who help support the campaign as a way of thanking them.
Now and more generally, what are your plans for the future?
At this moment in time my main plans and focus is on the successful launch of my brand, so my immediate plans are to get the brand up and running and to have the website live. In the very near future my plans are to release different colour combinations of my watch rolls so that I have a wide range to suit all tastes. Further afield I would see the brand developing into a brand which takes the values and methodology of the watch rolls into other areas of watch accessories, such as stands and straps. This plan for the business will be deployed over a number of years to fulfil my vision for the brand. Ultimately, I would say I have an aspiration to create a microbrand for an automatic watch, but that's something for a bit further down the line.
What aspects of your brand you think people should know more about?
I think the key thing about my brand, is that it was born out of a passion and love for watches. I am a genuine watch lover and I take great pride in what I am creating. Luxury Watch Rolls has been founded on a vision which I have set out to achieve. Ultimately for a small start up brand such as mine, the key thing is to ensure that the product is right. I have spent many months developing and refining the design to ensure that the watch roll that I am bringing to market is of the best quality. It's important to me that others enjoy my watch rolls as much as I do. I take great pleasure in seeing my vision realised.
OK, now something more personal. You're creating a brand of watch rolls, so I assume you like to travel. What's your favourite destination? And, also, do you have a travel anecdote?
I do love to travel. I have been lucky enough to visit a lot of countries and have visited most continents, some of may favourites are the Philippines and Norway, both beautiful countries in completely different ways. I would have to say that for me, my favourite place in the world is the French Alps.
When I was younger my family always used to holiday in a little town called Annecy, right on the French/Swiss boarder and being a watch lover, I used to enjoy the short drive to Geneva and looking at all the watch boutiques there. A little-known fact about me and travel is that I never flew on a commercial airline until I was 24. Whenever I had been abroad, I had always driven. The first plane I went on was aged 21 which I did a skydive from, so for a few years I could proudly state that I had taken off in a plane but never landed in one!
To finish, are you also a watch collector? If yes, what kind of watches do you collect?
I would not necessarily say I am a watch collector, although I own a few watches and would like to be. I currently own 4 watches, including Seiko, Tissot and Tudor models. Like most people I am on waiting lists for some Rolex models with an AD, although I don't expect to be able to get one anytime soon! I would say my favourite kind of watch is a dive watch, although due to its complex movement I really admire the Rolex skydweller.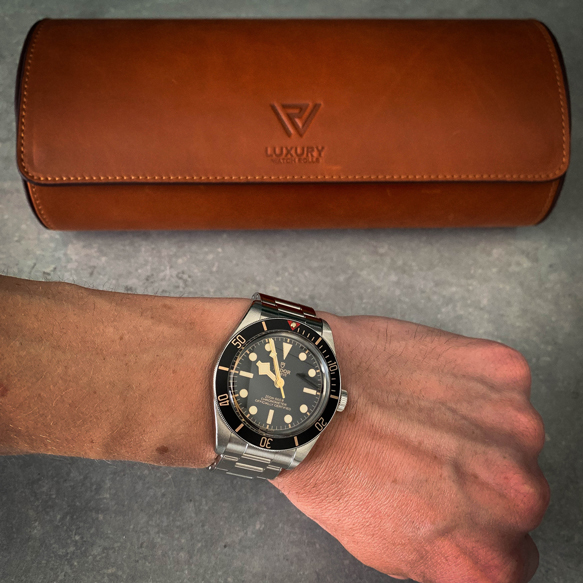 You can follow Luxury Watch Rolls on the social networks :
If you're interested to buy one of them just click HERE.
Jonathan Kopp
Feel free to follow us on the social networks :