As a lover of beautiful mechanics, I kept an eye on a young French brand which offers watches inspired by cars.
I had the chance to interview Clément Meynier who is the founder of Depancel Watches.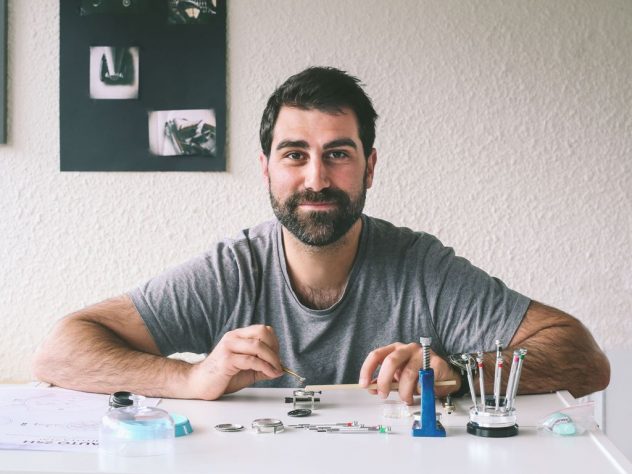 Hi Clément could you tell us a bit about you and about your story with watches?
Hello Jonathan, and thank you for this interview! Originally, I trained as an engineer and worked in a research laboratory in Geneva, called the CERN. I am from the Jura region, near the Swiss border, and I have always been passionate about fine watchmaking and curious to understand how mechanical watches really work. Then, I enrolled at a training center in Geneva to learn watchmaking. It was supposed to be a simple hobby to satisfy my curiosity, but this experience drastically changed my life.
When the idea to create a new brand came to you ? and when do you start working on the creation and on the launch of it?
Through this training, I was able to meet passionate watchmakers and craftsmen who found meaning in their existence by creating these beautiful objects. These craftsmen and artists express their personality in every detail of their creations, and I decided to create a brand because I wanted to share this passion and amazing know-how with other watch enthusiasts.
I started to work on the project in 2017, and we launched our first collection of automatic watches called AUTO in March 2018 on Kickstarter.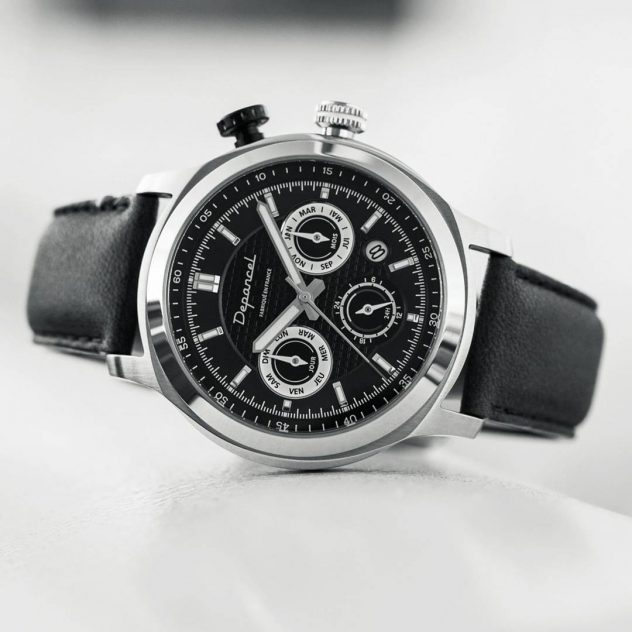 What made you want to enter in the already overcrowded watch market?
On studying the industry, I realized that traditionally, brands manufacture their watches and then sell them by making them desirable through marketing and communication. Sometimes, in spite of all their efforts, retailers, or the brands themselves, are left with unsold stock on their hands. The cost of a product is therefore the total of all these expenditure items: production, communication & marketing, inventory and unsold stock. Add to that the margin applied by the company and the retailers to arrive at the sale price.
With Depancel, I wanted to create an alternative brand that would make beautiful mechanical watchmaking more accessible by significantly reducing two types of expenditure: retail markups on one hand and the cost of inventory & unsold pieces on the other. Basically, we ask our community to help us design the watches they want thanks to questionnaires, and then we sell our products through pre-ordering. Thanks to this, we manufacture our watches on demand and we can offer a good value for money.
For our new AUTO 110 collection, several thousands of enthusiasts helped us to choose the inspirations and characteristics of the watches, and we are really proud of what we achieved all together!
What's the most important thing in the process of creating your timepieces?
It is important to keep in mind that a watch must be worn by someone. So we must never forget to ask for people's dreams and thoughts about the watches we are working on.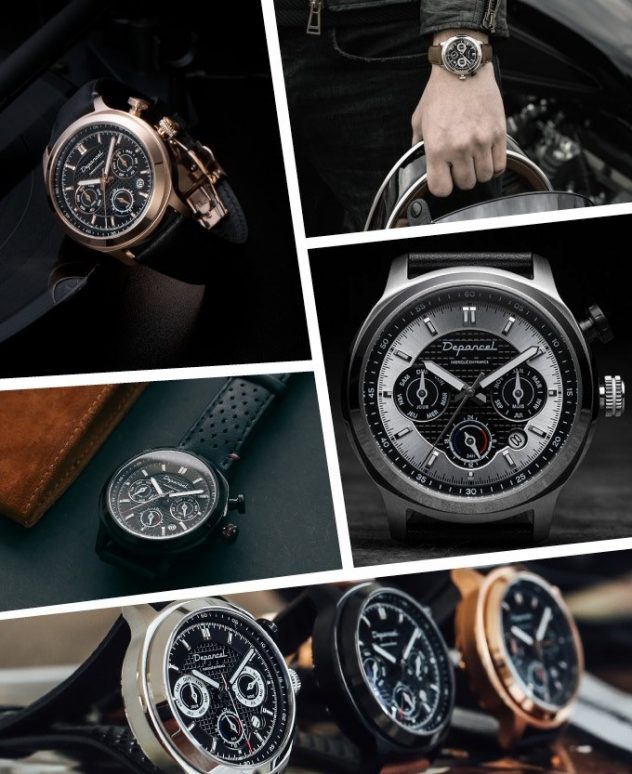 What steps do you go through to develop and produce them?
As I said before, the very first step in the process of developing a new collection is to ask our community about what they want. We ask them to tell us about their design preferences, their expectations in terms of technical features and we choose the inspiration together with them. After that, we design the products, search for the right suppliers and partners and create prototypes. Once the design is finished, we show our community the results and if they are happy with the collections, we start the pre-ordering process.
From where come your inspiration concerning the design of your pieces?
I have always been interested in mechanics, watchmaking of course but also automobile. The name Depancel is a contraction of Delage, Panhard and Facel Vega. Inspiration for the brand came from the industrial vision and prestigious expertise of these famous icons of the motor car industry, from which we borrowed several elements: our logo is inspired by the Facel Vega's radiator grill for example.
We like to pay tribute to mythical cars in our watches, through subtle details such as the construction of our leather straps, the design of our dials, the colors or the curves of our cases. As an example, our new collection AUTO 110 is inspired by the famous Alpine A110 berlinette.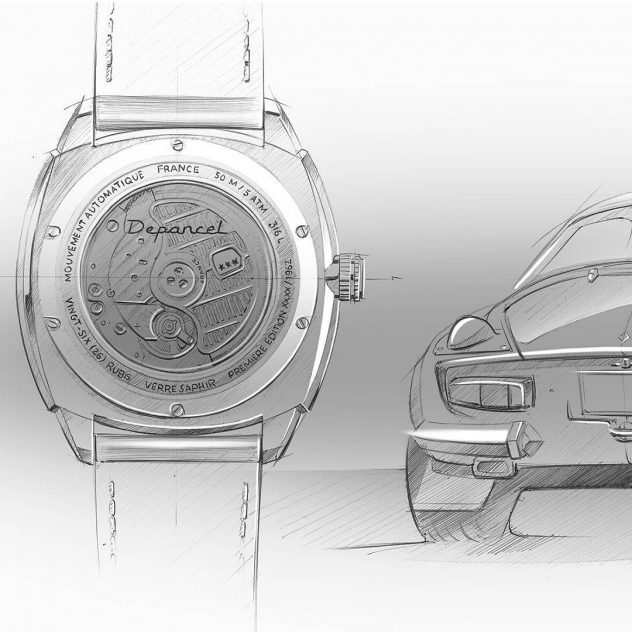 Do you have an anecdote about the design and creation phase of your timepieces?
Nothing I can think of right now!
From your perception, what makes your watches so special ?
What's special about Depancel's watches is that the timepieces are made by those who wear them!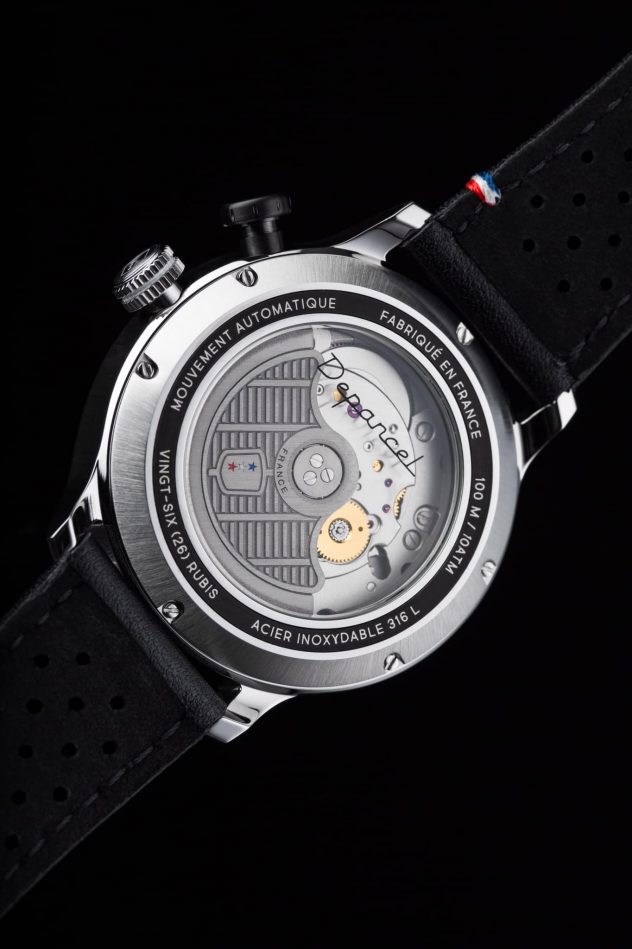 Could you tell us how your various collection are composed and what are their prices?
We have 3 different collections: AUTO, [Re]Naissance and shortly AUTO110, all of them are automatic watches equipped with Miyota calibers.
– AUTO is our first collection, launched in 2018 and composed of two different watches: AUTO 3H and AUTO24H. This collection offers many sporting credentials: the push button, timer and embossed dial all hark back to elements seen on the dashboards of vintage motor cars.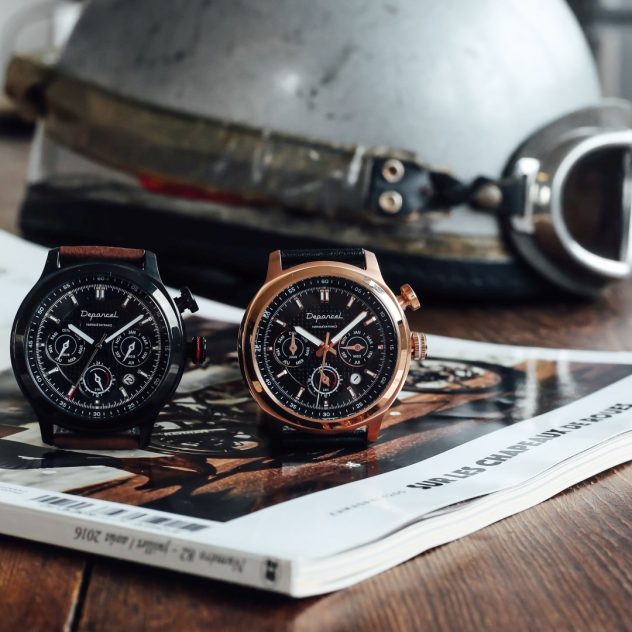 – [Re]Naissance was launched in 2019, it is a square automatic watch whose case reproduces the lines of the radiator grill of the mythical Delage D8. It is equipped with a Miyota movement caliber 9120, has a 40h power reserve and offers a day, date and month display as well as a 24H function.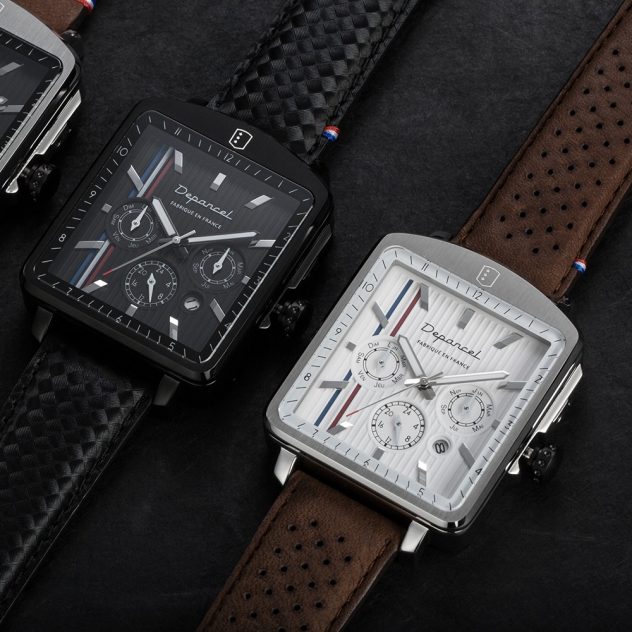 – AUTO 110 is our new collection, it is still a sport watch but more contemporary than the previous ones. It will be available from June 16th and finds its inspiration in the Alpine A110. The design features subtle nods to driver Jean-Pierre Nicolas' A110: the blue and orange, its iconic colors, but also the power reserve indicator inspired by a fuel gauge, the no. 2 stickers for the 24 hr. function or the hand-stitched racing strap which is reminiscent of the construction of the gloves worn by racing drivers.
AUTO 110 comes equipped with a 9110 movement from Japanese manufacturer Miyota, a power reserve of 40 hours and an anti-reflective sapphire crystal.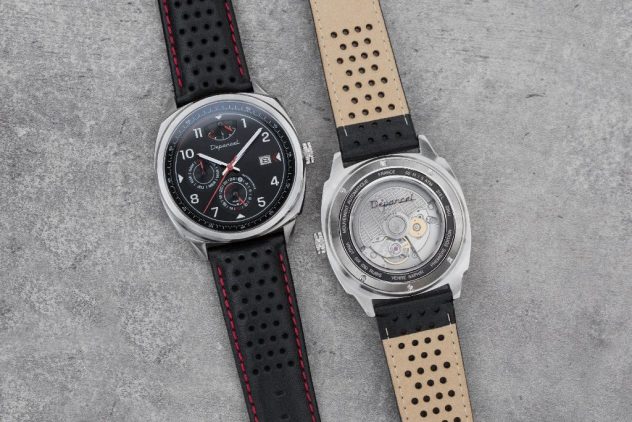 Thanks to our direct sales and pre-order strategy, we can offer our customers a good value for money. When launching a new collection, we offer our watches at the discounted price. It is our way to thank our customers who will wait a few month before wearing their watches. As an example, our AUTO 110 collection is sold €595 in pre-sale period instead of €750 when in stock. After the launch of a collection, the watches come back in several batches and the price slowly increases to finally reach the regular price.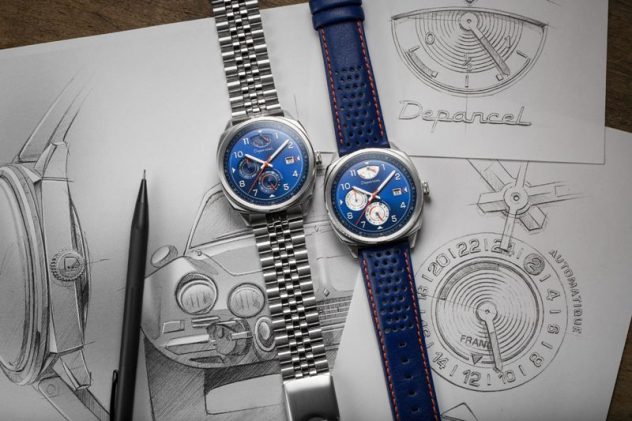 Do you have a favorite piece among all the ones you've already created?
The AUTO 110 with it's jubilee metal strap! I was a bit scared by the metal strap at first but I must admit I love wearing it.
Social networks are really important for microbrands like Depancel. Could you let us know how and why do you use them? and what's your strategy to stand out from other brands in your price range?
From the beginning, we wanted to be close to our customers and community, and this is easier to achieve thanks to social networks. We like to share our work with our community and use social networks to ask people about the kind of watch they want us to manufacture. Social networks are a great part of our strategy, since it is the easiest way to talk with watch enthusiasts.
Let's talk about distribution. Obviously, you use the direct sales strategy which is better for a young brand like yours. Could you tell us how people can buy your watches? In the future you want to try another kind of distribution or what's your strategy?
Our watches are available directly on our website, www.depancel.com, and they are sold through pre-ordering. For now, we do not plan to change this distribution model, because it works well and allows us to provide good value for money to our customers.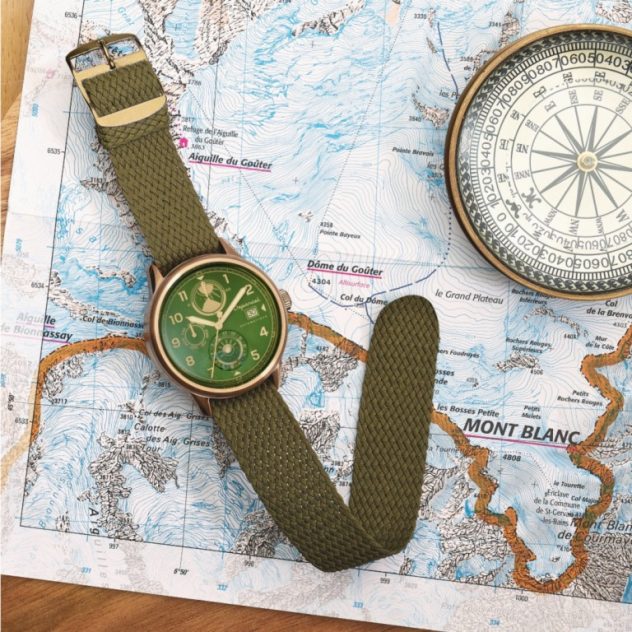 As you are not in the mass market, how many watches do you already have delivered?
Since the creation of Depancel, more than 3,500 watches were sold. Our community of watch enthusiasts is growing gradually, and we are really happy to share our passion for watchmaking with all of them!
Now and more generally, what are your plans for the future?
We have many ideas for the future of the brand! But our next main projects are to consolidate our pre-ordering process, to create new watches in collaboration with other communities of enthusiasts and also to develop our range of products, offering hand-crafted watches, or a chronograph for example.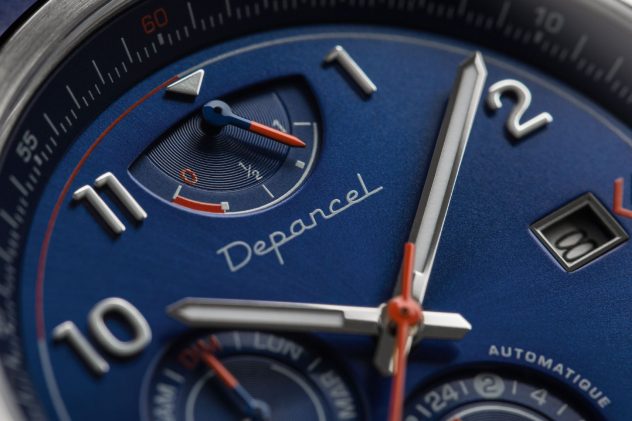 What aspects of your brand you think people should know more about?
I think people should know more about out pre-ordering model, which is really in my mind the right way to sell our products. We manufacture on demand, just what we have sold: it is better for the planet, for our customers' wallets but also for our company.
Also, being French and having watches built in France, you seem to be very interested to be part of the relaunch of the French Watch Industry. Could you tell us more about this?
It is true that even if some of the components do not come directly from France, we have an authentic French culture and we want to promote our local know-how. Our movements are very meticulously decorated, assembled and adjusted by French craftsmen and watchmakers, who manage to improve their precision.
We try to have a concrete economic impact on our local economy and to promote the know-how of our local talents.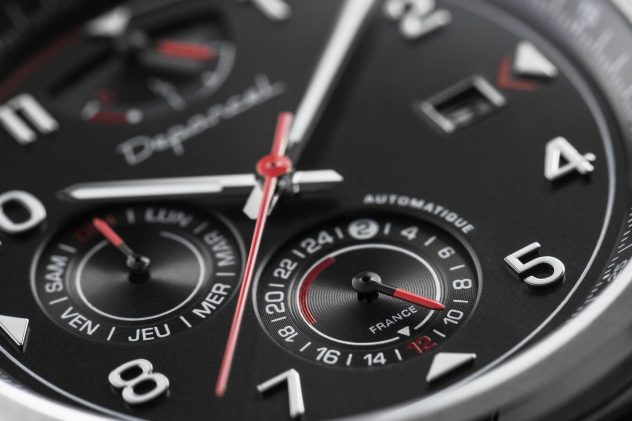 OK, so now and to finish something more personal. Are you also a watch collector ? If yes, what kind of watches do you collect?
Surprisingly, I am not a big watch collector, I do not feel the need to own several watches although I love to read and learn more about watchmaking.
You can follow Depancel on their social media channels :
Facebook / Instagram / YouTube 😉
Jonathan Kopp