The Hamilton Khaki Frogman is a prime example of the Swatch Group excellent strategy of keeping their affordable watches interesting and original. We see this with Certina, Tissot and definitely also with Hamilton. Am I exaggerating? Maybe, but try these days to make an original divers watch. There are so many out there, that this is actually a hard task. What is even harder is to make it stand out as well, and the new Hamilton Khaki Frogman does both.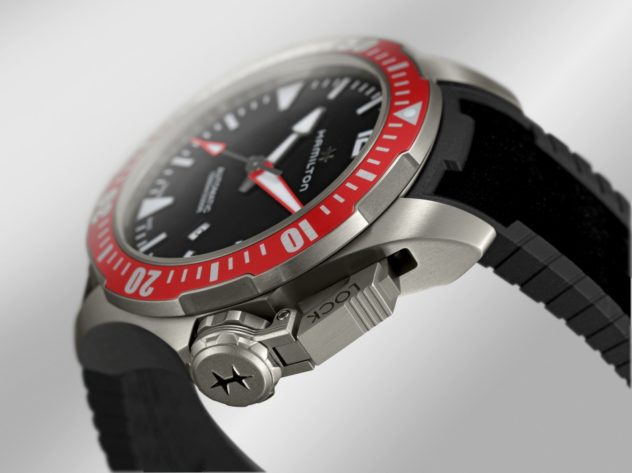 The new Frogman comes in two sizes: 46mm and 42mm. The 46mm has its case crafted from Titanium, is water resistant until 100 bar (1.000 meters) and features a helium escape valve. The 46mm model comes with a black dial and a red diving bezel. A stunning combination, but what is especially nice is that this bezel is slightly different from many others. Usually a diving bezel is a metal part designed to provide easy grip to turn it, with inside a round insert. Here that is also the case, but instead of settling for a round insert, it actually follows the shape of the bezel. A subtle detail, but it actually makes this watch look more high-end than its price might indicate.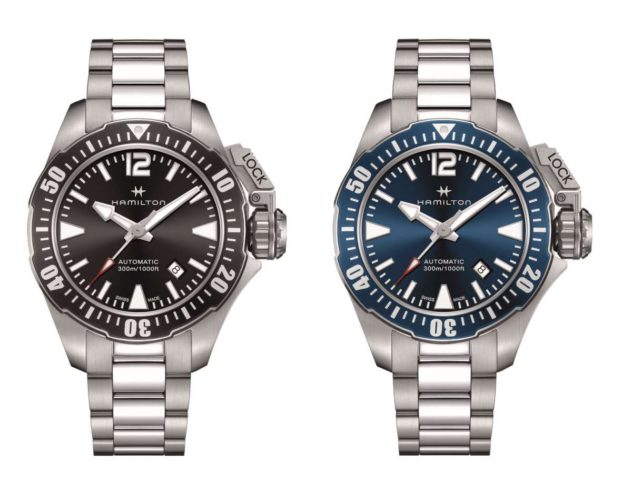 It is very tempting to call the 42mm model its little brother, but that is not completely fair since also this Frogman packs a punch. It shares many of the design features of the 46mm model, but is crafted from stainless steel and does not have a helium escape valve. Since it is very unlikely that you will ever be in a situation that you will need a helium escape valve, you probably won't miss it anyway. The Frogman 42 is available in either black or blue. These are of course classic colors for a divers watch, but because of the unique shape of the case and bezel, the Frogman still stands out. Also the fact that the hands are different from most diving watches most certainly helps.
All three new Frogman watches use the same movement: Hamilton's H-10 movement. This automatic caliber comes with an impressive 80-hour power reserve. The question is if you will actually take off your Frogman so long that you need it. The 46mm model comes with a specialy styled soft-touch rubber with titanium buckle. It are these small details that lets him earn its CHF 345,- higher suggested retail price. The 42mm model is available with a regular black or blue rubber strap, or with the optional stainless steel bracelet. The suggested retail price for this model starts at CHF 1050,-. For that price you not only get a very serious dive watch, but an original one as well!
Oh, one request to Hamilton: I think that this watch would look great as a chronograph as well!
More info can be found at Hamilton's website