It has been a long wait for G-shock fans because already at the Baselworld watch fair of this year, did Casio announce the new Gulfmaster. Why all the excitement? Well, this is the very first time that Casio G-shock combines a water depth sensor with a atmospheric pressure sensor (altimeter/barometer), temperature sensor (thermometer), and magnetic sensor for compass readings in a single watch.
The new Gulfmaster was developed especially with coast guard personnel in mind. They indeed have to operate under extremely challenging conditions in which the functions of the G-shock can come in handy, but quite frankly even when you have a less demanding trip in mind, the Gulfmaster will be a great companion. The atmospheric pressure sensor is especially handy because it can help predict sudden change in weather, and even has a storm alarm for when really bad weather comes in. This is a great feature to have for anybody who goes on the water (as well as a nice excuse to treat yourself on the new Gulfmaster as well).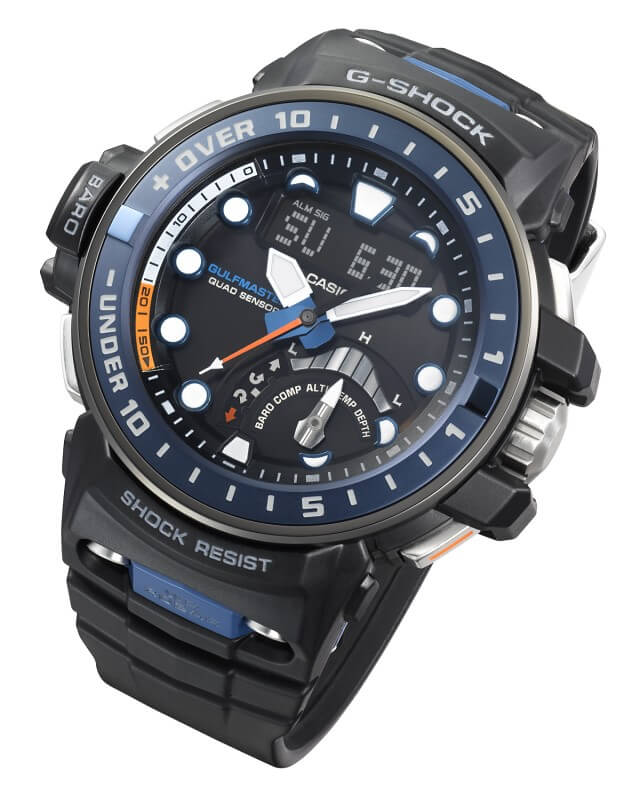 Divers will of course get good use out of the water depth sensor. The Gulfmaster itself is made out of a carbon fiber casing and metal pipes for increased water resistance. 200 meters might not sound that impressive, but frankly most people won't need more, and with the Gulfmaster you know that even under water this watch is tough!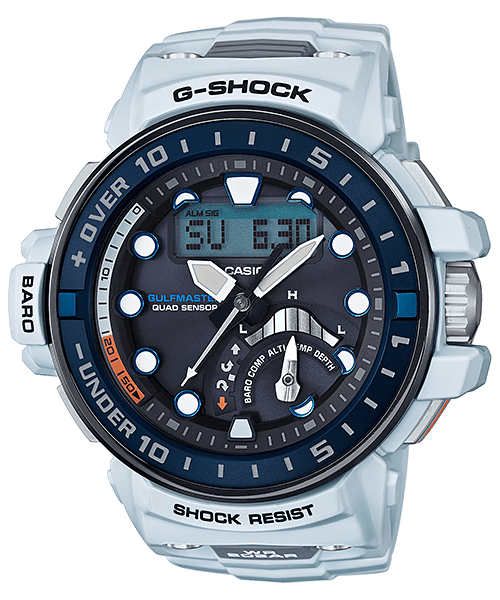 What makes it so tough is among other things, the sapphire crystal, another first for the Gulfmaster collection. But next to being extremely tough, this watch is also extremely practical. Next to all the functions related to the quad sensors, the watch also offers world time with 31 time zones that include 48 cities + UTC, tide indicator, 4 daily alarms and 1 snooze alarm, 1/100th second stopwatch, countdown timer, and full auto double LED lights to see all this when the light conditions are not optimal.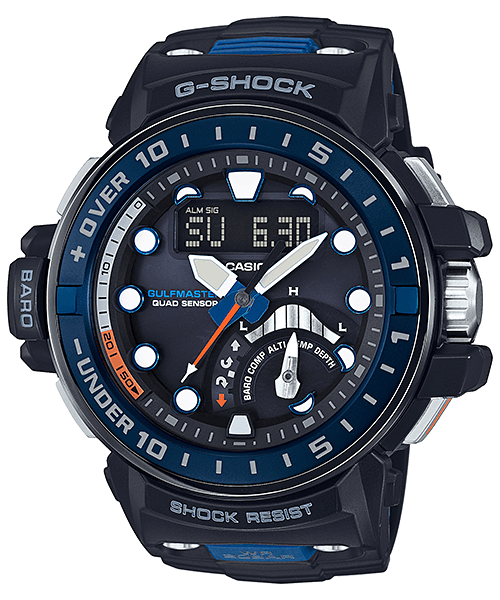 The G-shock needs a 48mm case to house all these functions, and while with most brands you need an arm the size of Sylvester Stallone to wear this with any decency, G-shocks are known to also be very light. This Gulfmaster is no exception with a weight of only 113 grams. The soft urethane strap also helps to wear it with comfort.
As said the wait is (almost) over, early September this Gulfmaster will be available for $850,- at select Casio G-shock dealers. Just ask for reference GWN-Q1000-1A if you want the black/blue one, or GWN-Q1000-7A when you prefer the white and blue one!
More info can be found here