Frederique Constant recently introduced their latest ladies watch; the new Classics Delight collection. Designing ladies watches is not the easiest thing to do. While men can enjoy a classic dress watch or a robust sports watch, women are haunted by something called fashion, which can out date even the most sophisticated design. Frederique Contant did rise to the challenge with their latest collection for ladies.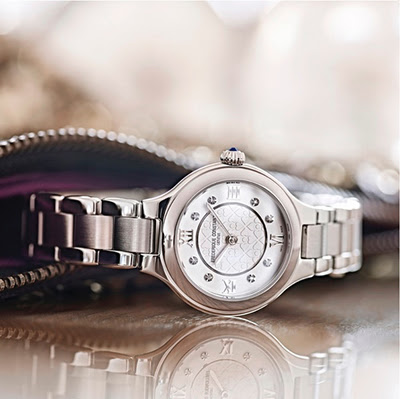 With a diameter of 28mm the Classic Delight has found a balance between elegantly small, and practically readable. This size is also a sort of safe haven between the waves of fashion; not too big, yet also not too small. Not only the size is contemporary, also the looks. Stainless steel can be combined with a diamond set dial, and/or a diamond set bezel, while ladies who prefer a more classical watch can also opt for stainless steel with rose gold plating.
Stainless steel bracelets, also in two-tone with rose gold plating, are available, but a leather strap makes the watch looks completely different. This makes the Classic Delight a very versatile watch, not only because it will appeal to a lot of women, but also because it will match almost any outfit in everyday life. Quartz caliber FC-200 also ensures that the Classic Delight is always ready to go, with a battery life of 42-months.
The new Classic Delight would not be a true Frederique Constant when it wasn't filled with interesting details. the crown is for instance onion shaped and topped off with a synthetic sapphire cabochon, adding to the timeless appeal of the watch. The dial has in the center a heart guilloche pattern, which is not only beautiful, but also has a meaning. Since 2004 Frederique Constant has supported different charities such as the International Children's Heart Federation, the World Heart Federation or the Global Gift Foundation. For every Classic Delight sold,  Frederique Constant donates 50$ to support these charitable foundations and their projects, the classical delight of doing good!
For more information on Frederique Constant and their commitment to charity visit; http://frederiqueconstant.com/charity/