Clever design meets elegant execution. Unlike its name might indicate, the FreakishWATCH is elegant and sophisticated, and far from a freak. In fact, it is one of those watches that makes you wonder what they were thinking when they made up the name. Fortunately, are names easily forgotten (especially when they are not engraved in the case or printed on the dial) and the design stays.
The design is for sure the strong suit of this watch. The way it displays time is somewhat reminiscent of the MOTION I wrote about earlier. A disc covers most of the dial and shows only the hour that it is. The minutes are shown by a regular hand. It works quite nicely and looks great. When it is the full hour, the number is large, but then the disc moves slowly to a smaller version of the number, indicating that we are in the second half of the hour.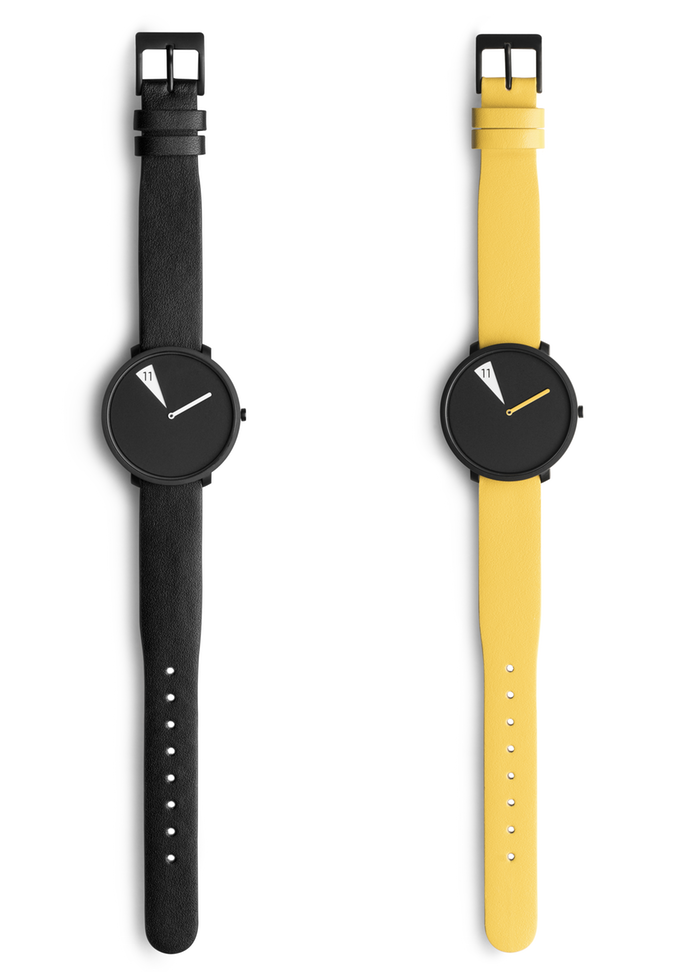 The FreakishWATCH works so nicely because the case is black matte coated. It gives the watch an air of mystique, especially in combination with the dial. The case itself is a bit generic. An absolute deal breaker if this was yet another minimalist watch, but although I would have loved to see a more unique case, this one does suit the design.
With a diameter of 36mm the case is on the small size of unisex. At least that is what most men will think, but I would like to point out that one of the most successful men's watches ever, was and still can be ordered in 36mm. I'm talking of course about the Rolex DateJust. I like the smaller size because that means that when you check the time, you see not only the watch but also part of the strap. This gives especially a striking image when you have opted for the yellow hand version of the watch, which comes with a bright yellow strap. The white hand version with a black strap is a safer choice, which offers less contrast but puts more emphasize on the complication.
The movement in the watch is quartz, and that suits the watch fine. The majority of the people that will buy this watch will buy it because of its design, and a mechanical movement wouldn't add anything to that. Also, it allows them to keep the price at 129 euro's, which is a fair amount of money to get your freak on!
For more information on the FreakishWATCH click here