We too often see the same kind of watches on Kickstarter, so when you have a new project with something completely different, you have to talk about it.
And it's a pleasure when it's a product well thought – something with style, practical application and a genuine philosophy behind it.
Fin Watches is the fruit of the imagination of the creators behind the successful « Town 30 photography bag » which was on Kickstarter in 2015 – a camera bag that is stylish and versatile, allowing you to integrate your love of photography into every aspect of your life. It was seriously a great project with a really nice product.
Back to the watch – Hin Fan the founder of this new brand told me : « we seek to inspire people to make happiness a daily priority by changing the way they think about time ».
What a nice project…Indeed the majority of us are just running from an obligation to another ; and this in a seemingly endless loop. On a daily basis we leave little time for our passions and our closest people. So what happened ? We always look to our watch to check the time and fail to see the value of that time. We give our time away all day long, to emotions that gain us no advantages, to people who do not value our time, to inefficient habits… At the end, we understand the value of time when we lost it. And Buddha said : "The trouble is, you think you have time."
Wait, damn Jonathan, don't be to philopsophical about the time and its value. Please get back to the watch in question.
So they decided to create and re-imagine the 24-hour GMT watch with a hand painted in bright red. This one rotates full circle once per day (counter clockwise). This hand acts as a countdown clock. I explain : You can use it as a time countdown ; a motivating visual representation of how many hours you have left to do the things that make you happy, whatever they may be. As from one side you have the hours displayed like 2 x 12h and thanks to this « gmt » hand you have the time displayed on a 24h scale. So there you can really see how the time flies.
Note that in French « Fin » signifies « the End », and so, thanks to this 24h countdown you can really see the beginning and the end of a day.
The normal hours and minutes can be read thanks to Roman numerals while the 24h countdown uses Arabic numerals.
Between these two hour displays we have another scale : A pulsometer.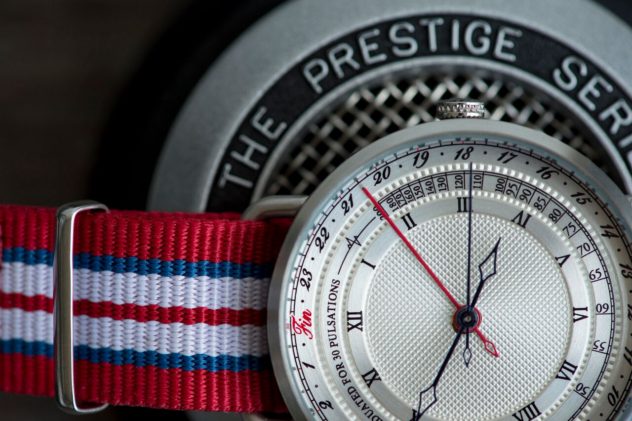 Let's continue with a bit of philosophy by thinking simply that at every moment of our day we go through various emotions. With each new emotion our heart rhythm changes – I prefer to use the word Rhythm instead of Rate, because our heart is not something mechanical using a « frequency »; Each « bang » of our heart is a music and so it gives the rhythm of our live…
I think that in some points, that's exactly what the creators of Fin Watches wanted to show us. The excitement of a particular moment in the day transcribed by this pulsometer.
It is also very interesting for people like me who are at the limit of being hypochondriacal, and who have this need to check the pulse 20 times a day lol.
If I'm not mistaken the Pulsometer, also known as the Pulsograph, has been created in early 1920. This one was an innovation that helped doctors and nurses to take the pulse of a patient thanks to an easy scale marked on the watch…Clever for that time! (For the record, a pulsometer is very frequently coupled with a chronograph).
How does this one work? You'll see it's quite easy.
When the second hand strikes 12 the countdown starts. So count 30 pulses in your head; on the 30th pulse, the number that the second hand shows is your heart rate. The second hand doesn't stop of course so you have to stay focused to see the place where it lands on.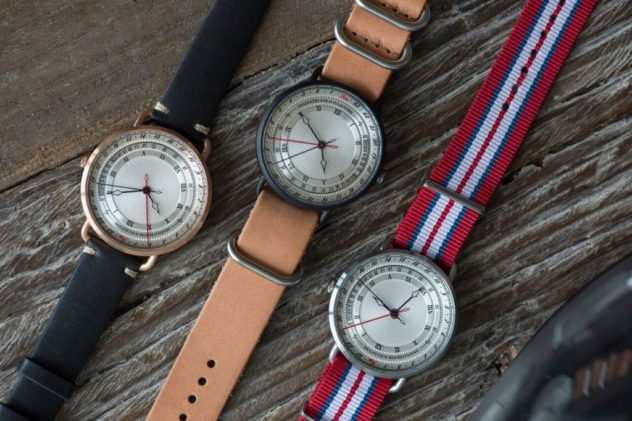 At the heart of this piece there is the quartz movement Ronda 515.24H – Ronda documentation says that it has an accuracy of -10/+20 seconds per month and a battery that will run during 45 months.
The watch arrives in 4 versions : Stainless Steel, Gold, Rose Gold and even a more sporty one in Matte Black. They all measure 41mm in diameter and thanks to the design of the lugs you can put either a 18mm or 20mm strap.
When you buy your watch this one comes with a leather strap that has a quick-release mechanism allowing you to change it when you want. You have the choice between 3 colors : Tan, Black & Blue.
When a backer share the campaign he will directly receive a free NATO strap of his choice. And you also have the possibility to buy a leather NATO strap by adding 15$ to when you buy your watch.
Price on Kickstarter will be around 200$ so if you're interested by this really nice piece, jump on their campaign!