To start the year I had the pleasure to try the new Feynman One Eclipse, and guys, this is something you should add in your collection.
Oh yes, this is not a sponsored post, but just my own thoughts.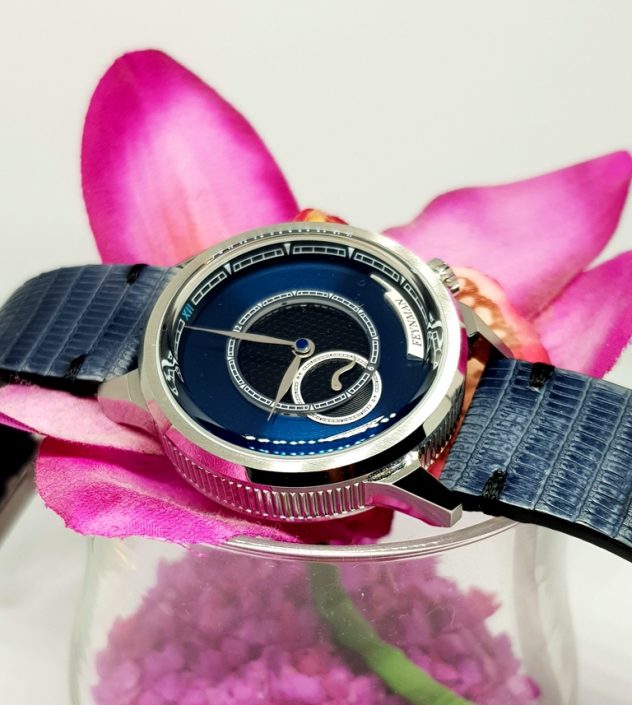 For the recall, Feynman Timekeepers was founded in Singapore by Yong Keong Lim who decided to name his brand after his son name, Feynman Lin, who was himself named like this as a homage to Richard Feynman, the father of Theoretical Physics.
I saw their first release several times on the social networks and of course on their Kickstarter campaign launched in the end of 2018, and I always wondered about the quality of it.
Now that I have it on my wrist I can say YES, this is a great timepiece and the overall quality is great.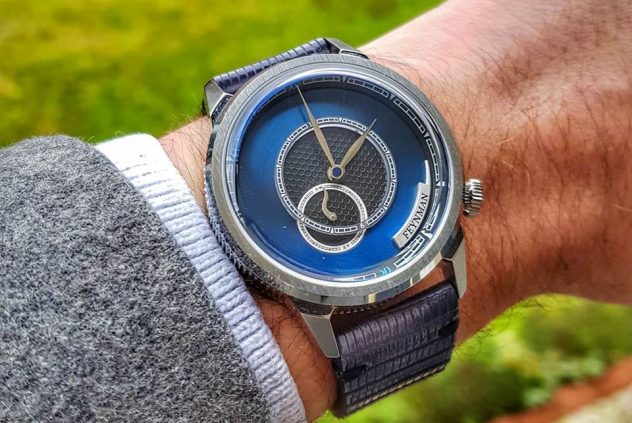 It's a real modern dress watch that will fit easily any of your outfit. The 39mm case is well balanced even if I must admit that I would have prefer 10mm in thickness instead of 12,5mm. The good thing about that is that thanks to this thickness you can see correctly the vertical rib all around the case.
Why this is important ? because this pattern enhance the polished and brushed upper bezel.
The ergonomic lugs are designed to fit most wrist sizes, and it works well on my 17cm wrist.
To finish with the case we have the crown at four o'clock and this adds another point of interest. With its shape it's really easy to operate, which is something, of course, really important and finally it has the "F" of Feynman engraved on it.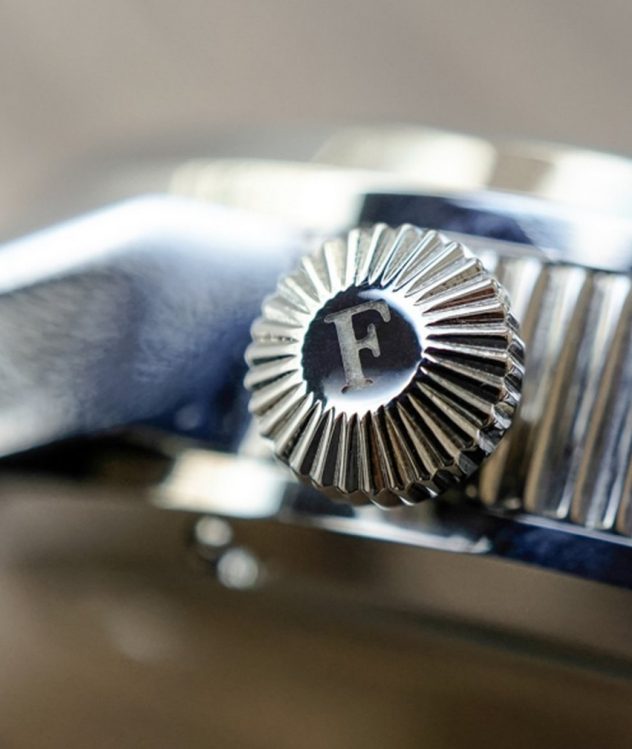 Inside this case we will find the movement ETA Peseux 7001 Top Grade which is a mechanical caliber that you can find in a lot of watches like Stowa, Tissot, Bell & Ross, Baume & Mercier and even Blancpain with its Cal. 64-1, which is a highly reworked 7001. With only 3 bridges, decorated here with côtes de Genève, you can easily see through the sapphire caseback that this movement is really simple. The ETA Peseux caliber 7001 is a mechanical hand-wound movement with 17 jewels, 21.600 vibrations per hour and has a 42 hours power reserve.
Now let's turn the piece to have a look at the face of the watch. It's honestly really sexy. Well, I tried the Eclipse so the blue version, but this piece also exists in green for the "Founder's edition", red for the "Wine" version, another and lighter green for the "Olive", classic black (or dark grey), and grey for the "One eye Panda".
The Eclipse is the latest addition to the Feynman One collection. Inspired by the cosmos, the blue dial has been the highest-requested colourway since their launch. I'm glad about that because it's my favorite color. The color blue is vibrant, bold, and bright.
One day Judy Garland said : "Somewhere over the rainbow, skies are blue, and the dreams that you dare to dream really do come true". (well that was just to add a nice quote to my review lol)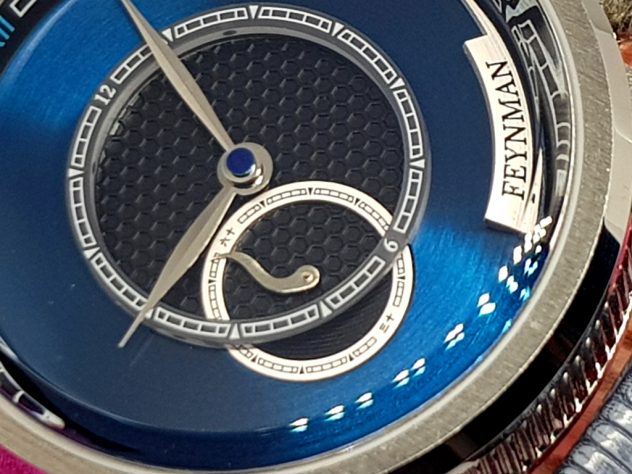 The main dial features a radial effect obtained by using the brushed technique on a steel circle. This is something that really highlight this multi-layer dial. There is three numeral systems on it : Roman, Arabic and Chinese. The outer ring is a minute track with Roman numerals in blue for 12 and 6; then a centre track with Arabic numerals and finally an offset subdial overlapping the centre with Mandarin numbers for 12 and 30 is showing the seconds. The curvy hand for the seconds really adds a touch of design of the whole.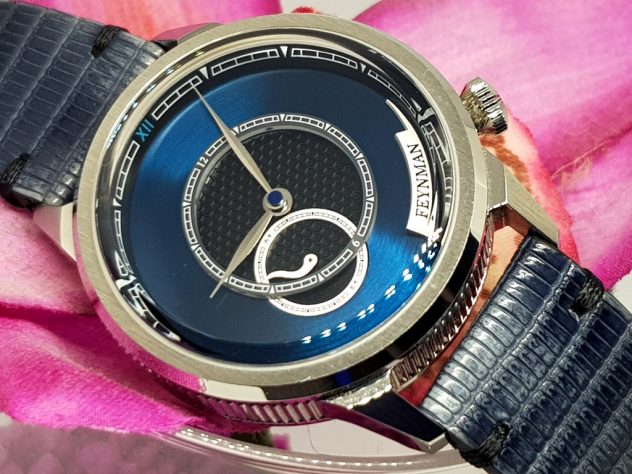 Unfortunately, there's no lume anywhere, but I do think that it could be great if all the white inscription have a bit of luminova in them. Well, that's not important, but it could add something more to the charm of the piece.
The center of dial has a honeycomb pattern which gives a nice aesthetic to the whole face.
Well, there's a lot in this piece and the whole combined gives a good sense of depth when looking at it.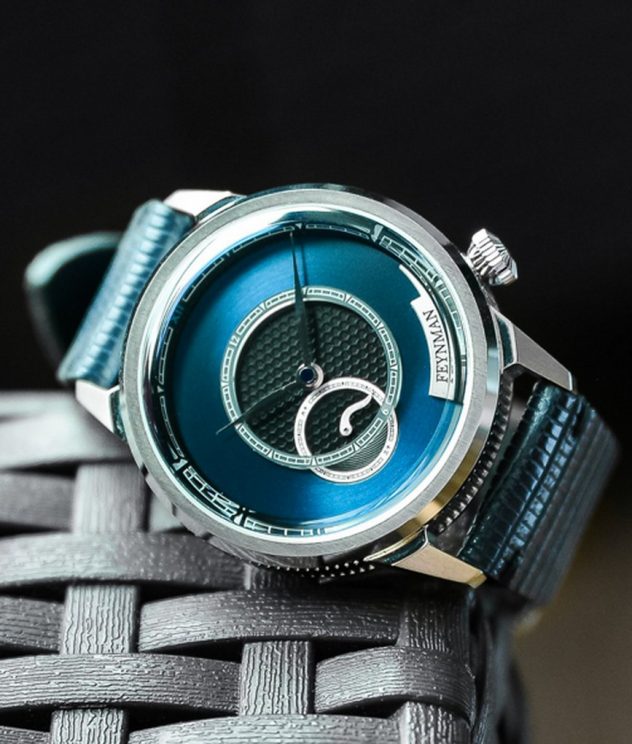 The watch comes with a genuine lizard skin straps, crafted by Yi Leather, a Singaporean artisan known for her bespoke handcrafted works. On this strap the Feynman One has a simple and classical buckle on which they have engraved their name.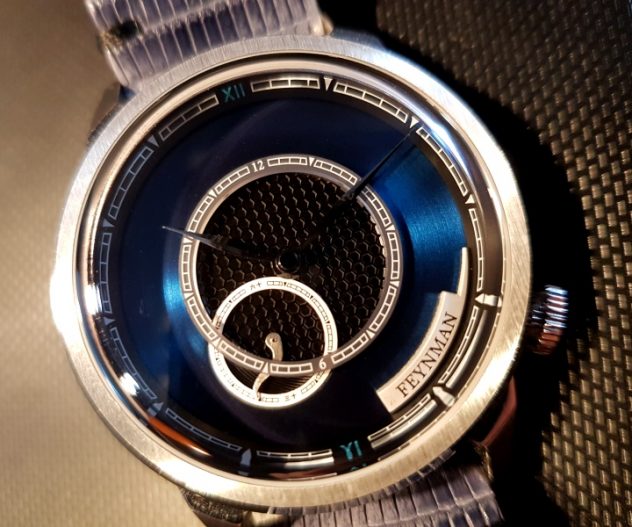 Well, what more to say… While most watches look the same these days, this Feynman brings to the world of microbrands something fresh and original thanks to its design and all the details. With an asking price at around $1000 US this piece of course looks expensive. But with all the work on it, I think it worth the price. It's not a normal dress watch, but for sure you will like wearing it.
Oh yes, wait a second.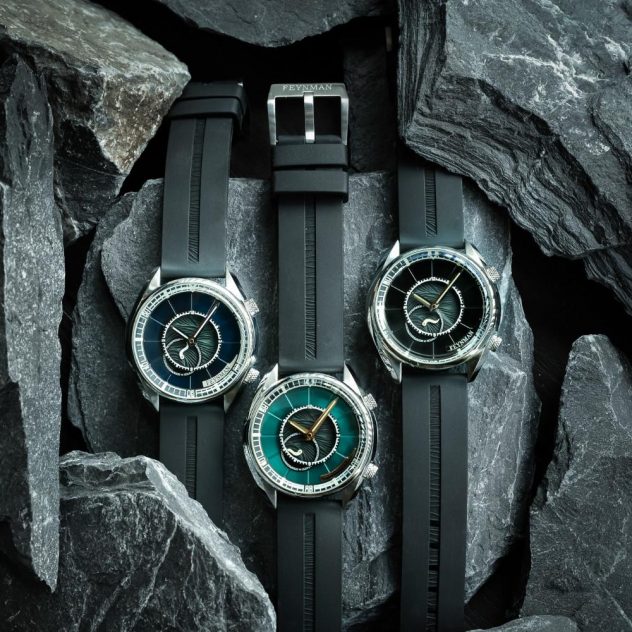 Yong Keong Lim told me that they will launch quite soon their first diving Watch. Of course I will review it here on Watchisthis, but you can already have a look at this new collection by clicking this link : Cove Collection. They will also put it on Kickstarter so you'll be able to get good price on it.
Just in some words : New design, 40mm case, Swiss automatic movement, lots of lume… etc.
So, yes, I can't wait to try it!!