At time of publishing there is just about 2 days left to get your Ferro watch through Kickstarter. The question is; should you? With its single hand configuration its original, but at the same time, this has been done before. What makes it unique is that it combines this single hand configuration with a dial inspired by Porsche tachometers.

The result is quite stunning. Most watches that are inspired by car tachometers still have two hands, but the single hand configuration looks so much nicer. Also because Ferro made it like a thin needle in a contrasting color. This also helps greatly to tell the time with a great degree of precision. By making the case 44mm, not only the overall theme of the watch better comes together, but also the 5 minute dashes can be clearly seen. This is vital for a single hand watch, because otherwise telling time is going to be such a challenge, do not expect to get anywhere on time.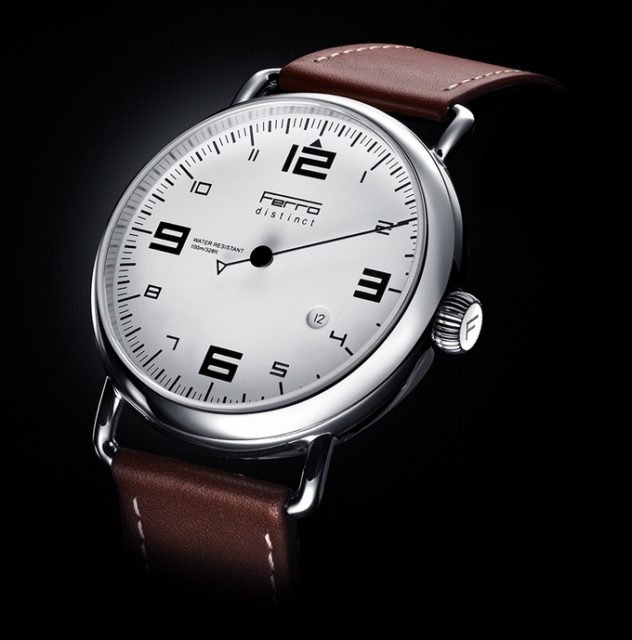 44mm cases are not the most comfortable, but short lugs and a nicely rounded case counteract this. Originally they where available with a black or white dial, but since the $75.000,- CAD was reached three additional dial colors became available; Blue, Orange and Yellow. This is on top of the stretch goal of a perforated rally strap that was already reached.
Ferro put a lot of thought in their watches, and this becomes evident in the little details. Like the date wheel that matches the colors of the hour markers and indices. A big plus since even many high end Swiss brands cannot get this right. Another big plus is that the prices of Ferro's watches go from pleasantly priced to very pleasantly priced. You can still get the version of the watch with Ronda quartz movement, closed caseback and flat sapphire crystal for US$150,-. The next step up is the version with the automatic Miyota caliber 8215, which comes with a glass caseback and a very cool domed sapphire crystal. This is also fitted on the version with the ETA caliber 2824, for those people that really prefer a Swiss movement. The ETA caliber 2824 will set you back a still very reasonable US$599,- and includes sheep skin driving gloves. However we feel that most people will take the Miyota caliber 8215 version over the ETA caliber 2824, since that will only set you back about US$ 264,- However, overall the pricing is very favorable and ensures that there is a Ferro for everybodies taste and budget. No wonder that they already reached 10 times the amount of their original goal. You can find their Kickstarter campaign here.