How nice would it be to not only have a watch custom made, but custom make it yourself? Initium offers just that with their classes in their workshop in Le Noirmont, Switzerland. Under the skillful guidance of a watchmaker, you will assemble your own watch, after an introduction into mechanical watches and their inner workings.
The watches are all mechanical and all variations of the famed ETA/Unitas calibers that were initially developed for pocket watches, but later on also used in larger wrist watches. Normally these movements came in different finishes. Interesting is that Initium seems to almost entirely bypass these standard versions of the movement completely and offers skeletonized versions in different variations and finishes. Of course, those who want a really classic watch can still get it in a beautiful version featuring Geneva stripping and blued screws.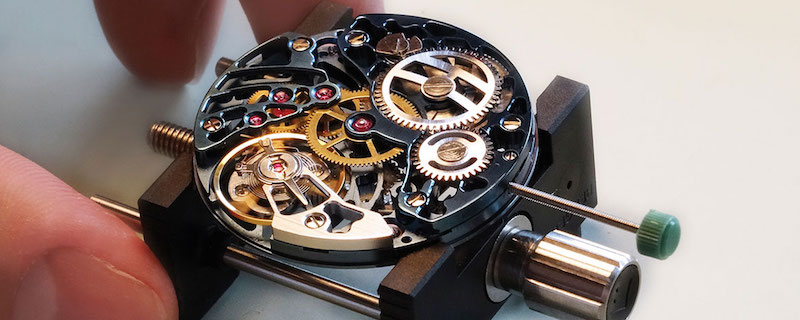 During the class you will carefully assemble your watch, but not before you have made some tough decision on what case, dial, hands and straps you want. Yes, some brands also offer this online, but then you do not put it together yourself, and here you have the option of trying different combinations before your own eyes and see how they work out. After assembly, you also perform the final testing on your watch before you can strap it on and take it home.

The prices of the workshop, and thus creating your own watch, are quite fair. The Gamma Class is 1.490 CHF and lasts half a day; the Delta Class is 2.290 CHF is the entire day and comes with a luxurious lunch at the two-star Relais & Châteaux Georges Wenger Restaurant, and you will take home a watch that is even personalized with an engraving. The down-side, it all has to be done in Switzerland on pre-set dates. This will add considerably to the cost for most people to have this experience, and although it can be logistically challenging, it would be nice if Initium could travel with this concept, bringing it closer to people. That might cost the watch the precious Swiss Made label, but does a watch that you assembled yourself really need that?
More information can be found on the Initium website.
Save
Save