Last November Christopher Ward and Morgan Motor Company announced their exciting partnership that gives the possibility to the British brand to take inspiration from the craftsmanship and engineering that sits at the heart of the Morgan philosophy.
Mike France, Christopher Ward co-founder, said: "The form and performance of beautiful classic cars has always influenced the wider watch industry, but especially so for Christopher Ward".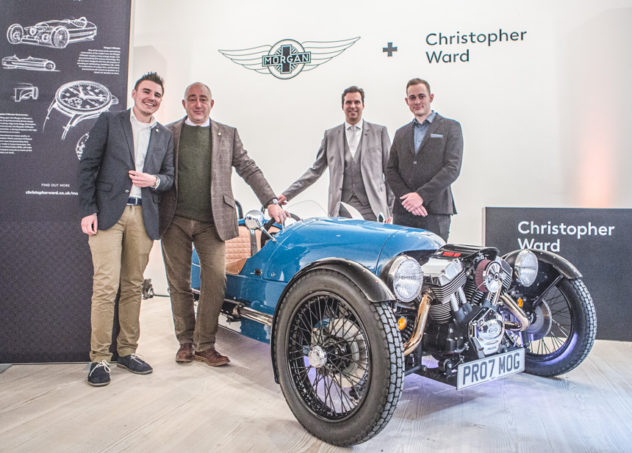 The brand created in 2004 has already released several successful watches inspired by classic cars but now with this natural collaboration they can show their pride in their British heritage and design. It's never easy to have one eye on the past with the elegant and classic designs, and one eye on the future with the cutting-edge engineering, but we can count on Christopher Ward to propose something that mixes perfectly all these aspects.
We were waiting on this collection and finally Christopher Ward has unveiled three watches created in partnership with Morgan Motor Company.
Christopher Ward's senior designer Adrian Buchmann worked with Morgan's head of design, Jonathan Wells on each model, and each model uses a custom-made version of the watch company's in house Calibre SH21 movement, which is hand-built in their Swiss atelier.
For the record, in 2014 Christopher Ward and Synergies Horlogères had become partners and then they released the Calibre SH21, the first commercially viable movement from a British watch brand in 50 years. Designed entirely by Johannes Jahnke, and built-in their atelier in Biel, this movement put Christopher Ward in that select group of watch brands able to make their own calibres.

The collection will initially be sold only to Morgan car owners when they go on sale. They will be sold exclusively through authorised Morgan dealerships or at christopherward.co.uk. It is the first time that Christopher Ward has allowed its watches to be sold by a third-party because as you know they only sell direct through their website or some chosen retailers.
The three watches are named after Morgan classic car models:
C1 Morgan 3 Wheeler Chronometer
The sandblasted black diamond-like carbon of Christopher Ward's premium C1 Grand Malvern case and the matte black dial gives the C1 Morgan 3 Wheeler Chronometer a look that reveals its aviation roots. The distinctive V-Twin engine is celebrated by the unique bridge design of Christopher Ward's own Calibre SH21 movement whose twin barrels, delivering up to 5 days of uninterrupted power, perfectly echo the 3-Wheelers own 21st Century power unit. Like the car, the watch is for those who seek traditional fun and adventure.
Housed in a Grand Malvern case, the C1 Morgan 3 Wheeler Chronometer offers a number of visible parallels to the Morgan 3 Wheeler motorcar. It has been designed to echo the bygone aviation era that inspired the 1909 original, whilst also referencing the 21st century technology present in its modern iterations. This one is priced £2,250 (2,575 $US).
C1 Morgan Classic Chronometer
Inspired by the Morgan Classic's timeless design, the flowing lines of Christopher Ward's premium C1 Grand Malvern case capture the light perfectly presenting a sleek profile and understated elegance to compliment any Morgan owners watch collection perfectly. With old and new wings logo alternatives available, a curved opalin dial, polished nickel indexes, elongated font for numerals 12 and 6 and a unique concentric circle motoring design on the watch's twin barrels, the sophistication and grace of the Morgan Classic is brought to life.
The classic colimaçoné finish of the movement is revealed through a crystal exhibition back which also reveals a bespoke skeletonized bridge, with polished chamfers, inspired by the shape of the Classic's distinctive steering wheel design.
It is also priced at £2,250 (2,575 $US)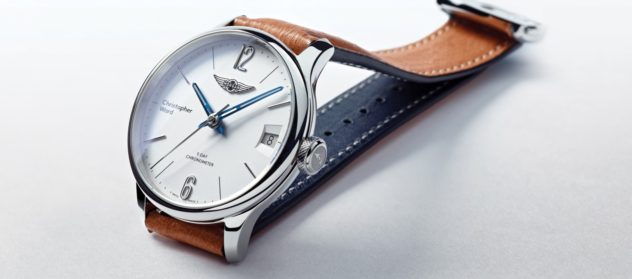 C1 Morgan Aero 8 Chronometer
An outstanding timepiece for the most discerning Morgan owner, the C1 Morgan Aero 8 Chronometer, like the car, is effortlessly stylish and eye-catching. Featuring at 9 o'clock a 120 hour power reserve indicator complication, the completely seamless design incorporates a polished and brushed case which enhances the play of light, presenting a slimmer profile to the wrist.
The stylish matte black and opalin azuré textured dial, finished with raised and printed indexes and layered subdials echo the dashboard of the cars cockpit and celebrate the aeronautical yet playful feel. Viewed through the exhibition backplate, the COSC-certified Calibre SH21 movement and its dramatic, skeletonized two-tone bridge and polished chamfers pays tribute to the advanced engineering of this Morgan super car.
This one is my favorite of the collection because of its really well designed dial.
It will retail for £2,795 (3,195$US).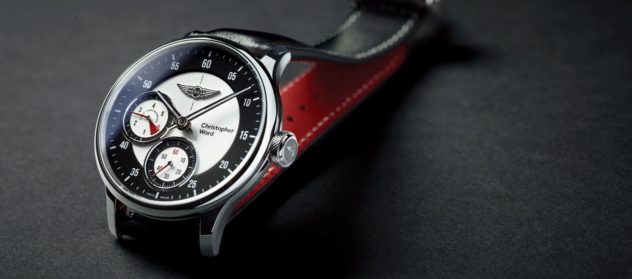 With a shared passion for motorsport at the heart of both brands, the collaboration with Christopher Ward is the perfect fit for Morgan.