Not too long ago watches seemed never to be big enough. Monstrous diameters were strapped around the wrists of men and women all around the world, yet the last few years people seem to have come to their senses and favor smaller, more sensible watch diameters, but does that mean the death of large diameter watches?
Certina offers their DS Podium also in a « Big Size », meaning that it is « super sized » from 41mm to 44mm. This is quite a substantial increase in size, but what matters is what do you do with this extra space? It is going to be wasteland on the dial, a thicker bezel, or are you actually going to use it to enhance the looks of the watch? With the DS Podium Big Size Chronograph Certina fortunately opted for the last option, and used the space to give the dial some more breathing room. They added an ring with the hour and minute indicators of the same color as the ones that surround the sub dials, making the watch visually more interesting to look at. They kept the size of the bezel down, making the watch large, but not bulky.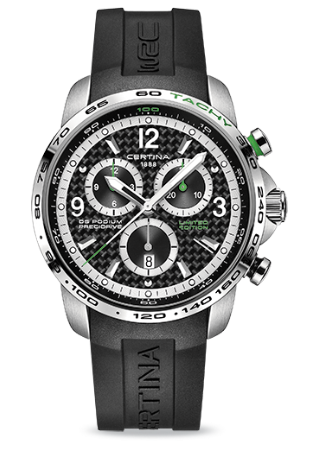 This particular DS Podium Big Size was created in a limited edition to celebrate Certina's third year as Official Partner and Timekeeper for the FIA World Rally Championship, and is limited to 5.000 watches. Of course the watch features Certina's « Double Security » (DS) technology, and the quartz chronograph is actually chronometer certifies as well, so it is not only the size of this watch that packs a punch!