Casio is known to be able to build watches that can withstand quite a beating. With the introduction of the new Pro Trek Smart, the brawn has now also gotten a brain and an even more impressive one as was introduced last year. Next to updated looks does the new Pro Trek Smart now come with a low-power GPS. Casio achieves the low-power aspect by only obtaining the location from the satellites and not get any map data. The maps you can download directly onto the watch before you go, at home or in your hotel.
This makes a lot of sense because most people know to which area they are going and by foot, bike or even car you won't go that far in rough terrain. A huge benefit is that you know exactly where you are even when you have no internet connectivity or are even in the range of a cell tower. The maps are quite detailed, and since the display on this 56.4mm watch is quite large, you can easily navigate from your wrist. Next to that does the Pro Trek also features compass, barometer, gyrometer, and altimeter, so the watch is a valuable instrument on any hike.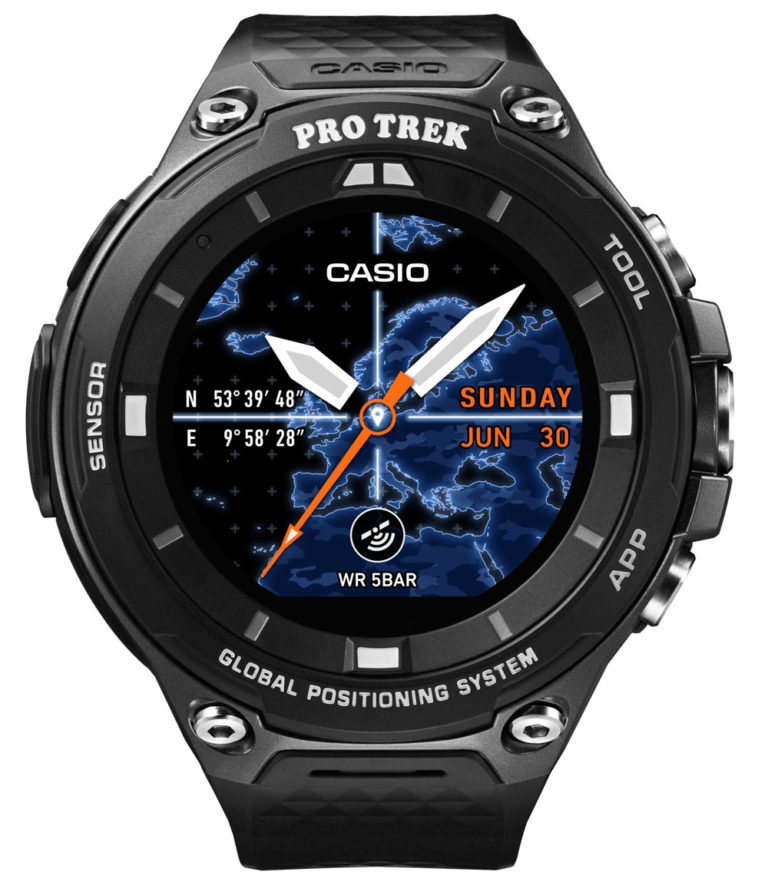 With this watch does Casio also pull the smart watch more into their own territory. They rule the world of tough watches with their G-shock collection, and although the Pro Trek Smart isn't officially part of it comes very close with a 50 meters of water resistant and it also meets the military spec MIL-STD-810 durability standards.
The watch runs on Google Android 2.0 mixed in with some of Casio's own software. This means that it is also a full-blown smart watch that will inform your when you have messages, email, appointments or what the weather is going to be like.  They promise a battery life up to a day, but for people who go out in the bush, it is probably more important to know how long the watch can run with the low-power GPS on.
The expected price is US$500,- which is competitive, especially since this smart watch seems to have it all. But the most important news is that Casio is getting comfortable with integrating smart watches into the concept of clever, rough and tough watches in which they are so good at.
More information on the Casio Pro Trek Smart can be found here